---
I need advice. - Gourmet_Mom - 11-12-2010

In the next 5 years, William and I will probably move back to live with Mom in Southport. That being said, he has presented me with a tempting offer. With the exception of the heat in the kitchen, we do well with our window AC in our bedroom in the summer. But in the winter, heating is a problem. While I would LOVE to repair and/or replace our units...2 units at around 3,000 bucks each is a bit more than we are prepared to pay right now. SOOOO, William has decided to get one of those gas heaters that look like a wood stove or fireplace for his Christmas. While he was at Lowes today, he noticed he could get this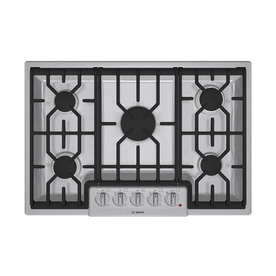 for me if I would like, since the gas company would have to come install the "heater". It's a Bosch and is available in stainless and black. I was just hoping for a KA immersion blender. One kink in the idea is the ability to vent the thing. It would go in my island. So this may be an idea dead in the water from the start. What do you think?
---
Re: I need advice. - Harborwitch - 11-12-2010

Any chance of a hood???? Costco has some beauties. I'd figure out something! That's beautiful!
---
Re: I need advice. - Gourmet_Mom - 11-12-2010

I don't know about these kinds of things, but I don't think a hood is doable. I think that was a bigger problem than this house being a pile of fat lighter when we remodeled. Can you do a down draft with this kind of thing? I've got the workings of that already in place.

Roy! Oh Roy! Vicci! Get your man on this thing! Who else is an engineer/architect? Barbara...?

Here's the kitchen from the bar side. The existing cooktop is on the other side of the bar opposite the fridge and counter. My sink is to the left under the pot rack in this picture.




Here's the existing cooktop from the kitchen looking in the other direction.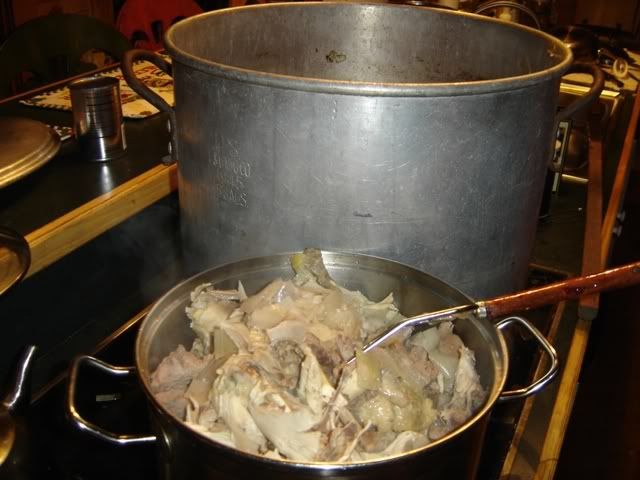 For perspective, the smaller pot on the cooktop here is the largest one hanging from the potrack in the first picture.


---
Re: I need advice. - Harborwitch - 11-12-2010

Jennifer has a downdraft vent on her cooktop. Do you have someplace to vent the downdraft to???


---
Re: I need advice. - Mare749 - 11-12-2010

Sorry, I'm no help, but I do like your kitchen!
---
Re: I need advice. - Gourmet_Mom - 11-12-2010

YES! Sharon, the existing cooktop has a built in down draft, so the duct work is already in place. The gas cooktop is much smaller than my existing cooktop, so there is plenty of room for a larger downdraft, if needed. William was worried about the extra space. I had an immediate plan! Butcher Block! Right next to the stove...YEA!

Thanks, Maryann! I love it too, but a gas stove top sure would make it a great deal nicer!

BTW, have I ever mentioned that I designed this space myself? It used to be a large useless living room...LOL! The only thing I didn't get was a gas stove.
---
Re: I need advice. - Harborwitch - 11-12-2010

Your kitchen is wonderful - and the butcher block idea is great. I'm getting a little green!
---
Re: I need advice. - DFen911 - 11-13-2010

I've got a couple of friends with a gas stove and a down draft vent system and they love it. I will say it's a lot quieter than a above stove fan. They are a bit different for gas ranges usually being built into the cooktop itself.




But they do have this style.


---
Re: I need advice. - Gourmet_Mom - 11-13-2010

See, that's the thing. The models William looked at don't have a built in down draft. Now I've got to find out if you can get an independent down draft to install with it...and if that's in William's budget.

My one big worry...do I want to do this here, or wait 5-7 years down the road and do it at Mom's house? (When I helped her come up with her remodel design for her house, she put her foot down when it came to gas. She's scared to death of it.)

Then again...I know from experience, you need to enjoy life today. Who knows if I will be able to enjoy that cooktop 5-7 years from now. And it seems a pro kitchen at the farm is too far down the road to hope for. This may be my only chance in the near future.


---
Re: I need advice. - Gourmet_Mom - 11-13-2010

See, that pop up style is something I looked at when I first designed the kitchen! But if my memory is correct, the draft came with the stove. If I go with the stove I originally posted, I'd need an independent system. I guess I really need to wait to go talk with the experts at the store. SURELY they'll know what needs to be done. AND our contractor is coming to the house next week to see about a problem that may be due to a flaw in his guys work. I'll pick his brain, as well. Although, he was as much against gas as William was in the original design. But then, Phillip was going to say what William wanted him to say, too...LOL!


---