---
Cowboy Coffee Cake Review - cjs - 11-22-2010

This coffee caker recipe is from "The Junior League - Centennial Cookbook" and it's really good!

Cowboy Coffee Cake


2 1/2 cups all-purpose flour
1 1/2 cups firmly packed light brown sugar
1/2 cup plus 2 tablespoons granulated sugar
1/2 tsp. salt
1 1/2 tsp. ground cinnamon
12 tablespoons (1 1/2 sticks) butter, softened
1 cup coarsely chopped walnuts or pecans
1/4 heaping teaspoon grated nutmeg
1 teaspoon baking soda
1 egg
1 cup buttermilk

Preheat the oven to 350° F. Butter and flour a 13 X 9 x 2- inch pan.

Combine the flour, brown sugar, 1/2 cup of the granulated sugar, the salt, and 1 teaspoon of the cinnamon in a mixing bowl. With the mixer on low speed, blend in the butter until the mixture is crumbly. Remove 1 1/2 cups of the crumb mixture and mix with the nuts. Press 1 1/4 cups of the nut mixture onto the bottom of pan.

Take 1/4 cup of the nut mixture and add the remaining 1/2 teaspoon cinnamon, the nutmeg, and the 2 tablespoons of sugar. Set aside for topping.

Mix the remaining cup of the nut mixture into the remaining crumb mixture and add the baking soda, egg, and buttermilk. Mix at medium speed for 1/2 minute. Pour this batter over the crumb mixture in the pan. Sprinkle with reserved topping. Bake for 40 to 45 minutes. Serve warm or at room temperature. The Star of Texas Cookbook, Houston, TX

-----

We had a wonderful brunch - and I do have a favor to ask. I'm glad Daphne's home sick (in one way). We are now into our 2nd bottle of champagne, this time Schloss Biebrich Sekt, no more Schramsberg Cremant in the cellar. O.k. back to the favor.

I really should not be on the forum today, so if anyone gets frisky and out of line, someone just call me on the phone and I'll come on and do what I gotta do.


Otherwise, I'll go read my book.

P.S. by the way, my anniversary present was something I've been wanting for years and don't know why I've never bought it. But I can't remember the proper name of it - be right back.


Here's what I got - mine is 5 blades. Love it!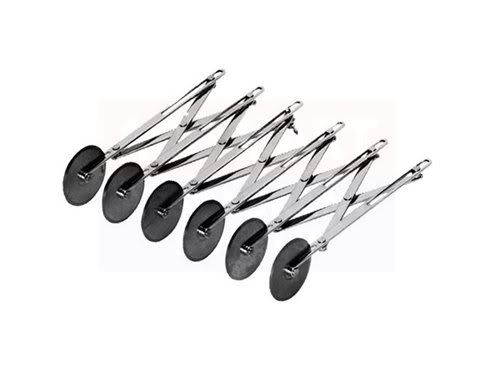 ---
Re: Cowboy Coffee Cake Review - esgunn - 11-22-2010

Enjoy your day Jean!!!!
---
Re: Cowboy Coffee Cake Review - Gourmet_Mom - 11-22-2010

Just enjoy your day, Jean! And I missed saying Happy Anniversary on the other thread, so I'll add it here! I hope you and Roy have many more!


---
Re: Cowboy Coffee Cake Review - pjcooks - 11-22-2010

Cool! Happy Anniversary!

PJ


---
Re: Cowboy Coffee Cake Review - luvnit - 11-23-2010

So what do you cut with that? I have seen those before, but what are they for?

Since I know that nobody is up at this hour, I had to go look this gadget up. Very cool! I am terrible at cutting even sheet pans of bars, cake, brownies, etc. It says you can cut pasta too, but I'd have a heck of a time rolling a pasta sheet that big. Another place mentioned croissant dough. I can see that too. I tried to make that once, and I will take any help I can get.


---
Re: Cowboy Coffee Cake Review - Gourmet_Mom - 11-23-2010

My mom sure would have liked having one of those years ago. She used to make pastry in giant sheets laid out on a sheet on the table and would slice the pastry in thin strips to leave to dry.

Thinking of Mom's pastry reminds me of the Ultimate Family Thanksgiving Challenge I saw this weekend. One family was from Bosnia or somewhere in Eastern Europe. ANYWAY, the lead cook made an authentic struesel (?). It was a marvel to watch her stretch that dough out so paper thin you could see through it. Then she dolloped the filling on and used the sheet to roll it up. It was incredible.


---
Re: Cowboy Coffee Cake Review - cjs - 11-23-2010

I had been bemoaning the fact that both items I'm making for the winery on the 3rd of Dec. needed one of these tools to cut them. Cornbread and Fig & goat cheese bars. So, now I'm set.


---
Re: Cowboy Coffee Cake Review - luvnit - 11-23-2010

My invention for easy cutting would be a sheet pan with hash marks on the edges to use for cutting even-ness. Does that make sense?


---
Re: Cowboy Coffee Cake Review - cjs - 11-23-2010

Yes, it does make sense and that's what I've done for years, don't know why I never bought one of these gadgets.


---
Re: Cowboy Coffee Cake Review - luvnit - 11-23-2010

Well I think your gadget is much more versatile. You can even cut the 'edges' off so that everyone gets a middle piece. Not for brownies though, I love the edge on brownies. Pretty clever device you have. Your Roy is so thoughtful.


---