---
Whoopie Pies - cjs - 01-04-2011

This caught my eye in a newsletter this a.m. -

Use Wilton's whoopie pie pan, or a baking sheet to bake these whoopie pies. Feel free to use hot water in the filling instead of the hot espresso or strong coffee. Makes 12

Whoopie Pies
• 4 large egg yolks
• 2/3 cup milk
• 1 teaspoon vanilla extract
• 1 cup granulated sugar
• 2 cups all-purpose flour
• 2 teaspoons baking powder
• 1/4 teaspoon salt
• 8 tablespoons softened butter
• ******
• Chocolate Filling
• 5 tablespoons softened butter
• 3 cups confectioners' sugar
• 3 tablespoons unsweetened cocoa
• 1 teaspoon vanilla extract
• 2 tablespoons heavy cream
• 2 to 4 tablespoons hot strong coffee, espresso, or very hot water
• ******
• confectioners' sugar and cocoa, for topping, optional

Grease and flour a whoopie pie pan or large baking sheet. Heat oven to 350°.

In a small mixing bowl, beat egg yolks with the granulated sugar and 1 teaspoon vanilla until creamy and light yellow in color.

In a large mixing bowl, combine the flour, baking powder, and salt. Beat in the 8 tablespoons of butter and 2/3 cup milk until smooth. Beat in the egg yolk mixture until smooth and well blended. Fill wells of a whoopie pie pan with about 1 1/2 tablespoons in each well or drop onto the baking sheet, leaving about 2 inches between the cakes.
Bake for 10 to 14 minutes, until lightly browned on bottom or around sides in the whoopie pie pan.

Let them cool in the pan on a rack for 8 to 10 minutes. Remove from the pan and place on a rack to cool completely.
Makes 24 3-inch cakes, or 12 filled whoopie pies.

For the filling: Beat together the 5 tablespoons of butter, confectioners' sugar, cocoa, 1 teaspoon vanilla, and heavy cream. Beat in the coffee or hot water, a teaspoon or two at a time, until you have a nice spreading consistancy.

Frost the bottom of one of the cooled vanilla cakes, then put another cake on top of the frosting to make a filled whoopie pie. Place whoopie pies on the rack.

If desired, sift a small amount of confectioners' sugar over the whoopie pies, then sift a little cocoa over that.

-----

don't these sound fun?? Where is Chef a Notta????


---
Re: Whoopie Pies - Gourmet_Mom - 01-04-2011

Jean, I have seen this kind of thing posted on blogs and done on food channels and always think how fun they would be to make, but I've never done it. This would be a cool Easter or summer project.


---
Re: Whoopie Pies - Cubangirl - 01-05-2011

There are lots of folks in the CI forum that have made them. The ones from the new Baked (Baked Explorations) seem to have the edge. Here's the link to the one I plan to try. They also have a pumpkin one that has gotten raves. Let me know if you'd like a link for that one.


---
Re: Whoopie Pies - cjs - 01-05-2011

forgot I had a picture of the above Whoopies...hmmmmm, they don't look as appealing this a.m. as they did yesterday when I was really hungry.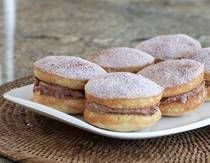 I don't think I've ever tasted one.


---
Re: Whoopie Pies - luvnit - 01-05-2011

Cuisine at home has Whoopie Pies!

Cuisine at Home No. 84 (December 2010), pages 36-41

Shake up your holiday cookie platter with these nostalgic, cream-filled treats. Are they cookies or cakes? One bite and all you'll care about is that they're delicious!


---
Re: Whoopie Pies - cjs - 01-05-2011

hmmmmmm


---
Re: Whoopie Pies - foodfiend - 01-05-2011

I had the CAH recipe for whoopie pies (the one with eggnog filling) on my list for holiday baking, but I ran out of time. Maybe next year!


---
Re: Whoopie Pies - skiwindjunkie - 07-21-2011

does anyone have the original filling for the whoopie pies in the dec 2010 issue?


---
Re: Whoopie Pies - cjs - 07-21-2011

Welcome to the forum, skiwindjunkie!! do you want the eggnog filling or the marshmallow filling? Ooops, just turned the page and saw the "Original Whoopie Pie Filling"


Makes enoughfor 12-16 whoopie pies.
1 stick unsalted butter, room temp
8 T. vegetable shortening
1 cup marshmallow creme
1 T. vanilla extrat
1 1/2 cups sifted powdered sugar

Cream butter and shortening in a bowl with a hand mixer on medium speed until combined. Beat in marshmallow creme and vanilla. Continue beating, adding powdered sugar until fully incorpoatted and filling is fluffy.

As a variation, C@H mentions: Make original filling, increasing 1 cup marshmallow creme to one 7 oz. jar.

There you go.


---
Re: Whoopie Pies - cjs - 07-21-2011

hope she comes back for the info.


---