---
Nov. 7th Mystery Bag Dinner Review - cjs - 11-07-2011

I'll start off by saying this was really fun and I hope we do it again in a couple of months!!

Ingredients:
Egg roll wrappers, chicken, garbanzo beans (chickpeas), Spinach, pepper of choice

Hot Sour Soup, Mu Shu Wonton Cups, and Wraps with Wonton Chips and Wasabi Oil

Sweet & Spicy Wonton Chips

Cut 12 wonton wrappers in half diagonally to create 24 triangles, arrange in a single layer on a baking sheet.

Brush triangles evenly with 2 tsp. dark sesame oil
Combine:
1 tsp. sugar
1/2 tsp. wasabi powder
1/8 tsp. salt
1/8 tsp. grd. red pepper (cayenne)

Sprinkle evenly over triangles. Bake at 400° for 5 min. or till lightly browned & crisp

-----

Wasabi oil

Mix 1 1/2 tablespoons water with approx. 2 tablespoons wasabi powder.
Whisk in:
1/2 tablespoon sugar
1/2 tablespoon mirin
Then whisk in oil.
1/4 cup canola oil

In a bowl, combine wasabi paste, sugar & mirin.
Quickly whisk in oil.
A purée consistency is ideal.

To make wasabi paste - mix a little water (adding a little at a time) to wasabi powder until you achieve a paste consistency.

-----

Egg Roll Cups
Oven to 400°F. Cut 4 large square wonton wrappers with a 3" round cutter (2 from each wrapper), brush both sides with olive oil and press in over-sized muffin pans making shallow bowls of each. Bake for 6 to 8 minutes until nicely browned.

-----

Filling for Egg Roll Cups and Wraps
Marinade for chicken: soy sauce, dry sherry, cornstarch – marinate one 1/2 chicken breast, which has been cut into strips for 30 minutes. Cook in hot oiled skillet until chicken starts browning, about 3 minutes; remove to a bowl.

Add a little more oil to same skillet and sauté:
1/4 Hungarian pepper & 1/4 red bell pepper
1 garlic clove
1/2 can garbanzo beans, roughly chopped in processor
1/2 bag fresh spinach
1/2 tablespoon soy sauce
3 tsp. Hoisin sauce

Cook for 5 to 8 minutes, add the chicken back to the mix and set aside.

-----

Hot & Sour Chicken Soup

4 cups chicken stock and add:
3 thin slices ginger
1/2 Hungarian green pepper, thin slices
1/4 red bell pepper, thin slices
Zest and juice from 1/2 lemon
1 tablespoon fish sauce
1 tablespoon chili paste
1/2 can drained and rinsed garbanzo beans
1/2 bag fresh spinach

Bring to a boil and cook over strong simmer 8 min. Divide between bowls and sprinkle with chopped cilantro.

------

Putting dish together –

Egg Roll Cups: Spoon about 1 tsp. plum sauce in bottom of each egg roll cups; top with heated chicken mixture, sprinkle with cilantro.

Egg Roll Wraps: Spread one side of each wrapper with 2 tsp. Hoisin sauce, top with a couple tablespoons of chicken mixture, then cilantro leaves. Fold bottom edge up over filling; fold right and left sides into center and roll up.

Ladle soup into bowls, sprinkle with cilantro leaves and drizzle with wasabi oil.

Drizzle plate with wasabi and sprinkle with any leftover Sweet & Spicy sugar mixture from making the won ton chips.







Results?

I didn't care for the hot & sour soup, but then it's not a favorite of mine to start with, but Roy had 2 bowls. I thought it needed more flavor (from the traditional ingredients).

The egg roll wraps – didn't care for either only because the raw wrappers were too much, but the filling was excellent.

Loved the egg roll cups and the wonton chips. Later in the day I used the rest of the chix filling and egg roll wrappers and made 'lumpia' – but, baked them rather than frying and we both loved those also.

Fun day working with these ingredients, but I sure missed onions. And I hope I didn't cheat too much by using ginger and lemon for 'seasoning.'


---
Re: Nov. 7th Mystery Bag Dinner Review - Mare749 - 11-07-2011

Wow, pretty impressive, Jean. Everything looks delicious. Guess I kind of messed this up, as I thought we had full use of our pantry and frig. As a result, I used a lot of other ingredients along with the required ones. Not so sure I could have pulled it off otherwise.
Here is my review and pix:

Mystery Meal Review 11/7
This was fun, but a bit more time consuming than I thought it would be, so I split it up over two days. First up was Chicken Lettuce Rolls, my own version of one that we tried at P.F. Chang. I used diced chicken, crushed fried wontons, ginger, red bell pepper, chopped spinach, celery, carrot, garlic, and mushrooms, cooked and mixed together with a little bit of a Sambal Sauce, then wrapped in an iceberg lettuce leaf and drizzled with more sauce, then topped with green onions and peanuts. These were delicious and we ended up making a meal out of them the first night. We will definitely have these again.

Next day, I cooked up some dried garbanzo beans that I had let soak overnight, and made Cream of Chickpea soup. I started with carrot, celery, onion, cooked in some olive oil, then added to the beans with chicken broth and cooked until the beans were soft. (This took quite a while) When they were done, I pureed the whole batch and seasoned with some curry powder and chili-garlic paste until it had just a bit of heat. Then, I added in some crispy bacon that was cooked earlier. At the last minute, a small amount of ½ and ½ to finish, then served with a garnish of red pepper and green onions. Very tasty, but a bit filling, so you only need a small bowl of this.

The same day, I made Chicken Potstickers. By now, I realized my mistake in buying wonton wrappers instead of eggroll wrappers. Otherwise, these would have been chicken eggrolls. Since it was too late, I used the wonton wrappers. The ingredients this time were onions, ginger, garlic, soy sauce, sesame oil and ground chicken, cooked first, then left to cool. I added a small amount of hoisin and some hot chili-garlic paste. After filling the wontons, I tried boiling them first, then after letting them dry decided to fry them in some oil to crisp.

Although these were good, I think we would like them better made with pork and/or sausage instead of chicken. I will make them again, but won't boil next time and will probably just drop them in the deep fryer for a minute or so to brown. These went on a bed of lettuce, then drizzled with the leftover Sambal sauce. I would use a different sauce next time since it made the dish taste too much like what we had the night before. A peanut sauce might have worked better or even just some soy sauce and wasabi. This was my first-ever experience making potstickers, so all in all, they were pretty good and I will make them again, so it was a great learning experience.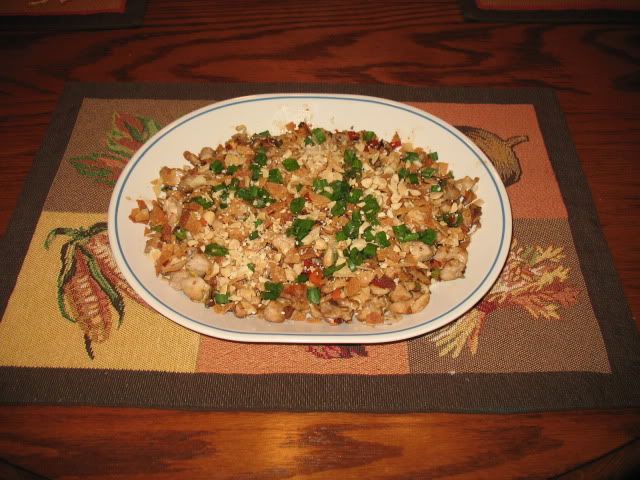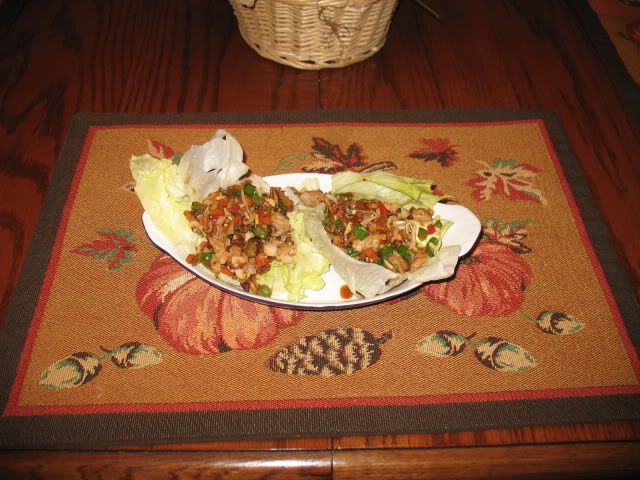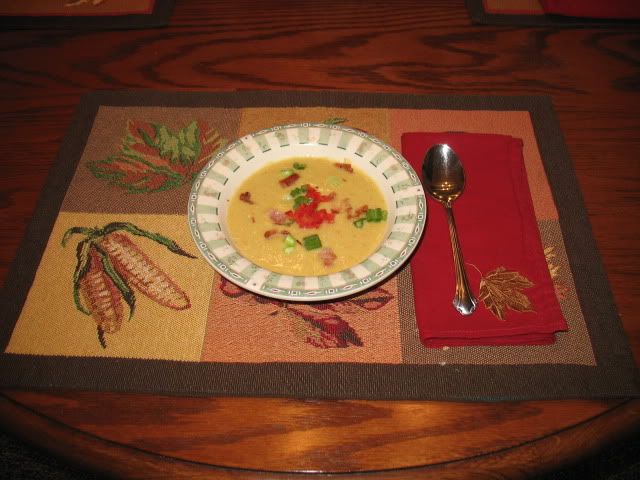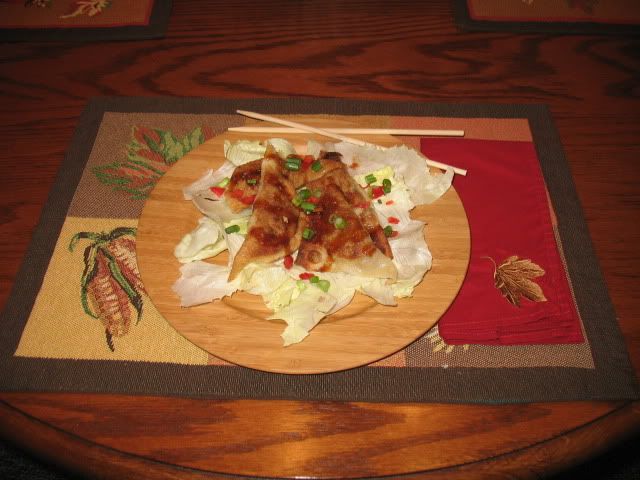 ---
Re: Nov. 7th Mystery Bag Dinner Review - cjs - 11-07-2011

Wow - right back at you!! Looks and sounds delicious. Cream of Garbanzo soup - I'm stealing that idea, for sure.


---
Re: Nov. 7th Mystery Bag Dinner Review - labradors - 11-07-2011

Some good ideas, there.

Since I was not only working on some things for other people but also getting my planning straight for my trip, I decided not to get too fancy this time. This turned out VERY well and was delicious! I'd give it a 9 and would make it again.

Even early in the ingredient selection, people were saying "wonton skins," instead of "egg-roll wrappers," but the former are essentially just smaller versions of the latter, so that's what I chose - especially since the ONE place that had egg-roll wrappers had only ONE package of them and the ones that could be seen through either side of the plastic were broken. Also, rice-paper spring-roll wrappers would not have been the same thing.

So, here is my creation:


Chicken, Garbanzo and Spinach Dip with Wonton Chips
Makes about 6 servings
Ingredients
1 Cup Dried garbanzo beans

3 Tbsp. Vegetable oil, divided + more for frying

2 Red Jalapeño peppers, thinly sliced (seeded if you prefer less heat)

1 Medium Red onion

1 Lb. Ground chicken

Salt, to taste

Pepper, to taste

3 Cloves Garlic, minced

2 Cups Baby spinach leaves

1 Tbsp. Chopped cilantro

1 Cup Pork rinds

36 Wonton skins (or 9 egg-roll wrappers, quartered), cut diagonally into triangles
Instructions:
Soak the garbanzo beans in water over night.

Drain the garbanzo beans.

Place the garbanzo beans into a food processor that has the metal-S blade.

Heat a sauté pan.

Add 2 Tbsp. of the oil.

Add the jalapeños.

Sauté for about 30 seconds.

Add the onions.

Sauté until the jalapeños and onions are soft.

Transfer the jalapeños and onions to the food processor

Add the chicken, salt and pepper to the sauté pan.

Cook the chicken until browned and cooked through.

Remove the chicken to a large bowl.

Add 1 Tbsp. of the oil to the sauté pan.

Reduce the heat to medium-low.

Add the garlic.

Cook for about 10 seconds, moving the garlic and oil around the pan well.

Add the spinach.

Cook the spinach until just wilted.

Transfer the spinach and garlic to the food processor.

Add the cilantro and pork rinds to the food processor.

Run the food processor until the garbanzos are all puréed, the pork rinds are thoroughly broken up and the whole mixture is smooth.

Stir the mixture into the chicken until well combined.

Add enough oil to the sauté pan for shallow frying.

Heat the oil to 325F.

Carefully add however many egg-roll/wonton-skin triangles your pan will hold at one time.

After about 3 seconds (they cook VERY quickly), turn them over.

Cook for another 3 seconds.

Transfer to a paper-towel-lined plate.

Repeat with the rest of the skins/wrappers or for as many as you need.

Serve 1 cup of the chicken mixture as a warm dip with each 12 of the wonton chips.
---
Re: Nov. 7th Mystery Bag Dinner Review - cjs - 11-07-2011

Sounds delicious, Labs!! Shoot, I should have used onions.


---
Re: Nov. 7th Mystery Bag Dinner Review - Mare749 - 11-07-2011

That really does sound good, Labs! Good for you!

I was just thinking that your dish would also be good in a pita for a sandwich.


---
Re: Nov. 7th Mystery Bag Dinner Review - Gourmet_Mom - 11-07-2011

Everything sounds so good! You guys did a great job!


---
Re: Nov. 7th Mystery Bag Dinner Review - BarbaraS - 11-07-2011

Wow Folks!! What amazing pics and creations!! Congrats to all!!

Barbara


---
Re: Nov. 7th Mystery Bag Dinner Review - Lorraine - 11-07-2011

All the dish sound and look fabulous!


---