---
Sunday Dinner, 11/30/14?? - cjs - 11-30-2014

What's on the menu for everyone today??

Not sure what we'll have. Maybe another repeat of the Hoisin Dressing from yesterday - so tasty.

Tried to find the link for this salad online, but couldn't find, so here it is.
Turkey Salad with Hoisin Dressing (leftovers)

If your Thanksgiving table is anything like mine, it's loaded with creamy, rich, comforting dishes. Not that there's anything wrong with that! But that's why I came up with a crunchy, fresh salad to use up some leftover turkey the next day. It cancels out that third helping of mashed potatoes

Made this 11/29/14 - very good. used broccoli slaw. Next time up the amount of chili-garlic sauce, needs more heat.

2 Tbs hoisin sauce
2 Tbs rice wine vinegar
3 tsp low-sodium soy sauce
2 tsp sesame oil
1/4 tsp grated garlic (about 1 small clove)
1/4 tsp grated ginger
1/4 tsp chili-garlic sauce (optional)
3/4 lb leftover turkey, shredded
1 red bell pepper, thinly sliced
One 8-ounce can sliced water chestnuts, drained
4 scallions, sliced on the diagonal in 1-inch pieces
1/2 small head Napa cabbage, shredded (about 6 cups)

1. Stir together the hoisin, vinegar, soy sauce, sesame oil, garlic, ginger and garlic-chili sauce.

2. Add the turkey, pepper, water chestnuts, scallions and cabbage. Toss the vegetables with the dressing until coated.

3. Tip: Replace the cabbage with a bag of baby greens or pre-shredded coleslaw mix. Toss in other vegetables on-hand, like carrots or broccoli, to bulk up the salad.

Source
Source: Cooking.com, 11/29/14

---------------

P.S. O.K., we're splurging one more day and then.....healthy!
L/O Turkey-Cranberry Monte Cristo Sandwiches


---
Re: Sunday Dinner, 11/30/14?? - Mare749 - 11-30-2014

Thanks for the recipe, Jean. This is one we will love.

Ron is leaving for Pa. with his dad. Only 2 days this time, not all week. I'm going out to eat with my dad.

Linguine alla pescatore is calling my name.
http://www.brunosristorante.net/home.html
---
Re: Sunday Dinner, 11/30/14?? - cjs - 11-30-2014

I'll take an order of Calamari Fritti - have fun!
Wow, his Dad feels well enough to go hunting??
---
Re: Sunday Dinner, 11/30/14?? - Trixxee - 11-30-2014

I know I would like that hoisin recipe as well.

Well, I have a sick kid on my hands. Michael threw up all night long. He's been ok for the last three hours though. None of us got even 1/2 hour of sleep. Of course Tony and I are paranoid we are going to get it.

The plan was meatloaf but I don't know. I bought some mini bagels for ham sandwiches - that might be lighter and definitely easier.


---
Re: Sunday Dinner, 11/30/14?? - Gourmet_Mom - 11-30-2014

Jean, that recipe looks good to me, too! Copying and saving.

Have a great time, Maryann! I'm glad FIL is feeling well enough to go on a short trip!

Trixxee, I hope Michael continues to improve and that you and Tony escape the misery!

Lunch today was Leftover Sweet Potato Pancakes with leftover syrup from the sweet potatoes and leftover Peacan Pie topping and a side of bacon. YUM! We both LOVED it! Thanks Jean!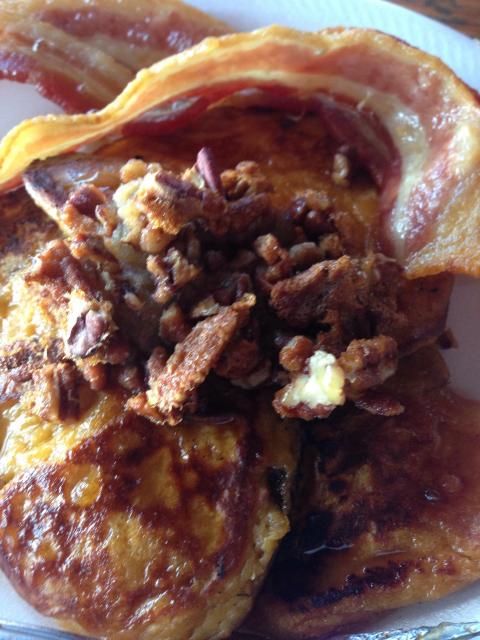 Dinner will be a continuation of the leftovers....Fried rice with a little turkey and Giblet Gravey thrown in.


---
Re: Sunday Dinner, 11/30/14?? - Mare749 - 11-30-2014

I hope Michael feels better quickly. Alyssa had that virus for 5 days before it finally let up.
Oddly, Tommy only had it for 1 day.

Jean, Ron Sr. asked his doc if he could go hunting. The doc said okay if he feels well enough, but not to carry a rifle since he doesn't see well. He will probably spend a lot of time in the truck listening to the radio and keeping warm, but at least he wants to go. Amazing for a man 80 years old.


---
Re: Sunday Dinner, 11/30/14?? - Trixxee - 11-30-2014

Oh no-5 days? Did they have fevers or anything else? Prior to this he had a cold/sore throat this past week but I thought we were done and ready to roll back to school tomorrow.

I'm hoping Michael takes after Tommy.


Thanks guys. Another day where the food/pictures sound so good.

Glad your FIL at least wants to go - that is great.


---
Re: Sunday Dinner, 11/30/14?? - karyn - 11-30-2014

great that Ron Sr. wants to go hunting. I hope he has a wonderful time!

Poor Michael! I hope the rest of the family stays healthy...Good luck, Trixxee.

Such great ideas for leftovers today! We're going to try Turkey and Mushroom Quesadillas with Beer-Pickled Jalapenos. I'll serve them with broccoli slaw. That stuff is tasty!


---
Re: Sunday Dinner, 11/30/14?? - cjs - 11-30-2014

Oh Maryann, if it were my Dad in his later years, he'd be saying, "I'll make my stand in the truck!!"


I agree Trixxee, everything does sound good.

My turkey (well, I keep calling it turkey 'cause Thanksgiving, but it really was a chix)
is ALL GONE.

Made a great soup that we'll eat for a couple days - one of those fridge/pantry clean out soups with the turkey stock and pieces.

This one for lunch I should have known to make one and split it - geez, it was just too darn filling and we both wasted a lot of it!



Leftover Turkey-Cranberry Monte Cristo Sandwiches

Trixxee posted the link at C@H - 11/24/14 Maybe a little mustard on sandwich also.

1 loaf very soft French Bread, sliced
1-1/2 cups cranberry sauce
12 oz thinly sliced Muenster cheese
thinly sliced leftover turkey
3 large eggs
2 cups whole milk
4-6 Tablespoons butter
confectioners' sugar

1. Spread each slice of bread with cranberry sauce, you can add as much or as little as you like. To build each sandwich, take a slice of cheese and tear it in half. Top the bread with half a cheese slice, turkey and the other half of the cheese slice. Top with another slice of bread, cranberry sauce side down.

2. In a shallow pie plate, add eggs and milk and beat the mixture with a fork until combined. Soak each sandwich in the mixture, about 30 seconds per side. You want the bread saturated but not soggy.

3. Over medium heat, melt a couple Tablespoons of butter in a nonstick skillet. Add a few sandwiches and cook until the bottoms are golden brown, 3-4 minutes. Flip sandwiches and cook the other sides until golden. Add more butter as needed to cook the rest of the sandwiches.

4. Dust with confectioners' sugar before serving. (Serve warm)

Source
Author: Posted by Cathy - Noble Pig, 11/24/14


---
Re: Sunday Dinner, 11/30/14?? - Gourmet_Mom - 11-30-2014

Your soup looks great, Jean! I didn't add tomatoes to mine, but I did add a half a box of shell pasta since I'm saving the rice. I'll have to try to get a picture of mine when we polish it off. If Andrew doesn't want me to do the Fried Rice tonight, we may just have that again tonight. It was that good.


---