---
Why I love baking. - Cubangirl - 02-06-2015

This article describes me perfectly. It really nails it. 8 Things People Who Bake Love About Baking That Have Nothing To Do With Eating


"People who love baking really love baking. For them, the perfect Saturday involves whipping together a cake; To them, a really awesome standing mixer represents the pinnacle of material possessions." I go by and admire by 7 qt. Kitchen Aid mixer every time I'm in the kitchen.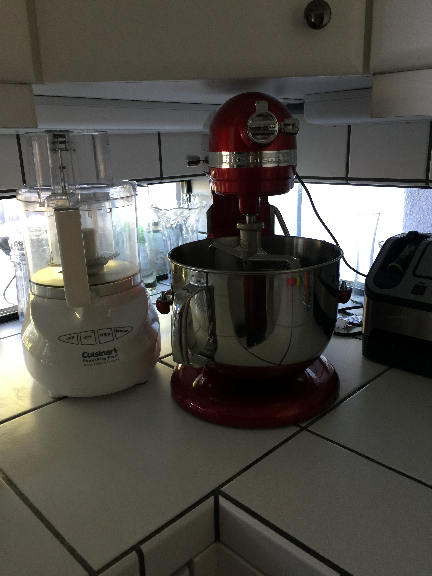 I've been baking bread for Steve a couple of times a week, ditto with cookies. Haven't eaten any except for the initial "is it ok" check.


---
Re: Why I love baking. - karyn - 02-06-2015

Me too! One of my favorite things is that on conference days I'm responsible for the teacher treats so I get to bake all of the things I've wanted to bake but don't want to eat or waste. It really is a joy! (My conferences are on a different schedule than the other teachers, so conference days are really planning days for me.)

I also love it when we have people over and everyone decides to watch a movie that will stress me out....I bake when stressed. I have friends who have been known to take advantage of this weakness! LOL


---
Re: Why I love baking. - Trixxee - 02-06-2015

I wish I loved baking (or rather, I guess I don't)! But I did enjoy the white chocolate lemon cookies and oatmeal scotchies I made in December. I would consider making more soon.

But like you guys, I don't eat them other than one or two.

So instead I bought fresh biscotti at the Italian market today! Win win.
---
Re: Why I love baking. - foodfiend - 02-06-2015

I absolutely agree with the article! My favorite days are those when I just bake and bake (and mostly everything turns out as I want them to).


I want to know, cubangirl, how you clean flour out of that black grout! I love my white tile counter, but every time I bake and use flour, I have to take a toothbrush and a vinegar solution to the grout or it looks grey.


---
Re: Why I love baking. - Cubangirl - 02-07-2015

Vicci, my grout is charcoal grey. I do spill flour (and everything else) every time I bake. I use a damp paper towel to wipe it off the counters and the floor as soon as I am finish with whatever made the mess. It does not have time to get encrusted. Of course after I am all done, I wipe the counters down more thoroughly, vacuum etc. If I remember correctly, we applied a sealer to the grout on the counters. I don't think we did it to the floor. I use just water on the floors, never pine sol or the like. If we gotten sticky stuff, then we add a bit of clorox to the water. It is not enough to bleach the grout, but it keeps the white floors clean. I found that soap type products are a horrible dust catcher, so whatever I use, I make sure it is completely rinsed off and then dried. Our well water is high calcium and other minerals, hence the white counters and floor, otherwise everything would have white spots.

Hope this helps some.

Earlier this weej, I made wonderful and super easy lemon crinkles (froze a few), and very healthy whole wheat chocolate chip cookies (didn't eat them, but Steve does. Making sous vide lemon curd tomorrow so I can make myself a Lemon Meringue Cake for my birthday. Also plan on my favorite choco chip cookies (not healthy but so good).


---
Re: Why I love baking. - cjs - 02-07-2015

Reading the link is interesting.... and can be applied to savory cooks as well. I get the same satisfaction from:

Baking smells amazing - as does long braises, stews simmering away

It's not about talent—it's about science - yes, on this one I agree, but then I don't care for the science part of cooking.

Baking can feel a bit like putting together a magic potion. You combine a bunch of ingredients..... - as with savory cooking

A lot of baked goods are freezable - Hello!!


I don't have to bake anything, but when I do, it's because I want to devote my time to making myself or someone else happy - and, I don't have to cook the complex dishes I do, but I do for the same reasons.

Baking is for sharing - as I do with neighbors and friends

It's cheap! - how can a 'clean out the fridge' dish be any cheaper?

Baking is celebratory - As is a dinner party with the menu planned around those invited, making the whole evening about your friends in holiday fashion.

---------------
I'm not saying I don't enjoy baked goods any less than anyone else - I can over-indulge with the best of them. But, as it is satisfying for you so are the elements of savory cooking for me.

Loved the article - thanks for sharing. We could do up a hell of a dinner party, you and I, Alina!!
---