---
Chicken a la king crepes review - losblanos1 - 04-06-2015

Maryann's on a cruise in the Caribbean right now and sent me her review before she left, so that I could post it for her. I'll post mine tomorrow, I feel like Carp, caught CA's bug.


Chicken Ala King Crepes with Manchego Cheese

This dish is absolutely decadent. It's a good thing we loved it considering the price of the cheese called for in the recipe. We both gave it a 10, so it was worth it, and fun to try a new cheese that we might not have purchased otherwise.

Normally, I would have made the crepes earlier in the day so that they would be ready to fill, but it didn't work out that way. I made the crepe batter and let it rest while making the filling. As soon as the filling was done, we started on the crepes. I made the first one, then Ron took over. As he finished each one, I filled it and place it into the casserole dish. The recipe was spot on and made exactly 8 crepes with a heavy 1/2 cup of filling for each one. Then, we put the sauce and the rest of the cheese on the crepes and into the oven.

I did not broil them as called for in the recipe, choosing to bake in a hot oven for about 15 minutes instead, so that they would be heated through as well as melting the cheese on top. Being the first time for making the recipe, I think it took longer than it will next time, so the crepes had cooled a bit before going into the oven, so I thought they might need to be warmed up longer than 2 minutes under the broiler. I think that this dish could be made ahead of time and stored in the fridge. However, the baking time would need to be adjusted accordingly, maybe using a moderate oven for 30 minutes or so.

I think that possibly the calorie count is off on this. I can't imagine that one serving of this dish is only 416 calories.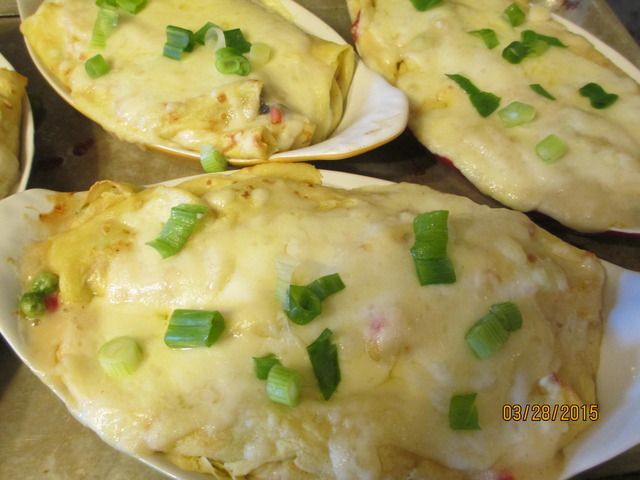 ---
Re: Chicken a la king crepes review - cjs - 04-06-2015

This is just what I needed to see this week!!!

Sounds like you chose well, Blane. Feel better soon.


---
Re: Chicken a la king crepes review - Gourmet_Mom - 04-07-2015

Since Friday's dinner was thrown off, and my chicken was already frozen, I decided to save this for later. That would allow me to try to get the Manchego instead of subbing Parm. I'll wait for William to get better so we can do it together. But I will do this. He is excited about it!


---
Re: Chicken a la king crepes review - losblanos1 - 04-07-2015





I made the recipe with no changes, but the next time I'll use mozzarella or Swiss cheese, just a personal preference. I think this would have been a much better recipe if the a la king was baked in puff pastry or served on a biscuit, the crepes (without the sugar) were kind of bland and very soft(texture issues for me). Overall it was a very tasty dish and I gave it a seven, Carylann gave it an eight.

The asparagus got a 10.
---
Re: Chicken a la king crepes review - karyn - 04-07-2015

No pictures here. I'm still tired from the week in DC with 65 seventh graders!

I enjoyed this, but agree that it would probably have been better with Swiss cheese. I think the manchego was a bit mild and overpowered by the sherry, not to mention expensive! I also didn't like the texture of the crepes as well as my standard recipe. I think the club soda made them too soft. I added extra salt because I thought they might be bland. That certainly helped.

I'm glad I tried this recipe, but I don't know that I'll do it again. There are a lot of recipes we like better.


---
Re: Chicken a la king crepes review - Trixxee - 04-07-2015

The pictures look so darn good!


---
Re: Chicken a la king crepes review - cjs - 04-08-2015

They sure do. But, I think I would have had a texture issue, also.


---
Re: Chicken a la king crepes review - Mare749 - 04-12-2015

I did too, at first. But then I realized that the crepe was very much like eating a soft, baked pasta.

When I make Cuisine's Classic Manicotti I use a recipe for crespelle (crepes) that Sharon gave to me. So, I guess we were already used to the idea and the texture was fine for us.

Thanks for posting my review, Blane. Hope you are feeling better.


---