---
Fresh Corn Polenta Review - cjs - 06-13-2015

Piddle I posted this this a.m. and don't know where it went................

What a wonderful side dish this Fresh Corn Polenta is!!! I'm serving it later (if there is any left) with BBQ Sauced Salmon.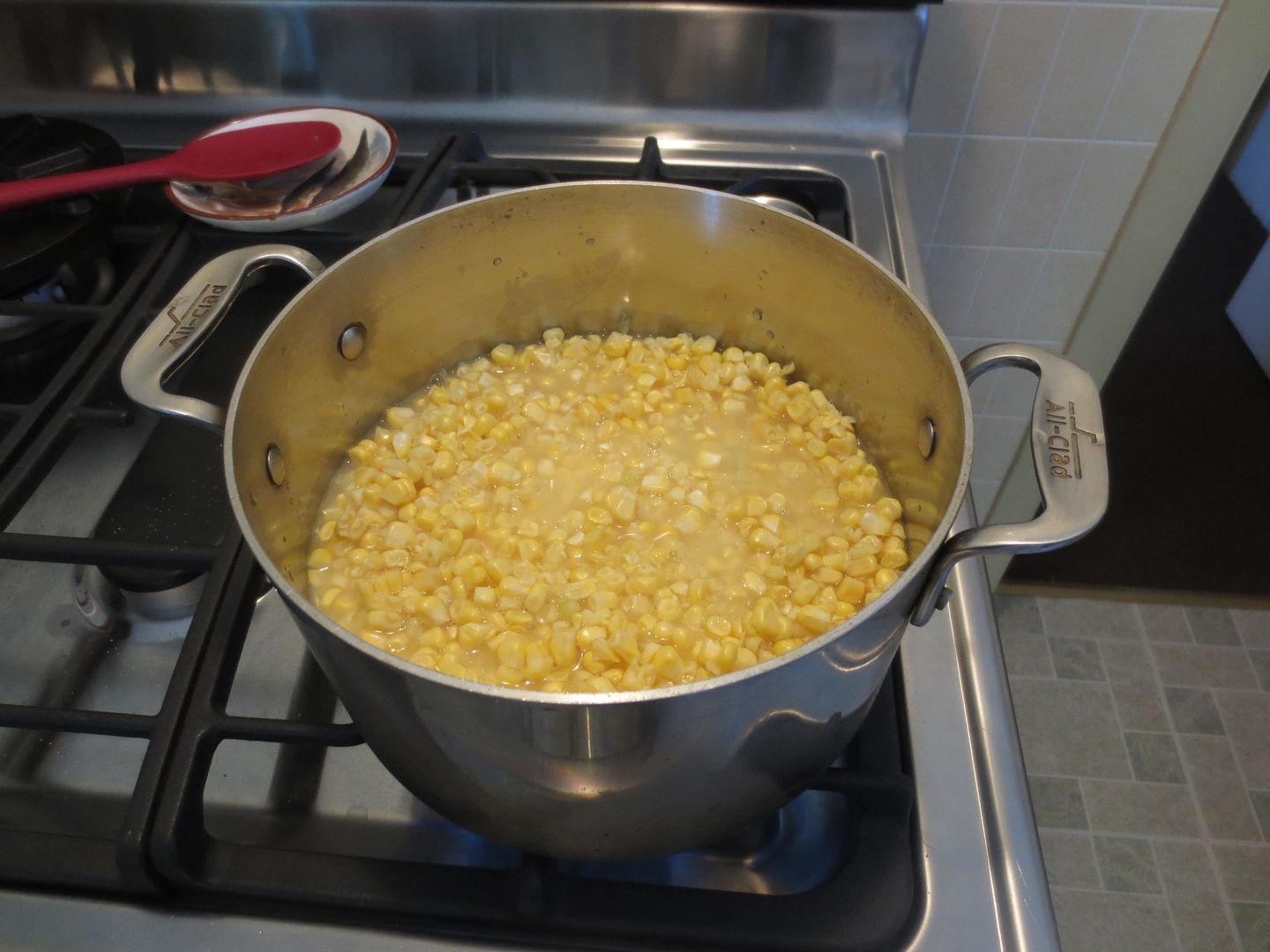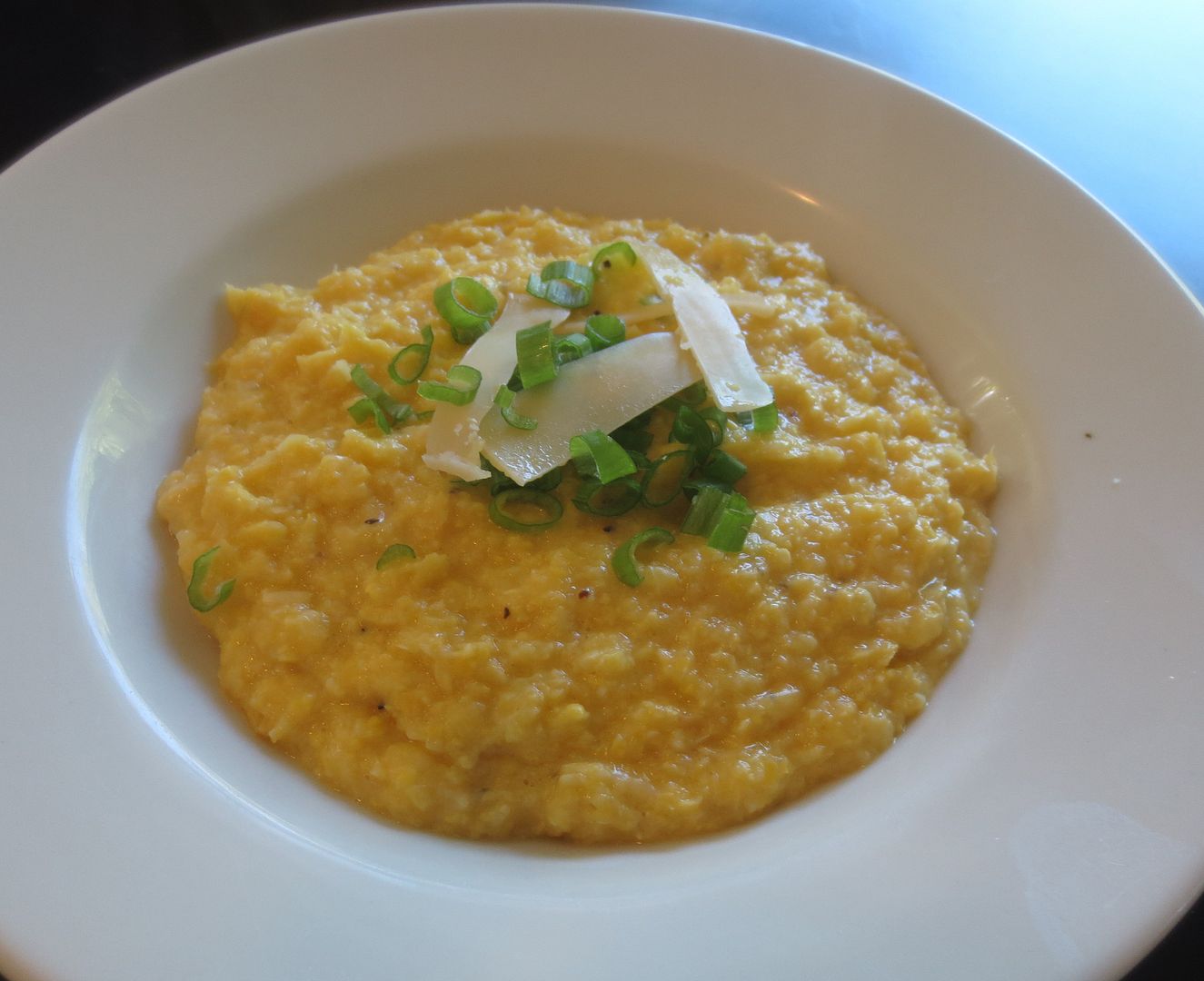 Fresh Corn Polenta

Author's notes:
It's kind of a revelation making polenta from fresh corn the way Yotam Ottolenghi does in his cookbook, Plenty. It bares little resemblance to the polenta I'm accustomed to . This version is lighter, sweeter, with a fresh corn flavor that's out of this world and takes less than 30 minutes to make. Unlike traditional polenta made from cornmeal, fresh polenta is made only from sweet fresh corn kernels simmered in water, then pureed in a food processor or Vitamix. No cream or milk is added. The quality of the polenta depends on the freshness of the corn. Therefore make it only when sweet corn is available.

I chose to top the polenta with grilled shrimp, zucchini, and some roasted tomatoes. Ottolenghi uses a delicious eggplant sauce. Other options might be grilled vegetables, ratatouille, or whatever you can dream up.
http://www.playinwithmyfood.com/home/201...oasted-tomatoes

------

(I'm not making this topping, but I will grill some zucc to top with the salmon)
to make the topping:
18-20 cherry tomatoes, cut in half ( I use Campari tomatoes)
8 oz shrimp, shelled
2 zucchini, sliced for grilling
-------------------
To make the polenta:
6 ears of corn (I had 6 cups of kernels)
2-1/4 cups water
2 Tbs butter
1/4 cup grated Parmesan cheese or to taste
pinch salt and pepper

1. TO MAKE THE TOPPING:

2. Preheat oven to 300 F

3. Line a sheet pan with parchment paper. Lightly toss cut tomatoes with olive oil, salt, pepper and fresh thyme if desired. Place skin side up on baking sheet and roast in the oven for about 1 hour or until shriveled. This can be done up to a day ahead. Set aside.

4. Toss shrimp and zucchini with olive oil, salt and pepper. Grill until nicely charred. You can either leave the shrimp whole, or cut them in half. Cut the zucchini into 1 inch slices. Set aside while you make the polenta but warm the topping for a minute in a saucepan before serving.

5. TO MAKE POLENTA:

6. Remove the kernels from the corn using a sharp knife and place them in a saucepan with the water. Bring to a simmer and cook uncovered for 12 minutes. Using a slotted spoon to lift the kernels from the water, transfer them to a food processor or a Vitamix, reserving the water. Process for a few minutes, adding a little of the water if too dry. Return the corn paste to the saucepan with the reserved water and cook stirring on low heat for about 10 minutes or until the consistency of mashed potatoes. Off heat, fold in the butter, cheese, salt and pepper.

7. Divide the polenta among shallow bowls or one large serving bowl and spoon the topping in the center. Serve immediately.

Yield: Serves 4

-------------
This is the best new side dish I've come across in a long time. And, there is so many ways to season/flavor it.
---
Re: Fresh Corn Polenta Review - Gourmet_Mom - 06-13-2015

Know what I'm going to make with some of that corn now!!! William is going to LOVE this one!!!!!!!

Thanks, Jean!


---
Re: Fresh Corn Polenta Review - karyn - 06-13-2015

That looks amazing!! Thanks for sharing.
---
Re: Fresh Corn Polenta Review - Mare749 - 06-13-2015

Oh, you know I am all over this one! Thank you!


---
Re: Fresh Corn Polenta Review - mjkcooking - 06-13-2015

Jean.
Can't wait to try this. Yum


---
Re: Fresh Corn Polenta Review - cjs - 06-13-2015

It was so good!


---
Re: Fresh Corn Polenta Review - Trixxee - 06-14-2015

Definitely have to make this. Just not sure what to serve it with.


---
Re: Fresh Corn Polenta Review - Gourmet_Mom - 06-14-2015

I just stuck the other 18 ears in the freezer, because I have other things planned for the next four days. It is the prettiest corn I've seen in several years! I'm doing it Friday with steaks! YUM!


---
Re: Fresh Corn Polenta Review - BarbaraS - 06-14-2015

You cab freeze corn on the cob?

Barbara


---
Re: Fresh Corn Polenta Review - Gourmet_Mom - 06-14-2015

As a child, my mother would put up a bushel or more every year. But we would cut off the ends, shuck it and remove the silks. Then it was blanched, cooled, and bagged. Many years ago, we learned you could freeze it in the husk with excellent results. But that took too much freezer space. I only did the whole husk today because there were only 18 ears.


---