---
RE: DINNER THREAD 1/23/17 - 1/29/17 - cjs - 01-26-2017



Thursday's Dinner, 1/26/17??





What's on the menu for today?



I'm using the IP today for a chuck roast....fingers crossed. :
Mashed potatoes and a beet & feta salad. 
---
RE: DINNER THREAD 1/23/17 - 1/29/17 - Trixxee - 01-26-2017

Good job Daphne!

Glad to see the beet and feta salad is making an appearance.

Not sure yet here but possibly some grilled salmon with some roasted vegetables.

But I have to tell you about something that happened yesterday.  For English class, the kids had to make a "how to" video about a real life skill (because snowflake millenials don't know how to do much - LOL).  Michael picked checking the oil level in your car.  Anyway, it was a big production, neighbors watching and smiling (from their windows - they didn't want to make him nervous).  I made him a giant cue card that Tony held in the background while I filmed.  Well, as many asperger's kids (and adults talk), Michael sounds a little monotone.  I don't think he ever heard his voice before because he was aghast at what he sounded like and I honestly thought he was going to have a heart attack at the thought of the class watching his video.  I thought it actually turned out pretty good for the amateurs that we are.  In the end none of us could figure out how to upload such a large file to the teacher's email.  I think he was relieved.

Anyway, I emailed her and said he was pretty upset over how he presented his video and he'd rather not have it shown but he was OK with her watching it on his phone so she knows he did it.  She sent  me back the kindest note.  She said for him not to worry, they'll figure something out and that he has become her class's "silent hero" and that his classmates are amazed by him.

WHAT?  I started to cry immediately.  Such a sap.  My week, no, my month has been made.


---
RE: DINNER THREAD 1/23/17 - 1/29/17 - foodfiend - 01-26-2017


(01-26-2017, 11:18 AM)

Trixxee Wrote: Such a sap.  My week, no, my month has been made.

Not a sap at all!  And I'll bet that you will think about this for many years so come and smile-- what a kind teacher!!! :
How fortunate your son is!

Today's easy.  It's Thursday and that means Spaghetti Night!  My husband only reluctantly lets it go on Thanksgiving and if Christmas falls on that day...  
---
RE: DINNER THREAD 1/23/17 - 1/29/17 - cjs - 01-26-2017

Oh God, Sob sister that I am for kids, you have me in tears, also Trixxee!! What a wonderfully kind way the teacher responded. And, I hope you tell Michael all of us are certainly surprised at how we truly sound. I was so sure I had this wonderfully slow melodious tenor to my voice. Turns out I could be from Brooklyn!!

I think Roy would have a weekly hot dog night if he thought he could get away with it....


I'm back to the drawing board - just looked more closely at the recipe for the chuck roast I wanted to do - it calls for the meat to be sliced before cooking. No wonder it was going to be so fast. DUH! So, off to check the IP posts......hopefully Maryann and/or Alina have instructions in one for this cut.
---
RE: DINNER THREAD 1/23/17 - 1/29/17 - Mare749 - 01-26-2017

Jean, I did not cut mine up. Just browned it up in the IP with a bit of oil, may 5 min. a side? I did slice up an onion to go on top and added some beef broth. I would have to refer back to that thread for timing. It was fork tender.


---
RE: DINNER THREAD 1/23/17 - 1/29/17 - Mare749 - 01-26-2017

Trixxee, you are making me cry! Michael is a lucky young man to have such a wonderful and caring teacher. And even more fortunate to have such awesome parents!
---
RE: DINNER THREAD 1/23/17 - 1/29/17 - cjs - 01-26-2017

The method I'm using says 30-35 minutes - another friend said she liked the roast cooked 45 min. I want it to be 'sliceable' - not pulled thing. We'll see.


---
RE: DINNER THREAD 1/23/17 - 1/29/17 - Trixxee - 01-26-2017

Thank you guys SO MUCH for the support and kind words and fellow "mom" tears.  Minimum day today because of final exams and I'm dying to know what happened.  One more hour to go.
LOL at Brooklyn, Jean!  My New York accent comes out every once in a while.  I did explain that virtually no one likes their voice, present company included.  Jeez, do I really sound that nasally?

OK, tonight it is tri tip chili after all.  Thought Tony wasn't going to be home early enough to get is started things have changed.


---
RE: DINNER THREAD 1/23/17 - 1/29/17 - Mare749 - 01-26-2017

Hey, we got your back, Trixxee.


So, life got in the way yesterday, and I never did make the turkey stock. I'll get around to it another day. So, we had sausage and pepper hoagies yesterday and some French fries.

Today I made this recipe, and it's keeping warm in the IP until Ron gets home. I tasted it without the cream and it's already delicious. Cream will put it over the top. Easy and recommended. Oh, and for the chicken, I just cooked a couple of thighs in the IP for 15 minutes, then cut the meat off the bones for the soup.

http://www.pressurecookingtoday.com/butternut-squash-soup-with-chicken-and-orzo/

ETA: Came back to add...this is my new favorite soup! Delicious! Oh, and BTW, it does not have to be made in a pressure cooker if you don't have one.


---
RE: DINNER THREAD 1/23/17 - 1/29/17 - cjs - 01-26-2017

Love this Butternut Sq. soup recipe - copied, BUT, cavewoman that I am, I'll make it in the oven/stovetop. This will be interesting - the butternut sq. soup I made last week (?) - was my favorite so far........

 
Some new tricks are just not for old dogs! I I.P.'d my chuck roast for45 minutes – nicely tender and 'sliceable' which I was aiming for. But, I can't get over missing braising for hours and the aromas wafting thru the house. So, I think I have an expensive hard-cooked egg cooker. I love this device for the eggs – I have not had an issue with shelling (even fresh eggs) since I've been using this method. I can live with this.
 
This dinner was the ultimate 'comfort food' experience. Mashed potatoes topped with the onions and jus from the beef. But, must say it was a toss up which was the best dish – the beef/potatoes or the green salad with vinegared beets and feta. It's been a long time since I've bothered finishing a green salad, but I almost licked this plate. Oh, and candied walnuts topped the salad off. Wine: Chateau Le Bonalguet, 2015 Bordeaux Merlot based blend. Wonderful match to the beef and the salad both.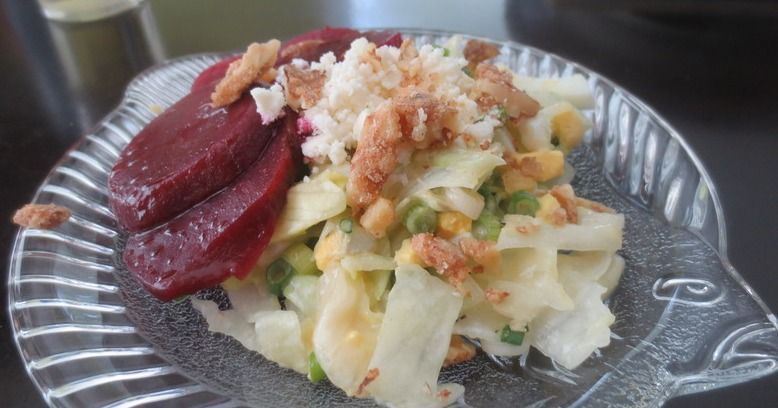 ---