---
RE: DINNER THREAD 4/5 - 4/9/17, PART II - Trixxee - 04-08-2017

No suggestions at this point on how to get more participation.  I'm seeing less and less participation on FB overall too.  Maybe people are getting burnt out on screen time across the board.
Here is that chicken recipe and the zucchini recipe.

https://cafedelites.com/2017/02/19/italian-herb-bruschetta-chicken/

I'm changing the toppings a little, at least for Tony's since he doesn't like tomatoes.

http://damndelicious.net/2014/06/21/baked-parmesan-zucchini/


---
RE: DINNER THREAD 4/5 - 4/9/17, PART II - Trixxee - 04-08-2017

That bread looks fantastic!

Jean - KY Derby prep races are on on NBS Sports Network from 2:30-4:30 today.  Winners will earn points to enter the KY Derby in a month from now.


---
RE: DINNER THREAD 4/5 - 4/9/17, PART II - cjs - 04-08-2017

Crap! Roy's has taken the TV for the Masters!!  What horses are favored this year??

Nice dinner today - I'm not a big mushroom fan and even tho these patties are at least 1/3 'shrooms, I liked them very much - nice and moist.  The Cauliflower salad is reminiscent of the old Broccoli salad. We loved it!

Cauliflower Salad Recipe - I made just a quarter of the recipe.
Salad:
1 head lettuce, shredded
1 head cauliflower, in Caramelized
1 small red onion, chopped
1 pound bacon, cooked crisp and coarsely crumbled
--------
Dressing:
1 pint mayonnaise
1/2 cup grated Parmesan cheese
1/2 cup sugar
Toss together lettuce, cauliflower, red onion and bacon. Mix together mayonnaise, cheese and sugar. Pour dressing over salad just before serving.   Mary Ann – Nancy's Kitchen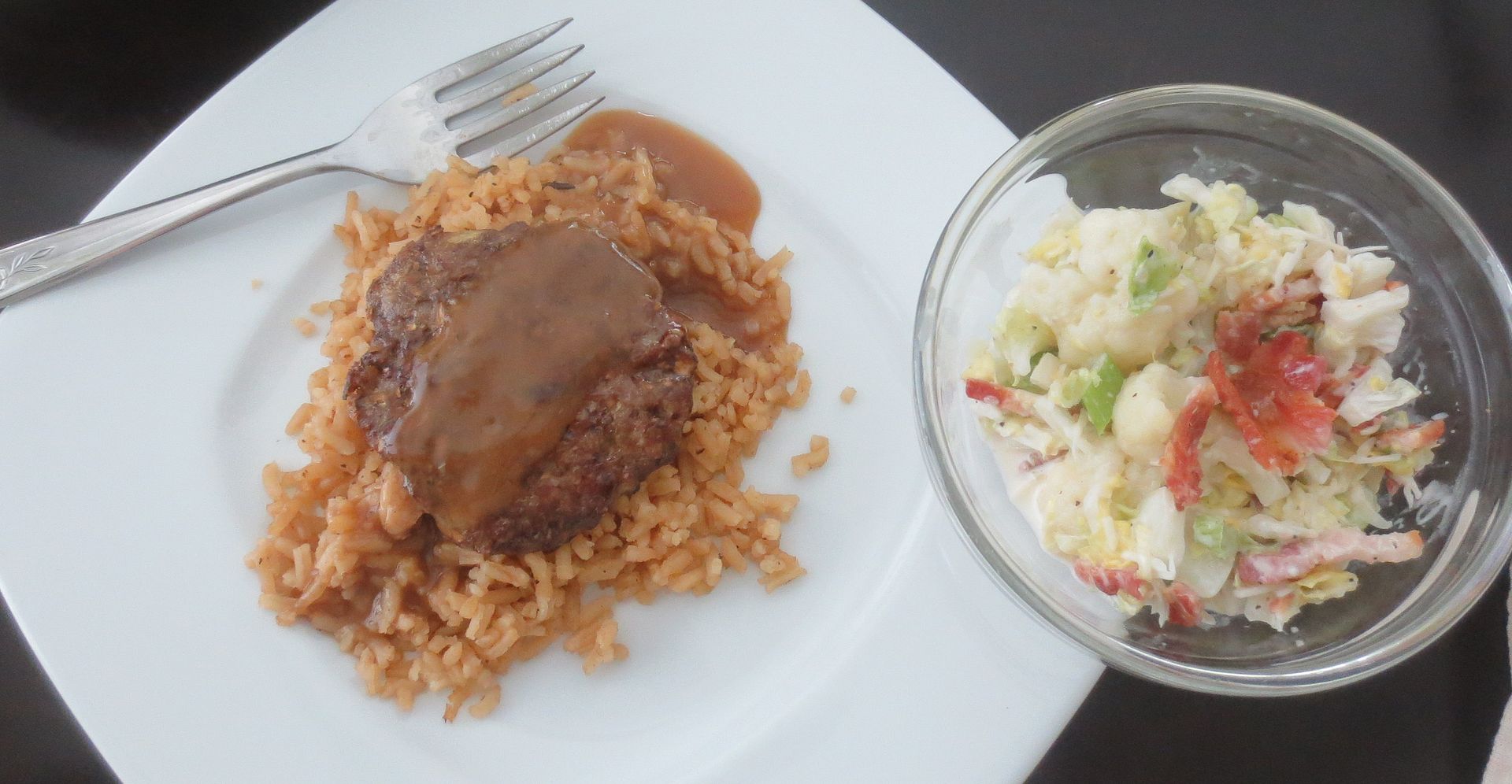 ---
RE: DINNER THREAD 4/5 - 4/9/17, PART II - Gourmet_Mom - 04-08-2017

Jean, its distressing to think they'd shut us down.  I will try to think of something also.  It would help if the magazine would promote the forum.  

Last night, William insisted on steak again, so we had that and baked potatoes.

Tonight was ribs and potato salad.  We had a late lunch of a large Caesar Salad...his with grilled chicken...mine with grilled shrimp.  So I decided potato salad was enough to go with the ribs.  And I got really lazy and got Dale, our waitress at Loco Jo's at lunch, snag me a pound of their potato salad from the kitchen.....and yes, it is that good!


---
RE: DINNER THREAD 4/5 - 4/9/17, PART II - Mare749 - 04-08-2017

I like the sound of that cauliflower salad! Thanks, Jean. What else is in your burger besides mushrooms? It reminds me of a meatloaf recipe that I tried a few months ago that had chopped mushrooms, shredded carrots, diced onions, and diced celery. The veggies were sauteed first, then cooled before making the meatloaf with an egg and some whole wheat bread crumbs. It made a very tasty and moist meatloaf.

Trixxee, my mouth dropped to the ground when you said Tony doesn't like tomatoes! Is he Italian? I guess maybe I thought he was at least part Italian because it seems like he likes to cook Italian type food and most Italians adore tomatoes.


---
RE: DINNER THREAD 4/5 - 4/9/17, PART II - cjs - 04-09-2017

Interesting method for the patties. Mince each - the onions (2 lg.) and mushrooms (1 lb.) and wring the moisture out of them before mixing with the beef (2 lbs.). Add a little soy sauce (2T.) and s&p and that's it. No other fillers with the onions and mushrooms dried out needed. I made just a quarter recipe and got 7 2-oz. patties. So, it makes a lot.

Grilled chicken and potato salad - I'm so antsy for grilling and summer salads.


---
RE: DINNER THREAD 4/5 - 4/9/17, PART II - cjs - 04-09-2017



Saturday's Dinner, 4/9/17??

& Sunday's dinner (I forgot)





What's for dinner today? 





I found an idea for a dry rub for a thick pork  loin chop and then cooking with a maple syrup/mustard glaze.




Baked beans from the freezer and fruit.




---
RE: DINNER THREAD 4/5 - 4/9/17, PART II - Mare749 - 04-09-2017

That really is interesting and sounds good. Certainly would cut the calories, too. It also reminded me that I haven't made bean burgers lately.

Jean, are you still waiting for the weather to clear so you can grill? What a long winter you are having in the NW.

Dinner today, if we are home...just might be the burgers that you made. It's a gorgeous day here so we're going out for the afternoon to this place, http://www.grandpacificjunction.com/ and very possibly could end up eating there.
---
RE: DINNER THREAD 4/5 - 4/9/17, PART II - Trixxee - 04-09-2017

Tony is italian and likes "cooked down" tomatoes but yet he loves salsa.  I don't know.  Can't figure him out.  And that's how he makes meatloaf often too - with the sauteed veggies though I don't think he's added mushrooms.  Just the carrots, celery and onions.  

Jean - that cauliflower salad looks delicious and I'm going to print out that recipe.
Tony bought two monsterous rib eyes and if I can't talk him into splitting one, I'm going to split my own and cook the other half for lunch or something tomorrow.  I'm getting more and more like you Jean  -I just don't need a lot of meat.
I think I will also make a lime cilantro cauliflower rice dish, especially if he seasons the steaks southwest style.


---
RE: DINNER THREAD 4/5 - 4/9/17, PART II - Trixxee - 04-09-2017

Change of plans - making Jean's cauliflower salad.  But Tony wants me to toss it with blue cheese dressing - that's fine.

Oh, and as far as KY Derby contenders, there should be an updated list of the top 20 out soon.  I'll post it.  Yesterday I had picked a horse called Irad in the Toyota Bluegrass Stakes - long shot at 20-1.  He won!!!!  At 31-1!  He was a maiden meaning had never actually won a race before.  He's probably a fluke, but he had made it into the Derby with enough points after that win.   I actually couldn't believe my eyes when he was in second almost the whole time and then won.  That's why they call it a horse race - you never know what can happen.  Mike Smith's horse may be Abel Tasman.


---