---
RE: DINNER THREAD - 4/10/17 - 4/16/17 - Old Bay - 04-12-2017

Jean, our menu for Derby Day follows:
Canapés
Crab stuffed cucumber cups
Cajun Deviled Eggs Topped with a shrimp
Edeom Cheese Dip

Race and Mint Juleps

First Course: Brennan's Turtle Soup
Dinner:
Brie stuffed Pork Tenderloin/Port Cherry Sauce
Wild Rice/Mushrooms
Spinach Rockefeller

Bananas Foster
Favors: Bourbon Balls/Derby Glasses

We are watching the race in NOLA, we have exhausted our ideas for Louisville Cuisine.


---
RE: DINNER THREAD - 4/10/17 - 4/16/17 - Trixxee - 04-12-2017

Fabulous Derby menu!  Look at those shrimp Daphne!

Tony made a batch of marinara, meatballs and sausage last night.  Michael will have meatballs and pasta (separately, of course) and we having sausage and eggplant parm (I get frozen breaded cutlets at TJ's for the sake of ease and then add our own sauce and cheese).


---
RE: DINNER THREAD - 4/10/17 - 4/16/17 - cjs - 04-12-2017

Oh Bill & Jane - what a wonderful menu and what fun and you know pictures are needed - Food Porn!! Have a wonderful time.

Grabbed a pkg. of Mexican stew out of the freezer and I'm trying a silly-butt bowl of Ramen noodles with an egg for our later snack.

Maryann, what does your Dad go for when you go out to eat?? And, forget about 'healthy' just enjoy building up those 'Dad' memories.....
---
RE: DINNER THREAD - 4/10/17 - 4/16/17 - Mare749 - 04-12-2017

Here is a pic of Dad's Chicken Parm with spaghetti: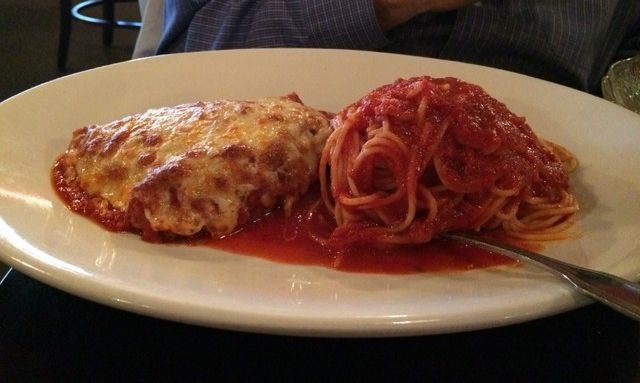 And my house made Cavatelli with Meatball: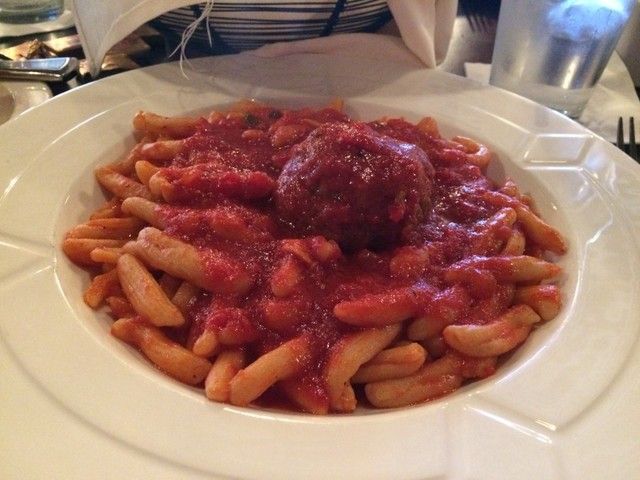 These were actually lunch size portions! We also had a nice mixed green salad and house made Italian bread. I ate about 1/3 of my entree along with my salad and was full. Dad ate his whole entree, salad, and 3 pieces of bread! He has a strong appetite for a 90 year old.


I can take him to any kind of restaurant and he will eat a hearty meal, but he loves Italian food, so we booked this place for his birthday on May 6. It's one of the few places that I approve of "the sauce"!

http://www.buccis.net/j_bella.html


---
RE: DINNER THREAD - 4/10/17 - 4/16/17 - cjs - 04-12-2017

That just looks delicious!!!

" silly-butt bowl of Ramen noodles with an egg" - what the heck is 'silly-butt' - was I auto corrected??? Now, I can't remember what it should have been.
---
RE: DINNER THREAD - 4/10/17 - 4/16/17 - Gourmet_Mom - 04-12-2017

Maryann, that looks awesome!!!!  I agree with Jean, build those memories.  I'm impressed with his appetite.  Most of the time, Mom eats like a bird at a snail's pace.  But then, she has to watch her sugar.

Bill and Jane, that is an impressive menu!  Have fun!  And definitely send pictures!

Jean, that is too funny!  I was going to ask. 

Yup!  Just snacks here, but if I wasn't so stuffed, I'd go steal Maryann's leftovers or eat with Trixxee!


---
RE: DINNER THREAD - 4/10/17 - 4/16/17 - cjs - 04-13-2017


Figured out the 'silly-butt'!! I typed 'silly-a$$' (only with the SS and I think I was auto-corrected??  This Ramen noodle dish really was something else. This soup is really good!!! And so easy
Perfect Instant Ramen – another off-the-wall recipe which had to be tried. On this one, I was really dubious; even told Roy we might be headed for cheese & crackers. But, we both loved it! As Chef Roy Choi says of the recipe, "…a taste of Korean-American straight from-the-bag soul food".
Made exactly per the recipe except I split one seasoning packet between the 2 pots of 'soup'. "
The butter, egg and cheese help coat the ramen noodles and deepen their flavor." Makes 1 serving
1
pack ramen noodles with flavor packet
1
large egg
½
teaspoon butter
2
slices American cheese
¼
teaspoon toasted sesame seeds
½
scallion, green part only, thinly sliced on the bias, optional
Bring 2 1/2 cups of water to a boil in a small saucepan. Add the noodles and cook for 2 minutes. Add the flavor packet, stir, and continue to cook for another 30 seconds.
Remove the pan from the heat and carefully add the egg. Do not stir; pull the noodles over the egg and let sit for one minute to poach.
Carefully transfer everything to a serving bowl, add the butter, cheese and sesame seeds and mix. Garnish with the scallions if desired.
Adapted from Roy Choi
---
RE: DINNER THREAD - 4/10/17 - 4/16/17 - cjs - 04-13-2017



Thursday's Dinner, 4/13/17??





What's for dinner?? 



Costco run today, so no telling where we'll end up. I'm ready for another bowl of that Ramen Noodle soup, I'll tell you.
---
RE: DINNER THREAD - 4/10/17 - 4/16/17 - Trixxee - 04-13-2017

Very different recipe Jean.  MA - the food looks great.

We are continuing on with italian ourselves tonight.  I picked up some artichoke ravioli at Trader Joe's yesterday.  I'll make some homemade alfredo for it and garnish with chopped pistachios and fresh basil.


Am also going make this new brussels sprouts recipe.  I never thought to put vegetables, EVOO, & seasonings in a ziploc and then just dump it on a baking sheet instead of mixing with m y hands.
http://www.iwashyoudry.com/2017/01/04/parmesan-roasted-brussel-sprouts/


---
RE: DINNER THREAD - 4/10/17 - 4/16/17 - cjs - 04-13-2017

Trixxee, you really don't even need the Baggie. I just spray the baking sheet, pour a little oil, balsamic, whatever and seasoning and dump the veggies in the middle of it all and toss w/your hands.


---