---
RE: DINNER THREAD - 5/29/17 - 6/4/17 - cjs - 05-30-2017

I'm with you, Maryann - unless it's really, really hot I do like a warm lunch/snack best.

Today's Taco salad was just what I was wanting - it's been so long and tasted so good.


Finally able to log in to Photobucket -



And, a while back I ran across a funny little recipe for lemon cookies and on this rainy afternoon,  just seemed to call for them. And, what a delightful surprise these are!!!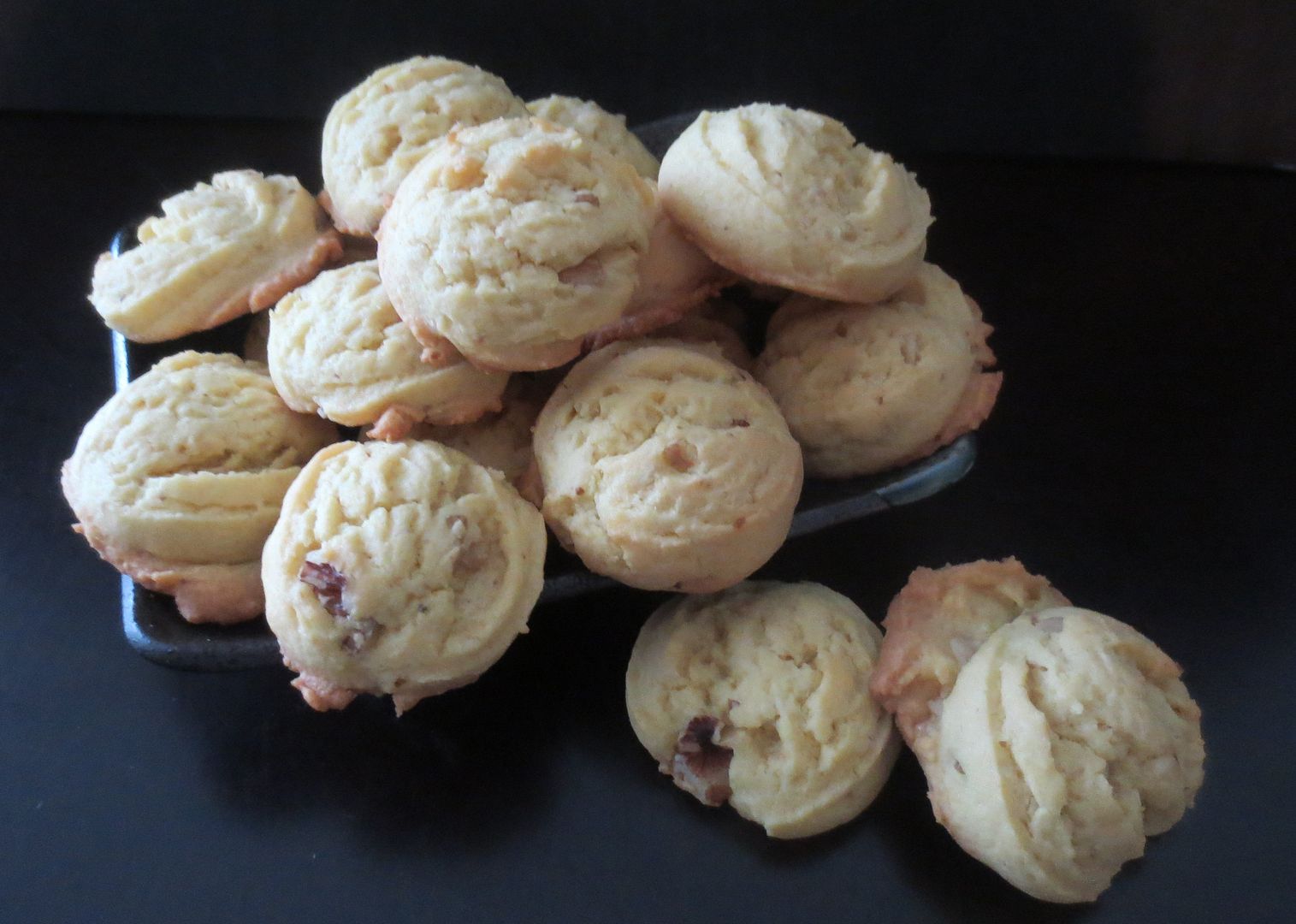 DESSERT - Lemon Pudding Cookies Recipe
There are all kinds of recipes for these on the internet, this is the one I made and it is just such a nice little goodie!!
1/2 cup shortening
1/2 cup sugar
1 (3-1/2 oz.) box of instant lemon pudding mix
2 eggs
1-1/2 cup flour
1/2 tsp baking soda
1/4 tsp salt
coconut (optional)
nuts (optional)
Cream shortening, sugar and pudding mix.
Beat in eggs. Blend in flour, soda and salt.
Drop by teaspoon on ungreased cookie sheet.
Bake 10-12 minutes at 375 degrees.
Author: Mary J. - Nancy's Kitchen - 
5/4/17
---
RE: DINNER THREAD - 5/29/17 - 6/4/17 - Mare749 - 05-30-2017

Yum. I have a real weakness for anything lemon, especially if it is also sweet. But, since I need to get back on track tomorrow, won't be making these until the next family gathering. Thanks for the recipe though. Saved!

I don't see any meat in that salad, Jean. It does look good.


---
RE: DINNER THREAD - 5/29/17 - 6/4/17 - cjs - 05-31-2017

I used some of my Mexican stew as a base in the salad - it got quite thick and worked great. And, I won't be making these little cookies very often...Roy can't walk by the cookie jar without grabbing a couple.


---
RE: DINNER THREAD - 5/29/17 - 6/4/17 - cjs - 05-31-2017



Wednesday's Dinner, 5/31/17??





What's for dinner today??





No clue here - have running around to do




---
RE: DINNER THREAD - 5/29/17 - 6/4/17 - Trixxee - 05-31-2017

Speaking of lemon, we went to Baskin Robbins yesterday to order an ice cream cake for Michael's graduation and I meant to try the "lemon poppy seed pound cake" ice cream but a bazillion people walked in after us and I got all flustered taking the time to order a cake and I just didn't want to take up any more time of the ONE person working there by asking for a sample.  But Michael did manage to order a double scoop of something else on a waffle cone.  Wait for it - $6.99.  Good grief.

We are having simple bunless burgers and roasted cauliflower tonight.


---
RE: DINNER THREAD - 5/29/17 - 6/4/17 - Mare749 - 05-31-2017

Okay, Trixxee, you are my inspiration. Back on track today. Counting calories didn't work out very well for me. The hungries came back.

Steak and caesar salad tonight, no croutons for me!

$6.99 for a double dip is crazy. I'll bet Michael enjoyed every bit of it, too.


---
RE: DINNER THREAD - 5/29/17 - 6/4/17 - Trixxee - 05-31-2017

Those cake decoration stuff is awesome!

Maryann- do you make your own ceasar dressing or do store bought?


---
RE: DINNER THREAD - 5/29/17 - 6/4/17 - Mare749 - 05-31-2017

I really prefer homemade over store bought, but I have used it on occasion. My favorite recipe is the Caesar Salad that is in Cuisine's April 2005 issue, page 28. If you do not have it, let me know and I will be happy to post it for you. Sometimes I put l/o chopped chicken on it and I love it with some crumbled bacon too.

BTW, do you like to eat raw veggies with a dip? We used up all the marinated veggies, so I cut up an assortment to use this week and have been dipping them in Jean's Creamy Italian Dressing that I used on the tortellini salad for Katie's party. It's better than any store bought.


---
RE: DINNER THREAD - 5/29/17 - 6/4/17 - Gourmet_Mom - 05-31-2017

Jean, my mom would love those cookies!  Her birthday is coming up....HMMMM?

What an awesome package of goodies for Abby!  Way to go Jean!!!!  Maryann, I'm glad the weather is cooperating with all your plans.  We have had rain, but not nearly as much as many others near us.

Yesterday, we had a long day, so I just got one of those Michael Angelos Lasagnas we like so much.  

Speaking of ice cream, we have a little backery two doors from the office.  Their glazed and filled croissants are to die for!  I try to stay away, but they have ice cream also.  Harder to pass up on these hot muggy days.  They have this Peanut Butter Cup (chocolate ice cream with large chunks of peanut butter mixed in) right now that is hard to pass up.  

Anyway, when William finally dragged in from this muggy day in the field at about 3, I suggested a scoop of ice cream and an early dinner.  He loves Butter Peacan, and they have that right now too.  So he was happy with the idea!  

We had a lot of clientele coming in this afternoon, so to make sure dinner was early, I picked up deli sandwiches and a little baked potato salad...a Rueben for him (his favorite) and the chicken bacon guacamole for me.


---
RE: DINNER THREAD - 5/29/17 - 6/4/17 - cjs - 06-01-2017

That's the Caesar dressing I love also, Maryann.  Peanut Butter cup?? Oh my, sounds delicious.


We had lunch at Applebee's yesterday - don't know if any of you like this chain, but ours here in the area has some really creative dishes to offer. we split one yesterday that I came home and looked for knock-off copies for online and found some ideas I'm going to play with -
Cedar Grilled Lemon Chicken
Cedar-seasoned grilled chicken, Granny Smith apple relish, over rice, cranberries, honey-glazed pecans and quinoa.

The apple relish is just delicious - we both loved it.  (

Relish is granny smith apples, cucumbers, celery, mint, lemon juice and kosher salt and pepper.)




---