---
DINNER THREAD, 7/3/17 - 7/9/17 - cjs - 07-03-2017



Monday's Dinner, 7/3/17??





What's on the menu for today?? 



We're having ribs today and I have such a stockpile of 'doggie bag' fries I think ribs and fries sound good. Also, as a side dish - here comes a story....
When we lived in Kewanee, IL (80s - for 2 1/2 long, long, long years), every salad bar we saw back there had a pea salad (peas, cheddar (sometimes American) cheese with a mayo-based dressing AND really not too many more other offerings included in the salad bar. Being from California and, I  guess, real food snobs, we (the 5 families who moved back there) turned our collective noses up at this. Fast forward 30+ years for some reason this 'salad' popped into my head and I just had to make it. I 'uptowned' it by adding bacon, broccoli and my Honey Mustard dressing. What a treat it was.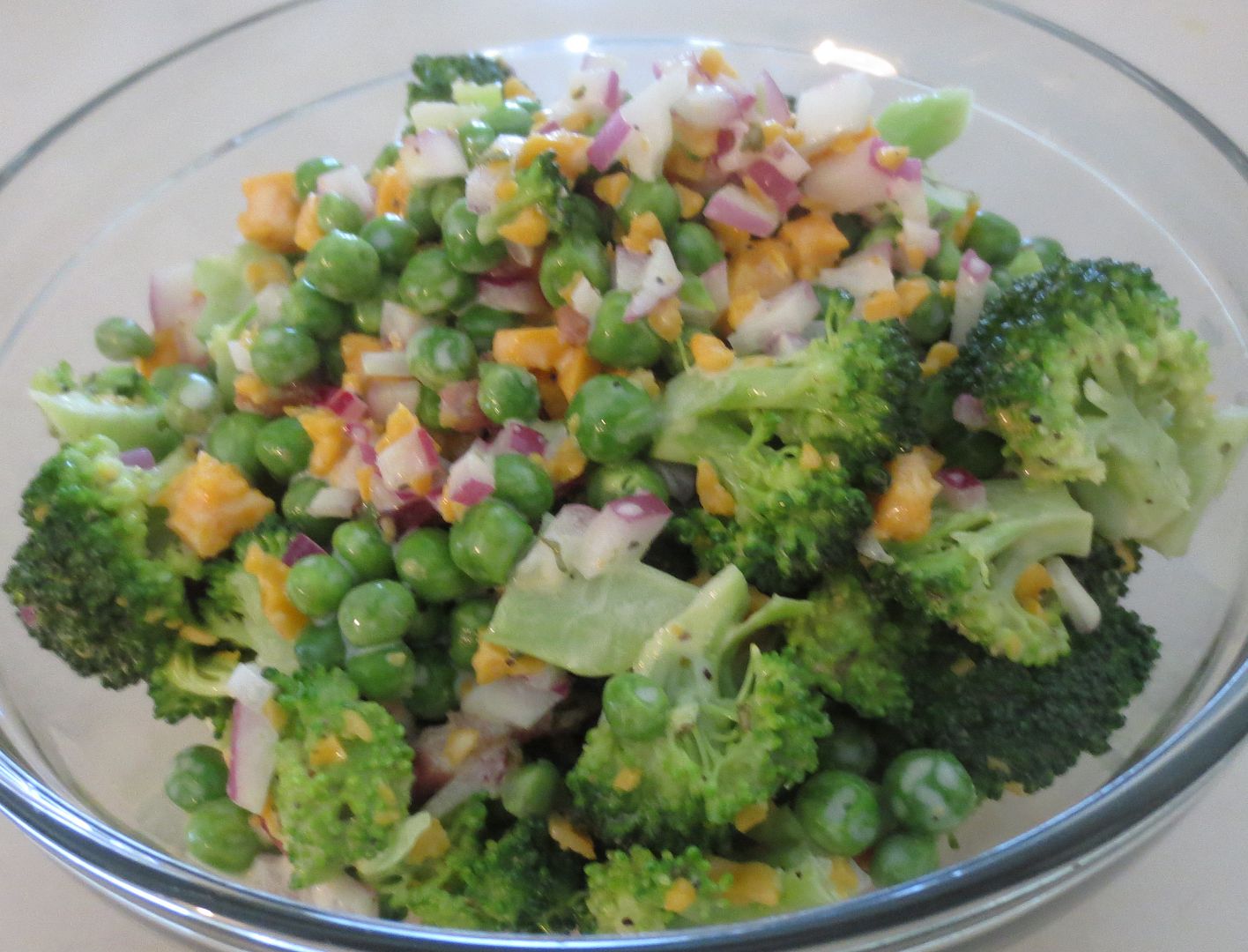 ---
RE: DINNER THREAD, 7/3/17 - 7/9/17 - Gourmet_Mom - 07-03-2017

I've seen that and never really understood it.  

I'm either getting a rotisserie chicken to add to the pasta salad from last night, or we are having shrimp boil.  Depends on if William can bring himself to pick up the shrimp and sausage.

Change of plans....Earl came over and invited us up to the house.  They had potato salad, fresh squash sautéed with bacon and onions, fresh corn on the cob, green beans, and sautéed shrimp....basically Scampi.  So my shrimp is still in the freezer.

Also got tortured all day with Earl's son, Michael, grilling Boston Butt.  Found out we are invited to a BBQ lunch tomorrow with all the fixings.  While up at the house, I mentioned my Cheesy Squash Casserole, and Michael's eyes lit up.  So I brought back some of their fresh picked squash and prepped it for tomorrow.


---
RE: DINNER THREAD, 7/3/17 - 7/9/17 - cjs - 07-04-2017



Tuesday, 4th OF JULY!!





Let's post our menus and plans on the 4th of July thread instead of on this thread today.





Have a wonderful day everyone.




---
RE: DINNER THREAD, 7/3/17 - 7/9/17 - Mare749 - 07-05-2017

Well, I think your salad looks fabulous and have seen many variations on it here. Maybe it's a Midwest thing? Holly made a broccoli salad not too long ago that was the first thing to disappear from the table. It was similar, just no peas.

Jean, I have been meaning to ask you for years what was so bad about living in Kewanee? Not that I know much about Ill. My relatives all lived in Chicago.


---
RE: DINNER THREAD, 7/3/17 - 7/9/17 - cjs - 07-05-2017

Oh Lordie, let me count the ways!! Suffice to say - and this really happened - on the wall of the county courthouse was a sign which said, "Because we've always done it this way!"

I must say tho, I would not have missed the experience for anything. We met some of the greatest people (who continue to be friends to this day). Just a few of the happenings -

- women could not go in the members bar at the country club - there was a little pass thru window we had to order/pick up our drinks.
- (I'll try and make this one short) I went to school while we were there and in Sociology class one day (which by the way was taught by a drinking neighbor of ours
) we skipped a chapter from the book and until then had gone chapt. by chapt. I asked Ken about it at the bar that night and he said to ask the question in class the next day. So, I did....the chapter was about the WWII Japanese internment camps. The whole class, collectively, responded that that never happened and they refused to study it.
- the hierarchy of class status was ridiculous. We had dinner parties where we invited the 'big' boss, foremen from the shop, and all in between. They had not socialized since the early days of their children being in boys/girls scouts, it just wasn't done. AND, they had a ball at our parties!!!

The whole kit & caboodle was such a different world. And, drink???? Jesus, those mid-westerners could drink - the saying seemed to be, "Let's go get drunk" instead of "Let's have a drink after work." These are just a few that stand out in my mind. But, again, I would not have missed it for the world.
---
RE: DINNER THREAD, 7/3/17 - 7/9/17 - cjs - 07-05-2017



Wednesday's Dinner, 7/5/17??





What's for dinner today?? 





Pizza with baked bean sauce & l/0 ribs here




---
RE: DINNER THREAD, 7/3/17 - 7/9/17 - Mare749 - 07-05-2017

Wow, that place sounds really backward, Jean. No wonder you didn't like it!

I picked up some T-bones on sale to go on the grill tonight along with grilled corn on the cob and a caesar salad.


---
RE: DINNER THREAD, 7/3/17 - 7/9/17 - cjs - 07-06-2017



Thursday's Dinner - 7/6/17??






What's on the menu for today?? 



Just getting my eyes open with coffee...will see later.
---
RE: DINNER THREAD, 7/3/17 - 7/9/17 - Trixxee - 07-06-2017

Today is Tony's 60th birthday but we're going to put off going out until tomorrow when we'll drive down to Newport Beach to one of our favorite Italian restaurants.

But I am making a nice dinner tonight- linguine with white clam sauce.  I'm using both canned whole baby clams and bought a few fresh clams at the store to top it with.  We haven't had pasta in months so I am looking forward to this.  Really going off the rails on the low carb diet lately.


---
RE: DINNER THREAD, 7/3/17 - 7/9/17 - Harborwitch - 07-06-2017

That salad looks really good. I make a salad with peas, tuna, hard cooked eggs, and scallions with a dill heavy mayo dressing. I have no idea where Mom got the recipe but it's a summer favorite. In fact I think I'll cook some eggs and get the tuna cooling.


---