---
Newburg Pot Pie Review - Roxanne 21 - 09-10-2007

I'm jumping the gun here but I will not be able to post later----REALLY busy day!!!!

I thought this was a very nice recipe. It was fairly easy to prepare, too. Peter is not into pot pies so I thought I would make this for my lonesome while he continues his US adventure. He will really like this particular pot pie and I will definitely make for him.

I followed the recipe to the letter (I always do the first time I prepare a new recipe) and there are few changes I would make—if any. The spices and herbs are spot on. I used dried tarragon instead of the fresh ---I don't think I have seen fresh tarragon here. I would like to try fresh dill next time. And instead of crab (don't have lump here—just the shredded) I subbed scallops.

The cooking times were perfect and the seafood came out tender and moist and ohhh soooo yummy!!! I also feel the amounts for the vegetables was just right—although I added a few more peas.

The markets here always have frozen puff pastry ----love puff pastry and this was the best light flaky topping for such a rich, artery clogging dish. I have had two meals with this amount and have another left for tonight.

Yes, I will make this again. I would also serve to guests who are seafood lovers who would like a more rustic dinner…….as long as they don't mind the gazillion calories.

I would give it a 9---but I love seafood dinners so I can't be too objective.

All said, this was a fun dinner!!!

Can't wait for your opinions---
---
Re: Newburg Pot Pie Review - cjs - 09-10-2007

I discovered something very interesting making this dish - I'm not the tarragon lover I thot I was. I do have a couple of Salmon dishes that I really like using tarragon, but sure did not care for it in this dish.

Was very thankful for the side notes re keeping the lobster in large chunks, it was beautifully done and telling us the 'mixture will be very thick' - it certainly was, but was perfect after cooking.

I had every intention in the world of following the recipe to the letter, BUT...who knew this was going to happen. I removed the puff pastry from the freezer the night before and let it thaw in the frig. Took out just before needing it to top the pot pie.....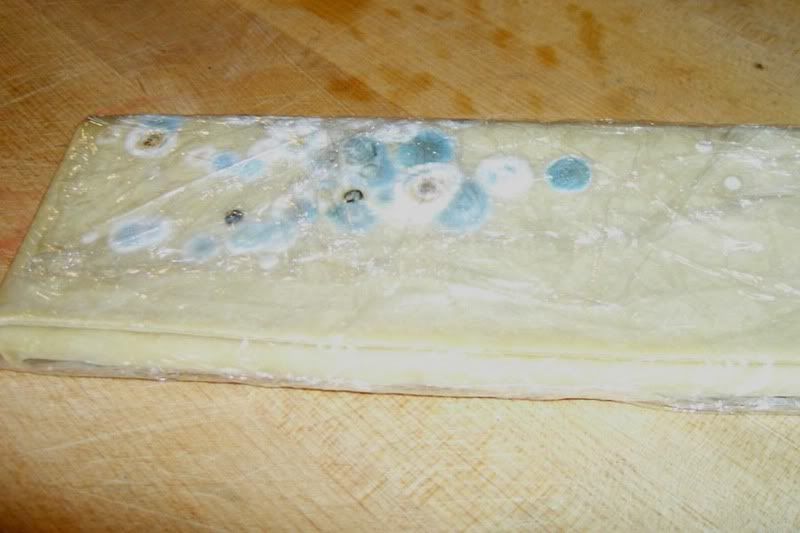 What the hell happened to this in the freezer????????


Thanks be to the cooking Gods watching over us, I had pastry dough in the frig thawed and all ready to go, so I had to sub.




The tobin James '04 Syrah was wonderful with the seafood!!

AND Cis' salad was wonderful - a new family favorite!




I will make this again, I'm sure, but I'll lose the tarragon and replace with basil, thyme or maybe just use some fennel.


---
Re: Newburg Pot Pie Review - farnfam - 09-10-2007

We really enjoyed this dinner. I used the puff pastry recipe for the food processor that someone posted here. It worked great and we loved it. All the flavors were wonderful in this dish, I especially loved the hint of sherry. Lobster was off the charts in one store and unavailable anywhere else. So for us I used the "Lobster Mates" as a sub. It was still delicious, will absolutely make again. We give this 9 Yums!
Cis


---
Re: Newburg Pot Pie Review - Mare749 - 09-10-2007

We also liked this dinner a lot and will definitely be making this again. I'm anxious to try the homemade puff pastry recipe also as it sounds fairly easy even for me.

Like Cis, I had trouble finding lobster tails that were fairly priced. The only ones at Giant Eagle were $29.99 a pound (from Honduras) and I didn't want to spend that on a dish that I wasn't sure if Ron was going to like. I didn't feel up to dealing with live lobster, so I ended up just leaving it out and using more crab instead. I know we missed out on the lobster experience, so I'll have to make this again very soon when I can get to a seafood market.

This was still a delicious meal and not at all hard to make.

Maryann


---
Re: Newburg Pot Pie Review - Lorraine - 09-10-2007

Here's my review!

I had to double the recipe as there are 3 of us. The first half, I followed the exact recipe. The second half, I made some changes as 1 person hates tarragon, and they both wanted to swap seafoods. One wanted all the lobster and shrimp, the other only wanted the crab. And, I had 3 large scallops. I subbed the tarragon in the lobster one with fresh thyme. So:

I made one as printed. I really liked it, but, I also tried some of the one made with thyme, and I liked the taste better.

I made one with lobster and shrimp only, and one with crab and scallops. They both liked the dish.

I served it with salad and crusty Italian bread. It was a great meal, but, unfortunately, it was really hot here that day. I'll make it again, with substitutions, in the dead of winter on a cold stormy day. (Probably next month
). I'd say an 8.5.

Jean, I made the 10 minute puff pastry because when I thawed my package, it kind of looked like yours. First time thats ever happened to me.


---
Re: Newburg Pot Pie Review - cjs - 09-10-2007

Me too!! Weird.


---
Re: Newburg Pot Pie Review - Lorraine - 09-10-2007

I'm thinking mine sat in the fridge a bit too long before I decided to freeze it.


---