---
Cast Iron Dutch Oven - DFen911 - 01-01-2009

Anyone else use one of these? Out in my BBQ is mine with a layer of bacon, 3 chicken breasts, more bacon, bbq sauce and a medly of carrots, green onions and mushrooms tossed with olive oil, thyme,cumin and s&p.

Now while these are more geared for camping this is fun! I put all the ingredients in the pot, rotate now and then and hopefully in about 30 more minutes our dinner will be done.

I would love to know if anyone has any tried and true recipes. It's a # 12 (6 quart). Derek has already informed me we will not be taking this on the motorcycle with us when we travel. I'm looking into other options
---
Re: Cast Iron Dutch Oven - HomeCulinarian - 01-01-2009

We have a lodge cast iron dutch oven - and love it, but we don't have a motorcycle. Not sure if that's what you were looking for???


---
Re: Cast Iron Dutch Oven - Mare749 - 01-01-2009

My Lodge dutch oven is over 30 years old and is my very favorite pot. Here is a recipe that I make often and we love it! It's a bit different from my old way of cooking a pot roast and the flavor is wonderful.


* Exported from MasterCook *

Belgian Pot Roast

Recipe By :unknown
Serving Size : 0 Preparation Time :0:00
Categories :

Amount Measure Ingredient -- Preparation Method
-------- ------------ --------------------------------
3 lb. pot roast
1/2 cup water
1 onion, sliced
1 T. brown sugar
1 garlic clove, crushed
1 teaspoon salt
1/4 teaspoon black pepper
1/2 teaspoon sage
1 cup beer

Simmer meat with water (covered) in a Dutch oven for about an hour. Remove the lid and allow the water to boil away, letting the meat brown in its own fat. Adjust heat so that the meat juices coat the pan, but do not burn. Once the meat is browned, remove from dutch oven and keep warm. Pour out excess fat.

Add the sliced onion to the pan and saute over gentle heat, scraping up the brown bits. Add sugar and continue cooking until the onions are a rich brown. Add the garlic and saute for a few seconds. Return the meat to the pan (of remove meat and onions to a crockpot) and add salt, pepper, sage and beer. (The Belgians would use a dark full bodied ale.) Simmer until meat is fork tender another 1 1/2 to 3 hours, depending on the cut.

Maryann


---
Re: Cast Iron Dutch Oven - Gourmet_Mom - 01-02-2009

OH...ME, ME, ME! I've got the end all be all! Catfish Stew! It's the best! My MIL used to make THE best. Unfortunately, after a cocktail or two, she would sometimes flub it a little with WAY too much pepper. No recipe really, just a method. She used a large cast iron dutch oven which I still have. If I could just get William to bring it back from the farm. Cooktop or not, I still use it. But the best method for this is gas. I use my grill so I have better control over the heat. This is low and slow at it's best.

Here's how it goes....
Put down a layer of bacon in the bottom of your pan...use the whole pound. Next, add a thick layer of sliced onions (about 3 or 4), a thick layer of sliced potatoes (4 or 5), and finally your catfish (4 or 5 pounds, cleaned and filleted). Add a small amount of water (the ingredients will give off a lot of moisture), salt and pepper. Cook over VERY low heat for a couple hours without stirring. It will break up the fish....thus the low heat. It will take several hours. I usually check after an hour and gauge from there when to check next. You don't want to open the lid too often due to loosing moisture. When the fish is flaky and done, the onions and potatoes will be done also. The bacon will give everything a wonderful smokey good flavor. There is a website that details this in a humorous, very redneck way, but this is the same way my MIL did hers, and we do to this day. (In his directions, he says to cook it for 6 hours, but I don't remember it ever taking quite that long.) But allow plenty of time, but it's worth it and it is AWESOME! Serve with cornbread. Greens?...who needs greens?

DANG! William has GOT to get those trot lines out ASAP. It's been a WHOLE year! Farm raised is good, but fresh is so much better. Thank goodness hunting season is over and the freezer is not busting too bad with venison. I need me some catfish....NOW!


---
Re: Cast Iron Dutch Oven - DFen911 - 01-02-2009

Mary how many brickettes do you use for you simmer? I know to get it to about 350 degrees I put about 15-17 on the bottom and 8-10 on the top.

I have found that I need to keep about 10 extra brickettes ready to go if I have to cook longer than an hour and half.

My new toy on my list is the chimney starter. I hate having to rely on lighter fluid.


---
Re: Cast Iron Dutch Oven - Gourmet_Mom - 01-02-2009

Using campfire method, I would guess my recipe would need to be around 300 if you decide to use it. My MIL would use the lowest setting on the electric stove after it started to bubble on medium. I have found that if using gas, you can crank up the heat to start, then turn it WAY down when you put the pot on the burners and close the grill...if that helps. I have never used my pans in the old way. My lid is rounded and not meant to be used in that manner. I would love to play with that method though.

Those chimney's are great. We went to a friend's cabin in the mountains of Virginia a few years back and they had one. It was way cool!


Oh, and here's the site with the recipe so similar to my MIL but told in a humorous way and made for a campfire style stew, Savannah River Catfish Stew

BTW, regarding the motorcycle, you could always sit on it or in it...no balance problems. Not real comfortable, but it'd get it there...LOL!


---
Re: Cast Iron Dutch Oven - Old Bay - 01-02-2009

My son (age 42) is an Eagle --on one of our many trips to Aransas Wildlife Refuge, a host adult made peach cobbler in a dutch oven on the campfire--beautiful crust, top and bottom.

We had a Bay Laurel right over my stew pot--when I took a few leaves and put it in the stew someone swore she wouldn't eat it--her husband (the cobbler cooker) convinced her it was ok. Rustic is really good and can be dramatic.
---
Re: Cast Iron Dutch Oven - DFen911 - 01-02-2009

Um...did Daphne just tell me to Sit on it?!

I think she did!
---
Re: Cast Iron Dutch Oven - Gourmet_Mom - 01-02-2009

YUP! LOL! Depending on the length of the trip, I swear, I would do it. That or balance the bike with equal weight on the other side. Then just layer your clothes to make space in the saddlebags. It's all about priority. Of course, you could get him one of those cute little come alongs....


---
Re: Cast Iron Dutch Oven - DFen911 - 01-02-2009

Lol it would never fit in our side boxes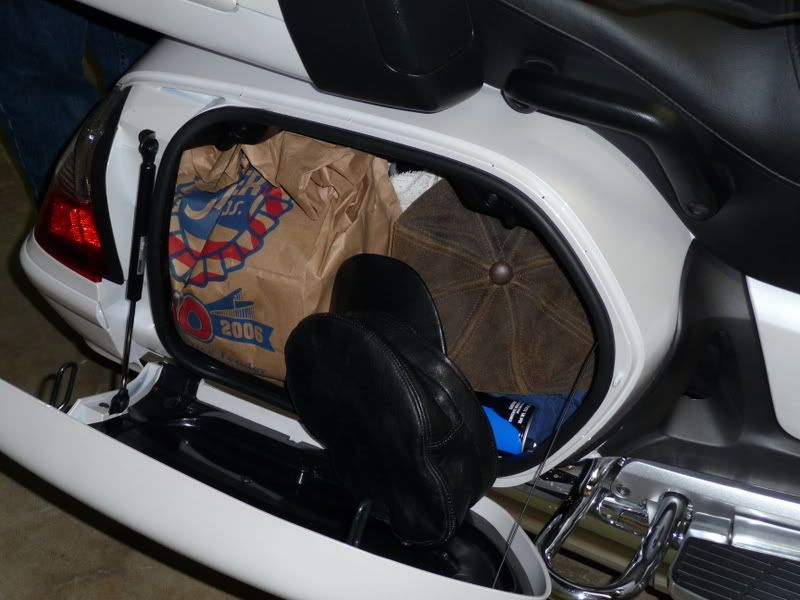 But for a day trip I would carry it on my lap and put all the fixings in the trunk or side bags.

Side bar - This is going to be a great way to cook if (when) a big earthquake hits.


---