---
Come visit Charleston..... - Gourmet_Mom - 05-02-2009

I have spent most of my day trying to get my dying computer to cooperate....ARRRG! Sorry, had to rant.

If you have never visited Charleston, come with me to visit a city that I love. I have never been to NO, but I imagine this a more gentile version of the Big Easy, with similar architecture and food. I didn't have time to sample ALL the food in one day, but let me share. Ride with me to Charleston, SC!

Ride with me to Charleston!

(BTW, did I mention, I am descended from the Lord Proprietor, Lord Ashley Cooper...of the Ashley and Cooper Rivers in Charleston? Daughter and many cousins named Ashley and Cooper, as well as Cooper being a family surname? That explains the red Mustang...daughter, Ashley, drives a red Mustang....We found it quite ironic....LOL!)

ANYWAY, while we waited to have the car serviced, we visited a well known BBQ joint in the area....Bessingers!

I had the pulled CHICKEN sammie and William had the pulled pork. Since we are not accustomed to pulled pork like they have down here...I remembered not to order it....LOL! It's good, just different from what I'm used to! They are reasonably priced and serve their "baskets" with a HUGE sammie with home fries and a HUGE battered onion ring! That onion ring is a sweet flavored hush puppy wrapped around a HUGE onion ring....YUM! The sammies are HUGE, the service is fast....good eats! (Sorry, forgot the camera in the car! But I wish I had a pic of the size of those sammies!)

After the car was serviced, we toured the city so I could get some pics. (My computer is messing up right now, so those pics and another SURPRISE set will have to wait until tomorrow.) ANYWAY, after appies at AW Shucks, I decided, I wanted MORE than the regular seafood dinner. I told William I remembered seeing a sign for a restro that served FRIED lobster at Litchfield/Pawley's Island on the trip down. I knew this was new and different and hoped the restro would live up to expectations. As we drove up, I feared the worst....
.

Then we went inside....



OKAY, this might be good! Boy was I right!

To get the gist of the thing, look at the menu on the links above. William was determined to get the fried lobster. He was not disappointed....although he was not terribly happy with the battered shrimp in the combo he got.

Entrees were served with fresh rolls and Soup du Jour or side salad. William went with the salad and was thrilled to get EVOO and aged Balsamic at the table.





The waitress knew what I wanted...my eyes rolled back in my head when she said the Soup du Jour was Shrimp and Corn Chowder.




It was sooo good!

Then came the decision about the entree! Do I go with one of the fish of the day entrees...but which preparation designed by the chef?

I went with what you guys have taught me...go with the special. The chef has put his heart in his offering....try it! It was between the Filet of Beef, Shrimp, Crab Tower with a Lobster Sauce or the Parmesan Crusted Alaskan Halibut Baked in a Tomato-Saffron Broth with hand-made Three Cheese Ravioli topped with Mozzarella Cheese. I went with the cheapo....halibut at 19.99!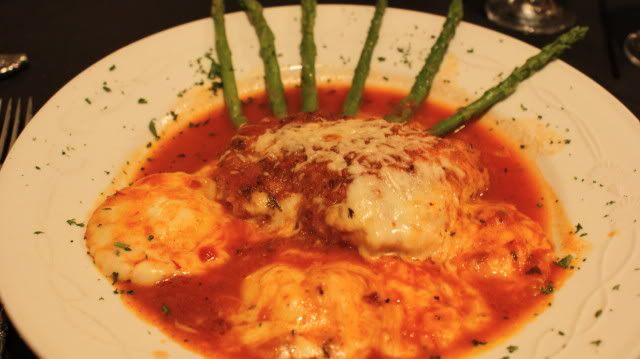 WOW! It knocked my socks off, it was so good! If the chef had not been so busy dancing around another table full of regulars, I would have called him out. We will go again!

All that and the prices were VERY reasonable considering the menu and service. We WILL go back!
---
Re: Come visit Charleston..... - HomeCulinarian - 05-02-2009

Daphne - what a treat. We had a great vacation in Charleston about 6 years ago. We stayed on Edisto Island and went into the city a couple of times.


---
Re: Come visit Charleston..... - Gourmet_Mom - 05-03-2009

Funny, I have a cousin who married a guy whose family owned a house on Edisto. I visited once and it was very nice...much like our Long Beach, NC....family friendly....but close enough to the "faster pace" of Myrtle Beach (or in your case, Charleston), to be a great vacation!
---
Re: Come visit Charleston..... - Mare749 - 05-03-2009

Oh Daphne, thank you for taking me back to Charleston! We had such a great time there a few years back and your pictures make me want to do it all over again. I remember spending a bit of time in that market myself! Did you happen to buy one of those handmade baskets? I think Lorraine told me she had one and they are fragrant? I was so sorry to miss that when we were there. Thanks for the tip on the restro on Pawley's Island. I'll be sure to try that one in September. (Maybe you and William can join us!)


---
Re: Come visit Charleston..... - Gourmet_Mom - 05-03-2009

Hey, we'll be there...or I will! He's such a homebody! I'll work on him!

Yes, the sweetgrass baskets have a scent....it IS sweetgrass. But it is something I can not tolerate with my allergies.

I guess I would tolerate it if I did not have an interest in so many other styles of baskets...see Mom's Basket slideshow from last year....LOL!!!

But to be fair, she has also done "teeny tiny pine straw" baskets...very similar to the sweetgrass baskets. She said they were the hardest she had ever made. But I think it was the size...she made miniatures!

But to be honest, my allergies react when I get near Mom's weaving stuff, too, though.


---
Re: Come visit Charleston..... - Gourmet_Mom - 05-03-2009

STAY TUNED...Maryann! I hope to post my pictures of the houses of Charleston tomorrow! That is just one glitch I've had half the day! We'll see! I was impressed with the pics...even if William would not stop for a photo op...LOL!


Those who love architecture...stay tuned!
---
Re: Come visit Charleston..... - chef_Tab - 05-03-2009

Oh, the pictures are so wonderful. I want to be there now. I miss the ocean more than anything. Looks like the weather was perfect for your visit. Thanks so much for sharing the album with us. It was a mini escape for me too!


---
Re: Come visit Charleston..... - Gourmet_Mom - 05-03-2009

Those who are interested in architecture, check out the Houses of Charleston. I LOVE the porches, usually along the side of the house and on the second floor and higher, that catch the ocean breezes. If I ever build another house....and it WILL be on the water...it will be one of this style.

Disclaimer: While riding along, it's hard to get pictures "just so", so I am aware these pictures are not perfect...LOL!
---
Re: Come visit Charleston..... - cjs - 05-03-2009

Oh what fun to experience Charleston thru your eyes and camera, Daphne. One of these days....

My bio-father and stepmother brought me a basket from there one time, got it 'cause the basket maker was left handed and her baskets were different from all the others (we can't lead the bunny hop either
)

That bridge is beautiful!!

The city reminds me of Victoria, B.C. for some reason.

So want to go and have fried lobster!!


---
Re: Come visit Charleston..... - Mare749 - 05-03-2009

I love the side porches. That way, it doesn't take away from the grand entrances. And to have two levels is really a great idea! Imagine the nice breeze that goes through those homes that way. I would definately want to add that feature. Also love a porte-cochere! So nice for the rainy season.




---