---
Holiday Fish Fry - Gourmet_Mom - 05-25-2009

Today is overcast with frequent showers, but yesterday was PERFECT! The guys fished all day and I was able to sit on the deck all afternoon with only a little coughing. The guys were excited to catch a couple of these guys....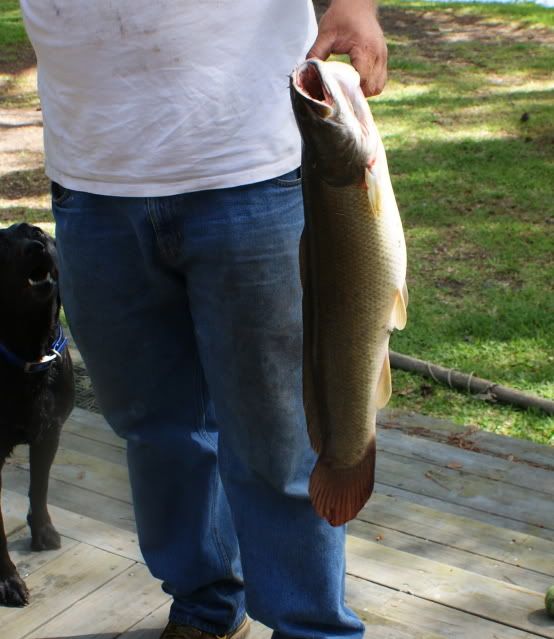 Not good for eating, but a thrill to catch!

They saved just enough of the grass perch (sunfish?) for dinner....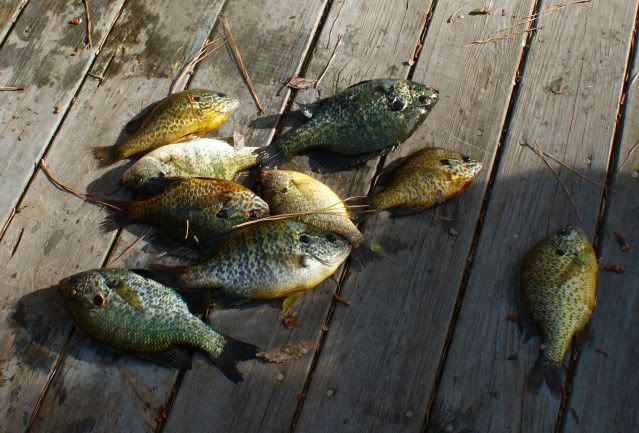 Ready to cook....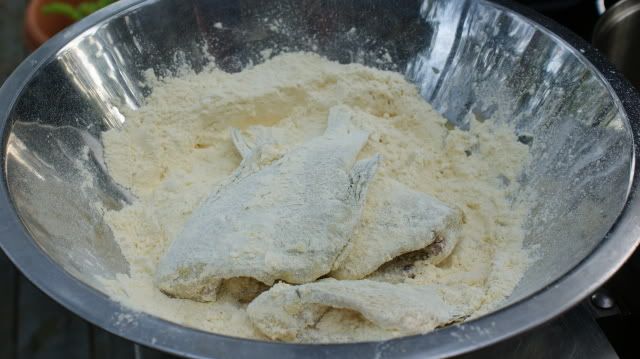 The versatility of a gas grill....no greasy, smelly clean up or smell in the house...




MMMMMMM! LET'S EAT!!!!!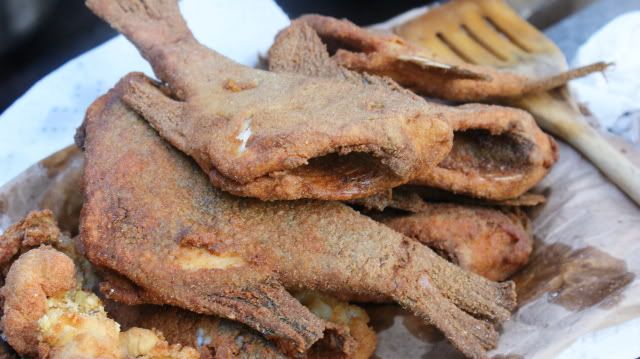 NOTE: See the light colored pieces to the bottom left? William was THRILLED to discover two fish with roe!


---
Re: Holiday Fish Fry - Mare749 - 05-25-2009

Oh Daphne, now I'm the one who is jealous! Those look superb! And what a great idea to fry outside. We've done turkey's outside, but not fish since our camping days, except when they go directly on the grill.

BTW, I never knew how I was suppose to cook sunfish, so we always just dusted them with flour, s&p and quickly pan-fried in butter. They were still good tho!


---
Re: Holiday Fish Fry - farnfam - 05-25-2009

OH Yum, those look wonderful, Daph.
Believe it or not, Jame fillets those little beggars (sunfish), then we flour and fry in a little butter. They are so good, almost as sweet as bass.
Is that big'un a Perch or a Pickrel?


---
Re: Holiday Fish Fry - cjs - 05-25-2009

oh my...nuff said


---
Re: Holiday Fish Fry - Gourmet_Mom - 05-25-2009

We call the big one a black fish around here. They have very sharp teeth, and I don't know of anyone who has ever eaten them so can not say if they are edible or not. The only description I could find online that matched what we have here is called a Sacramento Blackfish, but that doesn't make much sense, cuz this ain't Sacramento....LOL!

Oh, Maryann, we use a locally produced seafood breader that is very good. House-Autry Mills was originally located not far from where my mother grew up and was the corn meal product of choice. We continue to use it today. Those on the east coast should be able to locate the product if you're interested. I believe they ***** if others are curious, although, I'm sure you all must have your own favorite brand. I found the history of the mill quite interesting.


---