---
A Taste of Southport - Gourmet_Mom - 03-07-2010

was a nice experience. There was lots more food than I expected, and the chefs did a great job...some better than others. They all answered questions. I was pleased to learn what to do to be able to turn ultra pasturized cream into creme fraiche. I was under the impression it would not work with cream that was processed this much. I was also excited to see gravlax explained and sample some. I WILL be making this...AND SOON!

My favorite appy was the Yellowfin Cucumber Roll, and my favorite sample was the gravlax croustini. Recipes for all the entries were supplied and there was a raffle at the end. I won the second prize...a bag of books on Southport and Southport "stuff". The lady that got the first gift of kitchen "stuff" and wine walked by my table on the way out and said, "I just thought I was supposed to pick something out of the basket, not get the whole basket! I was just going to grab a spatula. I hardly ever cook, and I don't even DRINK wine." Why I didn't jump up and say..."Wanna trade!", I'll never know! Anyway, the afternoon was lovely, and Mom and I had a great time sharing cooking knowledge with some of her friends.

Here's a slide show if you're interested: A Taste of Southport

If you don't want to suffer through that, or if you don't see what each chef/cook prepared...here's a list of the items served:

Crab Dip
Cannelloni Bites
Yellowfin Cucumber Rolls (These were very good...and pretty.)
Asian Curry Chicken Salad
Gravlax (Chef Kelli is owner and chef of the restaurant where I dined on a recent trip to Southport.)
Jerk Pork Loin
Potato Crusted Grouper with Fried Leeks and Lemon Beurre Blanc
Chocolate Cookie Dough Truffles


---
Re: A Taste of SouthportL= - luvnit - 03-08-2010

I love your day including the Cool Shoes! How fantastic!


---
Re: A Taste of SouthportL= - chef_Tab - 03-08-2010

What a fun afternoon! The cucumber rolls do look fabulous, as does all of the food. The cannelloni bites look a bit larger than a bite!


---
Re: A Taste of SouthportL= - - 03-08-2010

What a lovely day you had!! And the food looked so yummy - especially all of the salmon.


---
Re: A Taste of SouthportL= - Harborwitch - 03-08-2010

It looks like a fun day. The gravlax would have been in serious danger with me there - but everything looked good.
---
Re: A Taste of SouthportL= - cjs - 03-08-2010

Everything looks delicious, Daphne - would you post her method for the gravlax, so I can commpare to the way I made it? I've only done it once and just loved it.


---
Re: A Taste of SouthportL= - Gourmet_Mom - 03-08-2010

Where in the world did that capital L and equal sign come from? HMMMM?

ANYWAY, thanks everybody. The appies and wine were open to guests throughout. There were 10 minute intervals between demos. But I was good. I got one each of the appies and had only two glasses of wine..that winter weight, ya' know? I was very proud of myself. I ruined it when I came home and ate a bacon cheeseburger at about 8 while watching the Academy Awards.

Jean, here are Kelli's instructions for the Gravlax: Probably more than you wanted, but....

Side of fresh salmon (best with skin on)
1 cup of Kosher salt
1/2 cup of sugar
Dry spices and dried or fresh herbs as desired
(Black or white pepper, fennel, cumin, dill, lemon, cilantro, etc.)
Vodka (She indicated this was optional, but I will be doing this. She used a goodly amount...probably a cup or more...but then it was a demo...who knows.)

Sprinkle fish with vodka or desired spirit. Cover with a thick laer of the cure. Fresh herbs or stems can be placed on as well. Cover tightly with plastic wrap, refrigerate and check in 2-3 days. Repeat process if necessary. Rinse, pat dry, and slice.

This was straight from her recipe that was passed out. From observation, I detected all the spices mentioned, plus bay leaves (fresh or dried...I don't know), THEN fresh dill, fennel and lemon. I'm not so sure she didn't throw on some capers during the cure, because I could detect the flavor. As you can tell by the picture, they were more of a garnish on the crostini.

Also, she suggested a weight be placed on top...she held up a clear "brick" which she said she used. But anything weighty would work. In addition, she said she used a "barrel cut" for her gravlax and used the "scraps" for pasta, soups, salads, etc.

One thing I found interesting was how she cut it. When I've seen this demonstrated on tv, I thought I remembered they sliced it thinly on an angle like you would flank steak or London Broil. She sliced it off the top..almost parallel to the skin. She had a SUPER thin knife...she bent the blade over to demonstrate.

When asked about the skin, she told the guest that it was not good to eat as it was, but you sure could fry it up in strips and use it for a garnish with any dish you serve the gravlax with.

I WILL be doing this over Easter...If I can wait that long. Funny thing is...William watched a show on tv about this while I was gone and is as anxious to try it as I am. We may not hold out until Easter!

BTW, here is a picture of the cured salmon: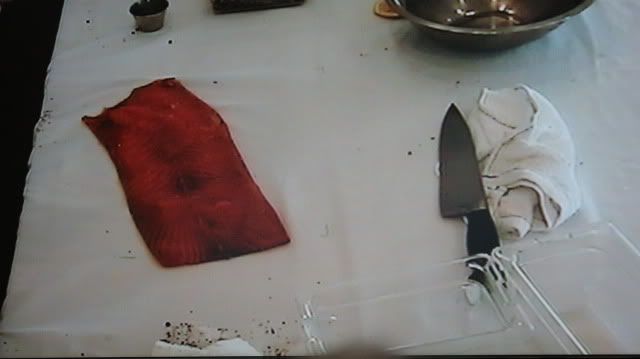 Here's the picture again of her workstation with the herbs and spices on the side.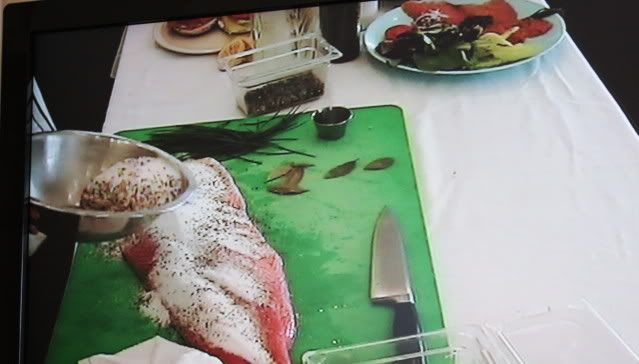 In this picture from the slide show, she was slicing. Her "little" knife was pretty much parallel to the skin.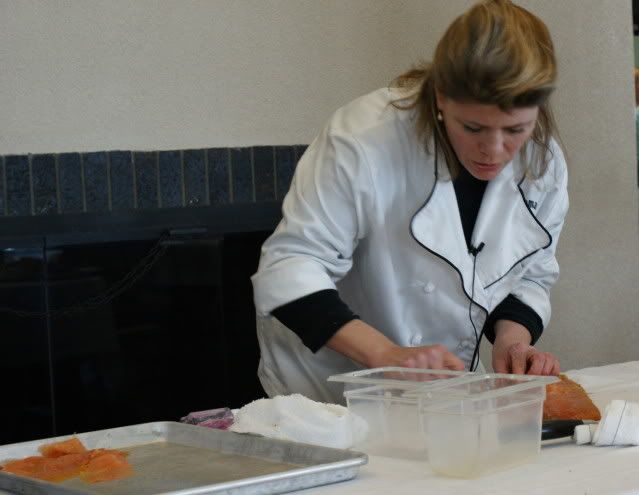 As a side note: One of the guest, SIL to Mom's best friend, told about a neighbor who made gravlax for her once. She said the lady left hers out on the counter to cure. I would be afraid to do that. The guest was probably in her 60's and her neighbor was an elderly lady. I would be afraid to do that today...even WITH a HUGE douse of Vodka on it.
---
Re: A Taste of SouthportL= - cjs - 03-09-2010

Thanks Daphne, I'll have to dig out my recipe. I'm with you, I have to do this again.


---
Re: A Taste of SouthportL= - DFen911 - 03-09-2010

Oh man those pictures were great! I love gravlax, but never thought to use it so many different ways like she did. What a wonderful day. I wish I could get on something like that out here
---
Re: A Taste of SouthportL= - Gourmet_Mom - 03-09-2010

Denise, this would be a good way for you to drum up business. This was a fund raiser. The chefs provided their services AND the food, just a sample for each guest. (There were about 150 guests at 25 dollars a head. I figure, with 5 dollars a guest to comp the free wine and beer for the first glass/bottle and incidentals, they made 2,500 dollars....not bad.)

So find you a non-profit group looking for fundraiser ideas and pass on the concept and offer your services. It wouldn't hurt to have the names of a couple of other chefs willing to do it for free advertising. I'm sure every guest there will visit each of the three restaurants/catering businesses, at least once in the near future. Not to mention word of mouth and friends they will take out during the tourist season. Not bad for a day's work to prep and a couple hours on a Sunday afternoon.


---