I didn't have pork belly when I did this dish. So I used streaky bacon and chop it up to make this. This was a side dish we always have whenever we ate at a Japanese restaurant in Singapore. Its often served slightly cold. And I learn the basics from a friend who once studied and work in Japan for several years before returning to Singapore.
Really easy to do..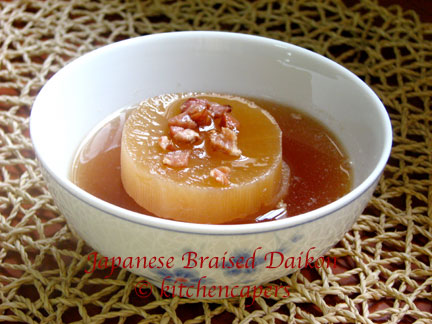 Ingredients
1 large daikon(radish)
100ml Japanese soy sauce
50ml Mirin
500ml water
50g bacon bits
50g sugar
Method
1. Peel daikon and cut into thick chunks.
2. Heat up a claypot with rest of the ingredients till it boils
3. Add daikon slices and leave it to cook till it boils again.
4. Once it starts boiling, turn heat to low.
5. Cover the claypot leaving a small hole and simmer for 1 hour over low heat.
6. Serve warm.
People Learn from one another, just as iron sharpens iron. Proverbs 27:17 New Internationl Version, Bible

****
tasteoftime.blogspot.com