In Singapore, its served either in soup or dry (toss with chilli and oil)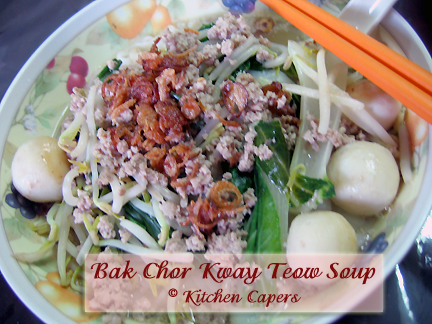 This is Chin Kiang Black vinegar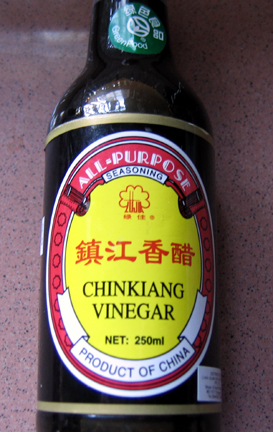 Recipe yields for 6 persons
Ingredients:
300g minced pork
1 kg of noodles
300g bean sprouts(remove roots)
300g Bok Choy or any green leafy vegetables
30 pcs of fresh fish balls
2 litres of Rich fish stock(boiled with fish bones)
Fried Shallots, red chilli for garnishing
Seasonings for pork
50g spring onions(chopped)
1 tsp young ginger(chopped finely)
4 tbsp Black Vinegar(Chin Kiang Vinegar)
2 tbsp Chinese cooking Wine
1 tbsp Sesame oil
Method:

1. Season minced pork with seasonings for 20 mins.
2. Boil fish stock in a large pot.
3. Add raw fish balls into boiling pot to cook.
4. Lower heat to low. Add salt to taste.
5. Quickly cook minced pork in fish stock.
6. Remove and set aside.
7. Blanch beansprouts and green vegetables separately.
How to serve:
1. Blanch noodles and serve on a bowl.
2. Garnish noodles with bean sprouts, green vegetables.
3. Add minced pork.
4. Scoop boiling hot soup and fish ball and pour over the noodles.
5. Top off with sliced red chilli, fried shallots.
Home made Chilli for a dry version:
Ingredients:
100g dried red chilli(soften in water)
50g dry roasted dried shrimps
50g chilli padi
50g red chilli
50ml Sesame oil
6 cloves of garlic
1 small onion
1 tsp sugar
1 tsp salt
Method:
1. Blend the above till smooth, fine.
2. Pan fry it over low heat for 20 mins.
3. Use as required. Uneaten chilli can be kept in the fridge for 2 weeks, in the freezer(can be kept for longer periods)
People Learn from one another, just as iron sharpens iron. Proverbs 27:17 New Internationl Version, Bible

****
tasteoftime.blogspot.com