Since there is a chance of summer coming up here one of these days, how about a thread about summer desserts? Anon was looking at a birthday dinner review of one of my b'days and it included the Rice Krispie Ice Cream Cake that I love so much. And, there was a picture - I had forgotten I even had a picture of it!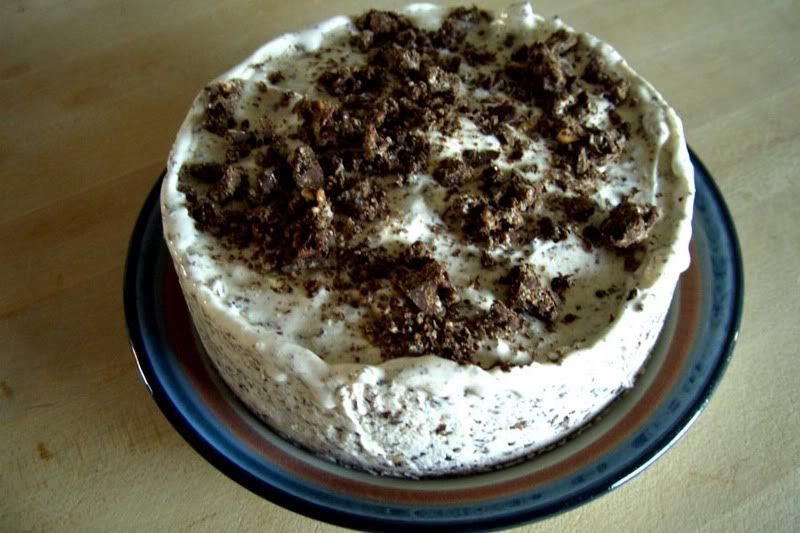 * Exported from MasterCook *
RICE KRISPIES ICE CREAM CRUNCH CAKE
6 ozs Chocolate chips
1/3 cup peanut butter
3 cup Rice Krispies®
1/2 gallon ice cream -- vanilla or frozen yogurt (coffee Ice cream is great!)
In a bowl placed over a pot of simmering water, melt the chocolate chips and peanut butter together; add the cereal and stir together.
Spread this mixture on a baking sheet and cool. Break up cereal mixture into small pieces.
Soften ice cream and fold in all but ½ cup of cereal mixture; spread the ice cream into a spring form pan.
Use remaining ½ cup chocolate/cereal mixture to sprinkle over the 'cake.'
Wrap cake in foil and freeze. Remove from freezer and keep in refrigerator for an hour before serving.
Garnish slices of the ice cream cake with whipped cream and strawberries, if desired.
Description:
"On a hot summer day, this dessert just can't be beat and all ages love it.
- - - - - - - - - - - - - - - - - - -
So, how about some other ideas???
Retired and having fun writing cookbooks, tasting wine and sharing recipes with all my friends.
www.achefsjourney.com