I prefer this noodle..its smells of Green Tea and tastes even better when its soaked in warm Japanese Soya Sauce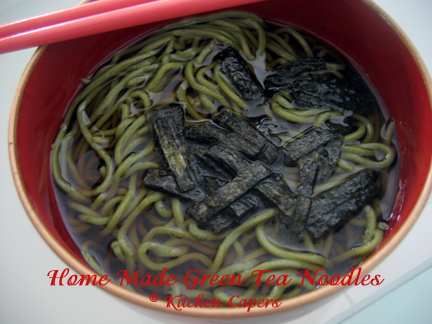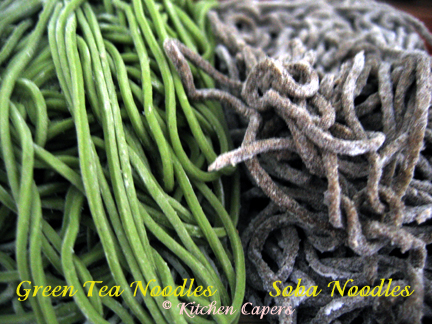 Ingredients
350g Plain Flour
1 tsp Japanese Green Tea Powder
250ml water
1 tsp salt
tapioca flour for dusting
Method
1. Mix flour, salt and green tea powder together in a mixing bowl.
2. Add water to stir till it forms into a dough.
3. Break into smaller portions to run thru the machine until it comes out smooth.
4. Run it thru the cutters.
5. dust with Tapioca flour to prevent it from sticking together.
How to serve:
Cook the noodles like you would with regular pasta.
Soak in cold water to prevent it from sticking.
Heat up 1 part Japanese Soya Sauce with 3 parts water till warmed.
Then add drained green tea noodles in to soak up.
Serve with shredded nori sheets. Usually eaten cold.
People Learn from one another, just as iron sharpens iron. Proverbs 27:17 New Internationl Version, Bible

****
tasteoftime.blogspot.com