This is done by pulling, no pasta machine used.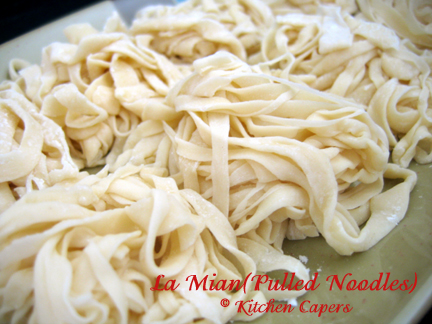 Ingredients
5 cups of all purpose flour
2.5 cups water
1/2 tsp salt
2 eggs (100ml corn oil)**
**use corn oil to replace 2 eggs if you want a no-eggs version.
tapioca flour for dusting
Method
1. Mix all the ingredients together and knead into a dough.*
* dough should be dry not sticky.
2. Leave it aside(covered with a damp cloth) for 30 mins.
3. Roll out till very thin(about 0.2mm)
4. Dust with tapioca flour, roll up like swissroll and cut.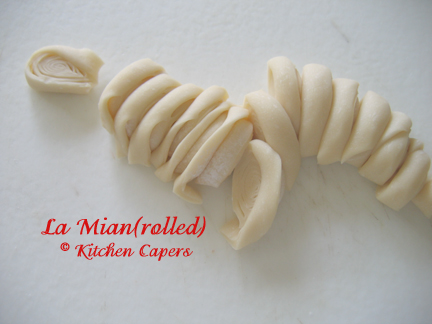 5. Remove/separate and slowly pull each strand of noodle till its at least 4 times its original length.
6. Roll up and form a ball and do the rest.
How to cook
1. Boil a pot of water, add noodles in to blanch for 3 to 5 mins till soft.
2. Drench in cold water for 30 seconds.
At this stage, you can either add to soup to cook, or stir fry with other vegetables/meat etc.
People Learn from one another, just as iron sharpens iron. Proverbs 27:17 New Internationl Version, Bible

****
tasteoftime.blogspot.com