▼
Got these at the market today and thought they were fun: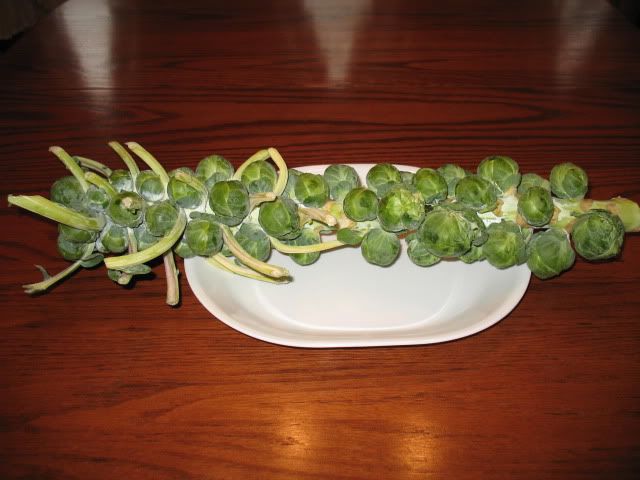 Maryann

"Drink your tea slowly and reverently..."
▼
Yummmm! Roasted brussel sprouts.
Erin
Mom to three wonderful 7th graders!
The time is flying by.
Oh my, those are beautiful!
"Time you enjoy wasting is not wasted time."
Laura
▼
I agree - Roasted is my favorite way to prepare these little guys.
▼
How fun!!!! I never thought I'd like them. It's not something we ever had growing up. I finally got the nerve to try them roasted last year and really liked them, but the rest of the crew hated them. Oh well!
Daphne
Keep your mind wide open.
▼
I love when I can find them on the stem!! They are gorgeous, Maryann - one of our favorites. What have you decided to do with them?
Retired and having fun writing cookbooks, tasting wine and sharing recipes with all my friends.
www.achefsjourney.com
▼
Ohhh, Trader Joe's sells them on the stem like that! I made them for the first time last year. All I remember is the recipe involved balsamic vinegar and it was very good. My husband thought he didn't like them but he ate it.
If you can't figure out what to do with those you can just send them to me!!! LOL
I absolutely love them on the stem. You know they're fresh.
You only live once . . . but if you do it right once should be enough!
▼
Oh oh oh oh oh, it
is
that time of year again!
I love Brussel sprouts, just roasted with olive oil and garlic and lemon. TJ's had stalks full of them last year at a great price and I made the 45 minute trip three times just to buy them.
▼
I didn't use them tonight as we were using up l/os, so they will be on the menu tomorrow. I split the stalk with my daughter who was as fascinated as I was. As for cooking, I'll be roasting them with a bit of olive oil and garlic, and might just try a drizzle of balsamic cream on them.
Maryann

"Drink your tea slowly and reverently..."
Users browsing this thread: 1 Guest(s)