For someone who claims not to like baking/pastry, I sure spent the day baking!!! A last minute idea came from a recipe posted on Group Recipes this morning which looked like the perfect match with the Tuscan Soup I had planned for dinner. Here's the recipe and let me tell you if could not be faster, easier or really tasty!! (but, next time I will try to cut back on the butter – I slathered the rounds before frying, when I turned them over and then again as I took them off the grill to top with Parmesan and black pepper…..bad, bad) – but so good!!!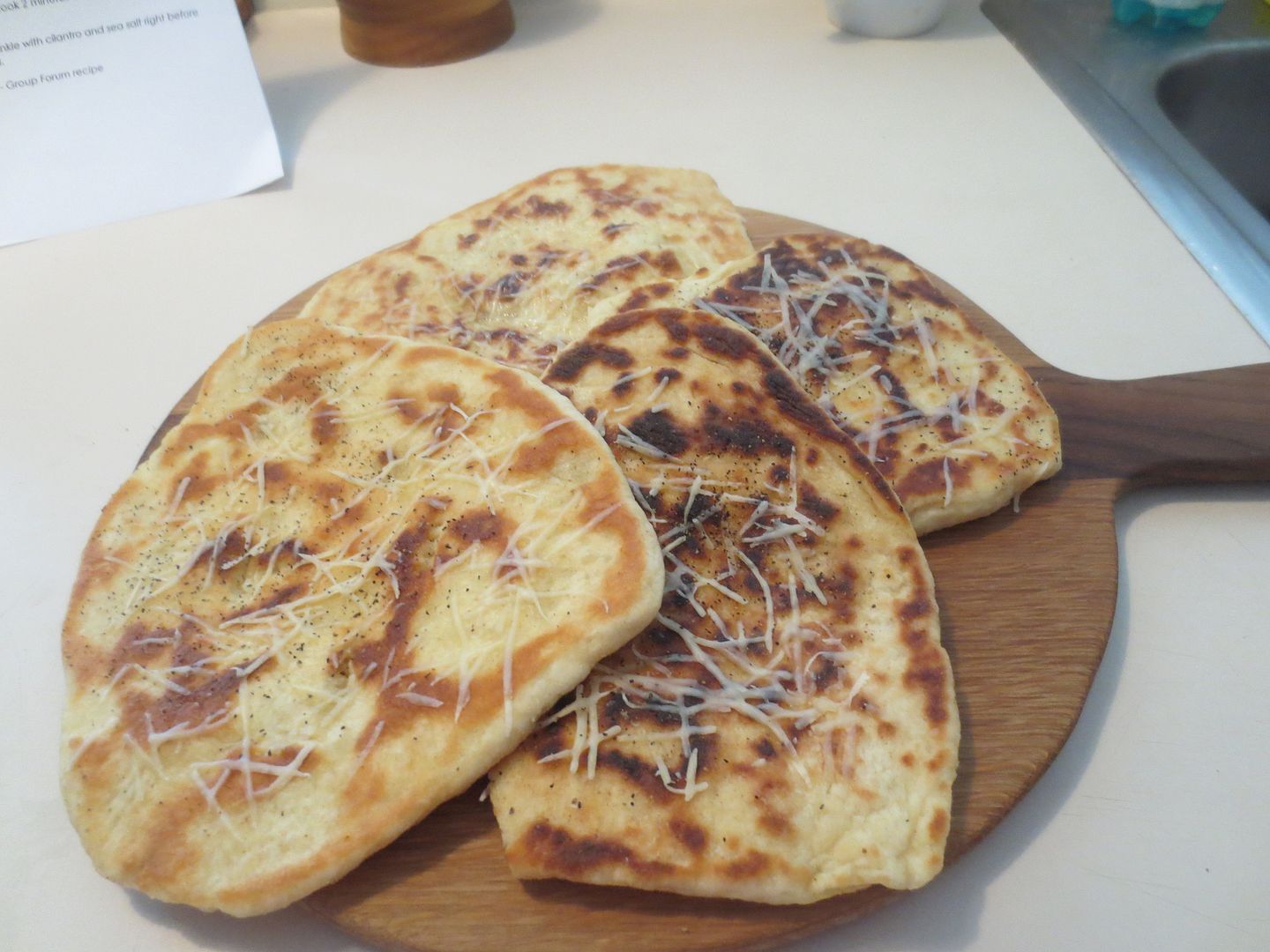 BREAD - FAST - No Yeast Flat Bread Recipe
1-1/2 cups flour
1/2 tsp baking powder
1/2 tsp salt
3/4 cup plain yogurt (I use Balkan style)
Butter or olive oil for sautéing
Toppings:
Sea salt
Freshly chopped cilantro or Parmesan cheese
1. Add flour, baking powder, salt and yogurt to a bowl and stir with a spatula, then turn it out onto a work surface.
2. Bring the dough together with your hands and knead until it's elastic. Cover and rest the dough for 15-30 minutes.
3. Cut the dough into 4-6 equal portions, and roll them into an oval shape, about a 1/4 inch thick.
4. Add a tablespoon of butter or olive oil to a skillet between medium to medium high heat. (Cook two at a time if your skillet has room) approx. 4 minutes or until it browns on the bottom and bubbles on top, flip, then cook 2 minutes on the second side or until lightly brown.
5. Brush them with butter or olive oil and sprinkle with cilantro and sea salt right before serving. Or use parmesan cheese if desired.
Author: Cosmicmother Alberta, Canada - Group Forum recipe
Retired and having fun writing cookbooks, tasting wine and sharing recipes with all my friends.
www.achefsjourney.com