Middle Eastern Chickpea Burger
Makes 17 "mini burgers"
2 cups cooked chickpeas or 1 15 oz can, drained, rinsed, and mixed with a spritz of fresh lemon juice & a pinch of sea salt
1 tsp sea salt
½ tsp turmeric
½ tsp paprika
¼ tsp grnd cumin
¼ tsp grnd coriander
1/8 tsp grnd cinnamon
2 tsp minced garlic
1 tsp minced fresh ginger
3 Tbs extra virgin olive oil
2 Tbs fresh lemon juice
2 ½ cups cooked brown basmati rice
3 Tbs finely diced red bell pepper
¼ cup loosely packed minced Italian Parsley
Preheat the oven to 375 and line a baking sheet with parchment paper (I used a silpat).
Combine chickpeas, salt turmeric paprika, cumin, coriander, cinnamon, garlic, ginger, olive oil, and lemon juice in food processor and process until smooth and well combined, scraping the side occasionally. Transfer the mixture to a bowl and fold in the rice, bell pepper, and parsley.
Moisten your hands to keep the mixture from sticking, then shape the mixture into ¼" thick patties about 2 ½" diameter. Place them on the prepared pan and bake for 22 to 25 minutes, until the patties start to get dry and crisp on the outside. They will firm up as they cool.
Variation: For a crispy burger, heat 2 tsp of olive oil in a skillet over medium heat and cook the patties for about 3 minutes per side or until golden brown.
Prep time: 15 minutes Cook time: 25 minutes
Burgers can be stored in the fridge for 3 to 5 days, they can also be frozen cooked or uncooked for 2 months.
Recipe from: "The Cancer-Fighting Kitchen, Nourishing, Big-Flavor Recipes for Cancer Treatment & Recovery" by Rebecca Katz with Mat Edelson.
My notes:
I added the parsley to the food processor at the end. The next time I make these (and there will be a next time) I think I up the spices a bit. They could have taken a little more cumin - I'm also wondering about trying some really good curry powder.
I tried frying a couple - a complete waste. They just fell apart. Much better baked. The larger size did require about another 10 minutes of baking.
She suggests the mini burger size and serving on a whole wheat bun. I made larger patties (a 1/2 c.scoop made 7 patties) and serve them alongside onion flatbread, with a yogurt & feta sauce, and a cucumber salad. Bob LOVED them and I thought they were a really nice vegetarian meal. They're really colorful too!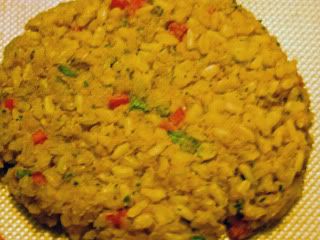 I just might have to get the cookbook – I can't remember where I found this recipe.
While we were stuffing our faces Opie went missing. We were too busy eating to really notice, but Bob found him . . . napping in an end table with all my cooking magazines.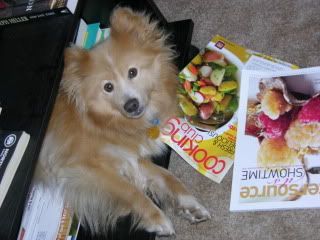 You only live once . . . but if you do it right once should be enough!