I decided to call it Guangzhou Fried rice because this was the dish I had on my last day in Guangzhou, China on the 22nd January 2008. I do not know if this is the right way to cook this rice. But this method works for me.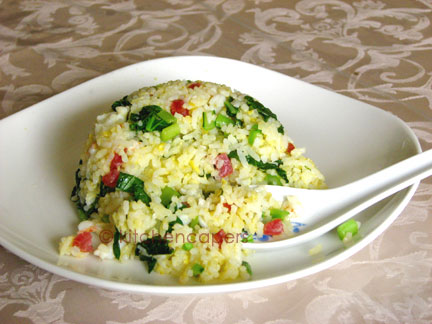 Serves 4
Ingredients
4 cups of cooked cold rice
4 egg yolks, lightly beaten
2 chinese sausages, diced
100g prawn meat, diced
100g green mustard leaves/stalks(chye sim), diced
1 tsp salt
dash of pepper
Method
1. Heat up the wok with 50 ml corn oil and add diced sausages, prawns to stir fry till cooked. Dish out and set aside.
2. Add cold rice to stir fry over high fire for 3 minutes.
3. Drizzle egg yolk on it.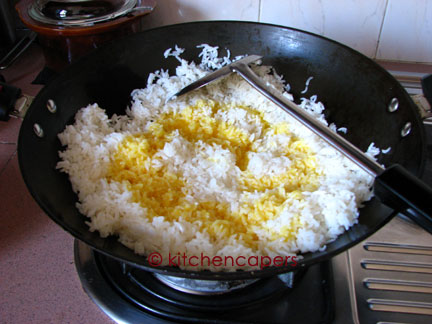 4. Quickly stir fry for 3 to 5 minutes till the rice is coated with yolk and is even in colour.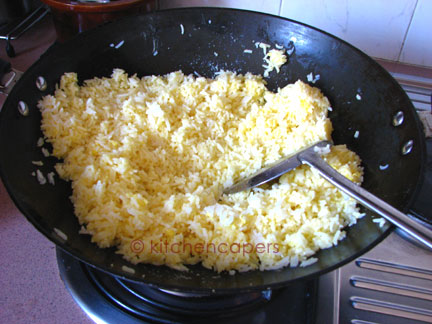 5. Lastly, add fried meats, vegetables, salt, pepper and stir fry till veggies are cooked.
6. Serve hot.
Notes
1. Best to use overnight cooked rice that is cold from the fridge.
2. If you are cooking for 2 persons, just use 2 cups of rice, 2 yolks.
3. You can add honey baked ham or turkey ham and other types of vegetables.
People Learn from one another, just as iron sharpens iron. Proverbs 27:17 New Internationl Version, Bible

****
tasteoftime.blogspot.com