Stay with me here, 'cause I'm going to be rambling....
Skipped the Mexican restaurant and stopped at Applebee's for lunch. Glad we did as they had a couple new (to us) menu items that Roy ordered and I deconstructed – Won Ton Tacos – they were really good. Pulled Pork and spicy chicken were offered.
I'm thinking frying the won tons with some of the cubed chicken or pulled pork in the wonton would hold it open enough to be a 'taco' and top with the other goodies.
Asian dressing (creamy?) for the cole slaw topping mix? Maybe for the chicken marinate the pieces in the dressing or a stir-fry sauce. Jalapeno in the dressing, slaw, or ?
Maybe even bake them would be better for us all.
They were sure good!
We were too full for dessert – until we were told about the dessert shooters. DENISE!!
These glasses are both 5 -5 1/2 oz. and I think would work perfectly –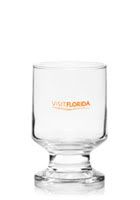 I'm thinking adapt a drunken root beer float into a shooter –
Layer:
Hot fudge
Coffee ice cream
Vanilla vodka
Little more chocolate sauce drizzled
Filled with root beer – which would take the place and resemble whipped cream topping.
And as another shooter –
Makes as above but omit the vanilla vodka (or not) and top with whipped cream instead of foamy root beer.
Strawberry Shortcake Shooter –
Strawberry coulee
Cubes of short cake/foam cake/something
Strawberry ice cream
Strawberry liqueur
Whipped cream
These will be really fun to play with – anyone have some more ideas for layering????
Retired and having fun writing cookbooks, tasting wine and sharing recipes with all my friends.
www.achefsjourney.com