Sung Meen is a local Chinese word for "Life Noodles". The word Sung means Life..Meen is just noodles.
Sung Meen is often cooked and served in birthday parties for elderly folks, to symbolise long life and good health. Sometimes its served in chinese Wedding banquets to wish the wedded couple a life long of happiness and togetherness.
Before frying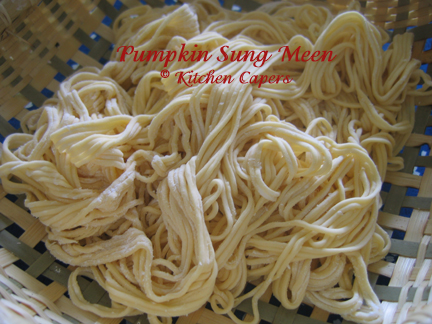 Deep fried, ready to use.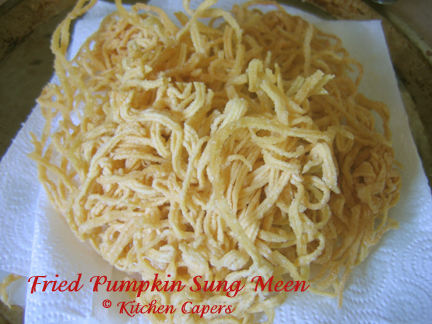 Makes a 4 person portion
Ingredients
350g All Purpose flour
100g Pumpkin
80ml water
1 tsp salt
tapioca flour for dusting
Method
1. Cut pumpkin into smaller pieces, steam over high heat for 10 mins.
2. Puree it with water and salt.
3. Mix it with the flour and knead to form a non-sticky and soft dough.
4. Break into 4 equal portions and run it thru the pasta machine till smooth.
5. Then run it thru the small cutter to cut into thin long strips.
6. Deep fry till slightly golden and crispy.
7. Sieve and drain on paper towels.
8. Store in air tight containers and use it accordingly to your recipe.
Notes
By deep frying it, you can store this longer outside the fridge.
Best to cook a thick saucy gravy with all your favourite ingredients like prawns, fish meat, fish balls, chicken ,vegetables and pour hot sauce over the fried sung meen.
delicious..!
If you preferred a non deep fried version, just cook this batch of noodles, al dente..then the usuals with your favourite recipes.
People Learn from one another, just as iron sharpens iron. Proverbs 27:17 New Internationl Version, Bible

****
tasteoftime.blogspot.com