Do these little goodies have your names all over them or what????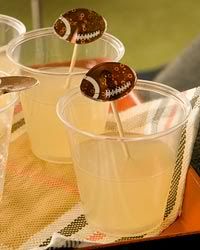 Mojito Jell-O Shots with White Rum and Fresh Mint
Instead of combining vodka with flavored Jell-O mix, Michael Symon concocts a refreshing mojito and stirs unflavored gelatin into the mint-and-lime-spiced rum drink to mold a fun and sophisticated version of the lowbrow shot.
1 cup water
1 cup sugar
2 tablespoons plus 3/4 teaspoon powdered unflavored gelatin (from 3 envelopes)
1 cup fresh lime juice
1 cup lightly packed mint leaves
1 cup white rum
In a small saucepan, cook the water with the sugar over moderate heat until the water is simmering and the sugar dissolves, about 4 minutes. Sprinkle the gelatin over the sugar syrup and whisk constantly over low heat until the gelatin has dissolved, about 1 minute.
Put the lime juice and mint leaves in a medium heatproof bowl and pour in the sugar syrup. Let steep for 15 minutes. Stir in the rum. Strain the mojito mixture into a large measuring cup, pressing on the mint leaves with the back of a spoon to extract as much liquid as possible.
Arrange 30 small paper cups on a rimmed baking sheet. Carefully pour the mojito Jell-O mixture into the paper cups and refrigerate the shots until they are chilled, about 3 hours. Serve cold.
Make Ahead
The Jell-O shots can be covered and refrigerated for up to 3 days.
----
I'll take two, please...
Retired and having fun writing cookbooks, tasting wine and sharing recipes with all my friends.
www.achefsjourney.com