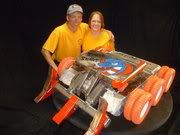 Latest news -
• Wendy
And so it begins. The Sciience Channel is promoing Killer Robots: RoboGames 2011 about twice an hour now. The actual show will be broadcast Memorial Day at 9:00 PM (check you local listing for times). The robot with the red tires is ours. Combat robots are back on TV!!!
• Promo for Killer Robots: RoboGames 2011. Thanks to Hal for being tech savy enough to get this off his TIVO!
http://files.me.com/hrucker/8h80y2.mov
----
I just love watching these matches!!
Retired and having fun writing cookbooks, tasting wine and sharing recipes with all my friends.
www.achefsjourney.com