I got this idea from Lorraine, who makes a sweet potato biscuit with ham as an appetizer when they are catering.
So, I thought, why not try this as a yeast dough. Well, it worked out really well. This tasty roll couldn't be easier and makes a great little ham sammy.
Made a little bit smaller and they would make a great slider bun. Here is my recipe and pix:
Sweet Potato Rolls
4 1/2 to 5 cups all-purpose flour
3 T. light brown sugar
2 pkgs. (1/4 oz. each) instant yeast
1 1/2 tsp. salt
1 1/4 cups milk
3 T. butter
1/2 cup cooked and mashed sweet potatoes, room temperature
In a mixing bowl, combine 2 cups of flour, sugar, yeast and salt.
In a saucepan, heat milk and butter to melt the butter, then let cool until lukewarm
and add to the dry ingredients; beat until smooth. Stir in mashed sweet potatoes and add enough flour to form a soft dough. (I used my mixer with the dough hook for 6 minutes.)
Turn the dough out on a floured surface and form into a ball. Cover and let rest for 10 minutes.
Using a bench knife, cut the dough in half and work with one half at a time. Cut each half into 8 pieces, quickly form a ball trying not to deflate the dough, and pinch the skin together on the bottom. Place into a 9" cake pan and grease or spray with oil. Repeat with the second half of dough. Cover and let rise in a warm place until doubled, about 30 minutes. Sprinkle the top with flour for a dusted look, or with an egg wash.
Bake at 350 for 18-20 minutes until golden brown. (I would suggest checking at 15 minutes. Due
to the sugar content, these rolls will burn easily, especially on the bottom.)
Yield: 16 dinner size rolls
This is the dough, right out of the mixer. 4 1/2 cups of flour was enough, and I used a little bit on the board. This dough was perfect and easy to handle.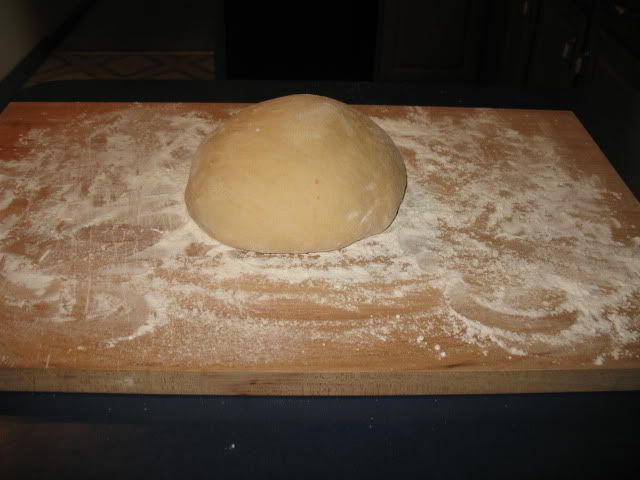 It took less then 10 minutes to cut and form the rolls.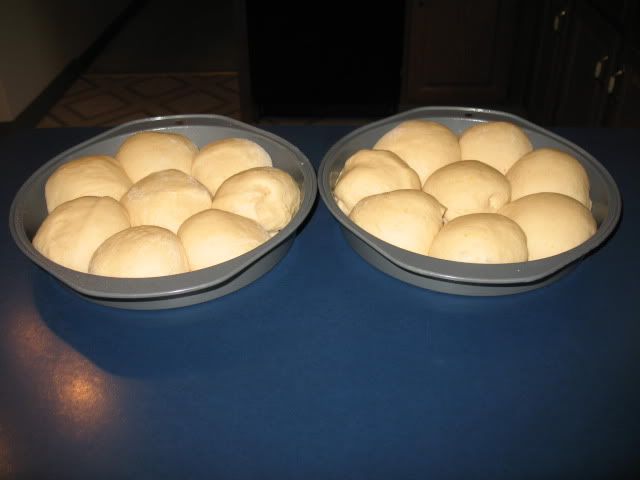 The result, right out of the oven.
Maryann

"Drink your tea slowly and reverently..."