Believe it or not, this is really good!!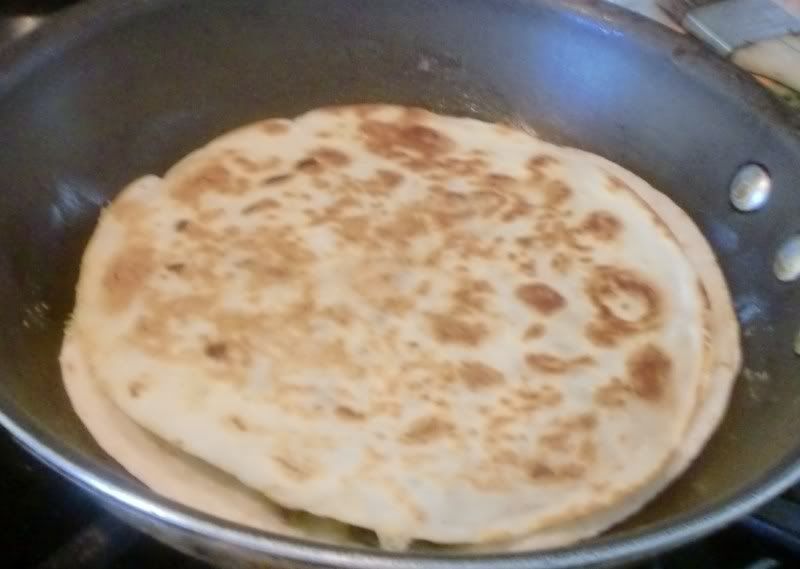 source: MasterCook - Breakfast Book
Meatloaf Quesadillas with Cilantro Cream
For the Cilantro Cream:
1/2 cup sour cream
1/2 cup fresh cilantro -- plus more for garnish
Juice of 1/2 lime
2 teaspoons green hot sauce
For the Quesadillas:
2 cups leftover Mini Skillet Meatloaves -- crumbled
1 can black beans -- (14.5 ounce) drained and rinsed
1 scallion -- chopped
1 teaspoon ground cumin
1/4 teaspoon cayenne pepper
Kosher salt and freshly ground black pepper
2 tablespoons unsalted butter
8 8 inch flour tortillas
2 cups shredded cheddar cheese
Make the cilantro cream: Puree the sour cream, cilantro, lime juice and hot sauce in a blender until smooth.
Prepare the quesadillas: Mix the meatloaf, beans, scallion, cumin, cayenne, and salt and black pepper to taste in a bowl.
Melt 1/2 tablespoon butter in a large nonstick skillet over medium-high heat. Place a tortilla in the pan, sprinkle with 1/4 cup cheese, then top with one-quarter of the meat mixture and another 1/4 cup cheese. Top with another tortilla and cook until golden, about 2 minutes per side. Repeat with the remaining butter, tortillas and filling. Cut the quesadillas into wedges and serve with the cilantro cream.
-----
I just used my own meatloaf, but there is a recipe that goes with this recipe in M.C. (that stands for MasterCook.....
)
Didn't take a picture of the quesadilla plated, darn it - it really looked pretty.
Retired and having fun writing cookbooks, tasting wine and sharing recipes with all my friends.
www.achefsjourney.com