From Cuisine Lite Fresh & Fabulous. No, this is not new, just wanted to share a review. This is a tasty recipe for those who want a "savory" bread with a small amount of cheese added. Nice for breakfast and doesn't really need anything on it as it's very moist. But, I did try it with cream cheese and liked it a lot. The grandkiddies gave it a thumbs up. The cheese that I used in the batter was a finely shredded Mexican blend.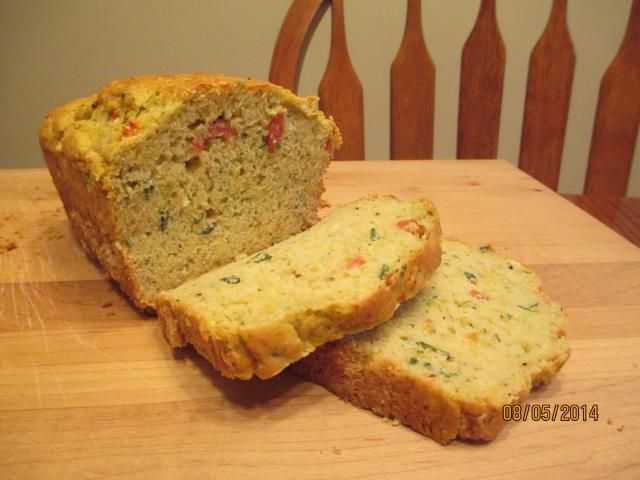 Garden Zucchini Bread
3 cups all-purpose flour
1 T. baking powder
1 tsp. kosher salt
½ tsp. baking soda
1 cup shredded zucchini
½ cup seeded, diced tomato (1 Roma)
½ cup chopped scalllions
½ cup minced fresh basil
½ cup shredded Parmesan, Asiago, fontina, or sharp Cheddar
1 cup buttermilk
2 eggs
3 T. vegetable oil
1 T. red or white wine vinegar
3 thin tomato slices
1. Preheat oven to 325°. Coat a 9 x 5-inch loaf pan with nonstick spray. Combine flour, baking powder, salt and baking soda in a large bowl. Add zucchini, ½ cup tomato, scallions, bassil, and cheese; toss to combine.
2. Whisk together buttermilk, eggs, oil, and vinegar in a second bowl. Fold buttermilk mixture into zucchini mixture just until moistened. Batter will be thick.
3. Scoop batter into prepared pan. Level top of batter and garnish with fresh tomato slices.
4. Bake until a toothpick inserted in the center of the loaf comes out clean, 70-75 minutes. Let bread cool 10 minutes, then turn out of pan and cool on rack 40 minutes more before slicing.
Servings: 12
Maryann

"Drink your tea slowly and reverently..."