Does this sound good or what!! Bill, got any left???
So summery!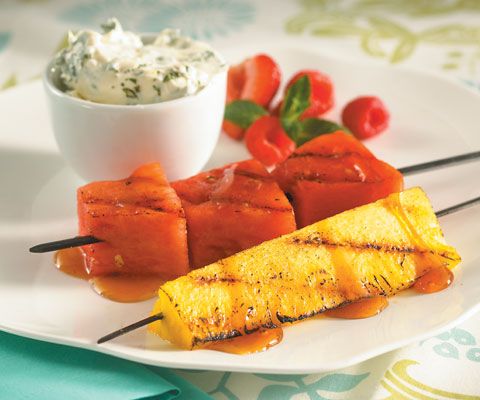 GRILLED PINEAPPLE WITH MINTED CRÈME FRAÎCHE
Pineapple, ripe, firm, large, skinned, cored 1 each
Dark rum 3 C
Crème fraîche 1/4 C
Fresh mint, chopped 1/3 C
Fresh fruit of choice, sliced or chopped as needed for garnish
1. Slice pineapple, lengthwise, into long, thick, spear-shaped slices. Soak in rum for 2 to 4 hours.
2. Meanwhile mix crème fraîche and mint together in a bowl. Reserve.
3. Heat grill to medium.
4. Thread pineapple spears onto 12-inch skewers. Grill until caramelized, about 3 minutes on each side. Serve 1 pineapple skewer per plate, either drizzled with minted crème fraîche or with crème fraîche on the side for dipping. Garnish with fresh fruit, either presented on a skewer or cut and arranged on the plate.
Source
Source: Chef/Partner Ralph Pallarino - Stella Blu - West Conshohocken, Pa., USA
Yield: 4 servings - Plateonline.com
Retired and having fun writing cookbooks, tasting wine and sharing recipes with all my friends.
www.achefsjourney.com