I made this dish recently and it was a big hit with the family. It's very easy to make. I used a bag of baby spinach which made it even easier. Just be sure to press out as much water as possible. It is very good placed in a dish with a bit of marinara and a sprinkle of Parm.
The picture below is one that I found on dinnerwithjulie.com because I forgot to take a pic when I made it. She makes it with a brown butter sauce. Others make it with a butter and sage sauce. I will be trying that next time.
These gnocchi are actually much lighter than they look. I made a whole sheet pan and put it in the freezer for an hour or so, then portioned into ziploc bags. If you just want these for a side dish, you can pull out 3 or 4 for each person and drop into lightly boiling water for about 3 minutes until they float to the top.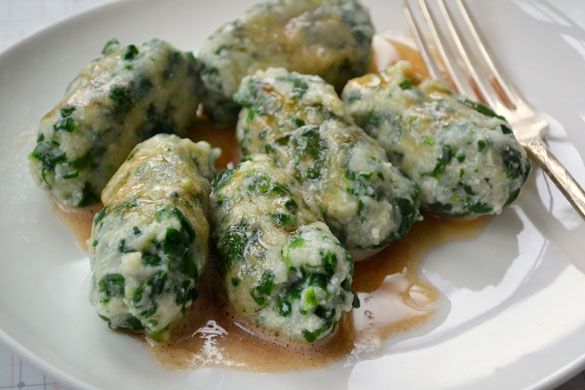 Here is the recipe that I used from Gerri Sarnataro an instructor for Craftsy.com.
Spinach and Ricotta Gnocchi (Gnudi)
8 cups fresh spinach, tough stems removed
1 cup ricotta cheese (drained)
2 eggs
1/8 tsp. nutmeg
½ cup parmesan cheese -- grated
salt and freshly ground pepper
3/4 cup all- purpose flour
1. Make the gnocchi: Place the spinach in a bowl of cold water to rinse away any dirt, then drain. You may have to repeat this step. Heat a sauté pan over low to medium heat. Add the spinach and sauté until wilted and tender, about 1 minute. Place the wilted spinach in a colander and let cool, then squeeze it to remove as much water as possible.
2. Place the spinach and ricotta in the bowl of a food processor and process until smooth. Add the eggs, nutmeg and Parmigiano, and season with ½ teaspoon salt and ½ teaspoon pepper. Process for another minute to combine. Remove the mixture to a large bowl. Add the flour and incorporate by hand.
3. Cook and serve: Fill a 3-quart (2.8-l) pot approximately three-fourths full with salted cold water. Bring to a boil. Lower the heat to a simmer. Using a small icecream scoop, (I used a soup spoon) scoop some of the spinach-ricotta mixture and drop it gently into the simmering water. Cook until the gnocchi are firm and heated through, about 2 minutes. Using a wire strainer or slotted spoon, remove the gnocchi to a buttered platter or bowl. Pour some sauce on a plate and top with spinach-ricotta gnocchi. Sprinkle with parmigiano to taste.
4. Make-ahead tip: Gnudi are best made and cooked the same day. But you can freeze them on a floured baking sheet and, when they are solid, place them in a plastic lock-top bag and freeze for up to 1 month. Cook frozen.
Servings: 4
Nutrition Facts
Serving size: 1/4 of a recipe (17.7 ounces).
Percent daily values based on the Reference Daily Intake (RDI) for a 2000 calorie diet.
Nutrition information calculated from recipe ingredients. One of the recipe's ingredients was not linked. This ingredient is not included in the recipe nutrition data.
Amount Per Serving
Calories 389.37
Calories From Fat (32%) 125.2
% Daily Value
Total Fat 14.38g 22%
Saturated Fat 6.17g 31%
Cholesterol 123.07mg 41%
Sodium 1527.58mg 64%
Potassium 1299.92mg 37%
Total Carbohydrates 40.01g 13%
Fiber 14.71g 59%
Sugar 2.42g
Protein 32.62g 65%
Source: Gerri Sarnataro
Maryann

"Drink your tea slowly and reverently..."