Summer tomato dish alert!! This one deserves a thread of its own!!
My Goodness, this dish is so tasty!! We may be so tired of it by the end of the beautiful tomato season, but what the heck. It's a recipe of David Tanis of N.Y. Times and what a winner! Good luck staying out of the dressing – it is outstanding, also.
Zucchini and Cherry Tomatoes with Red Pepper Dressing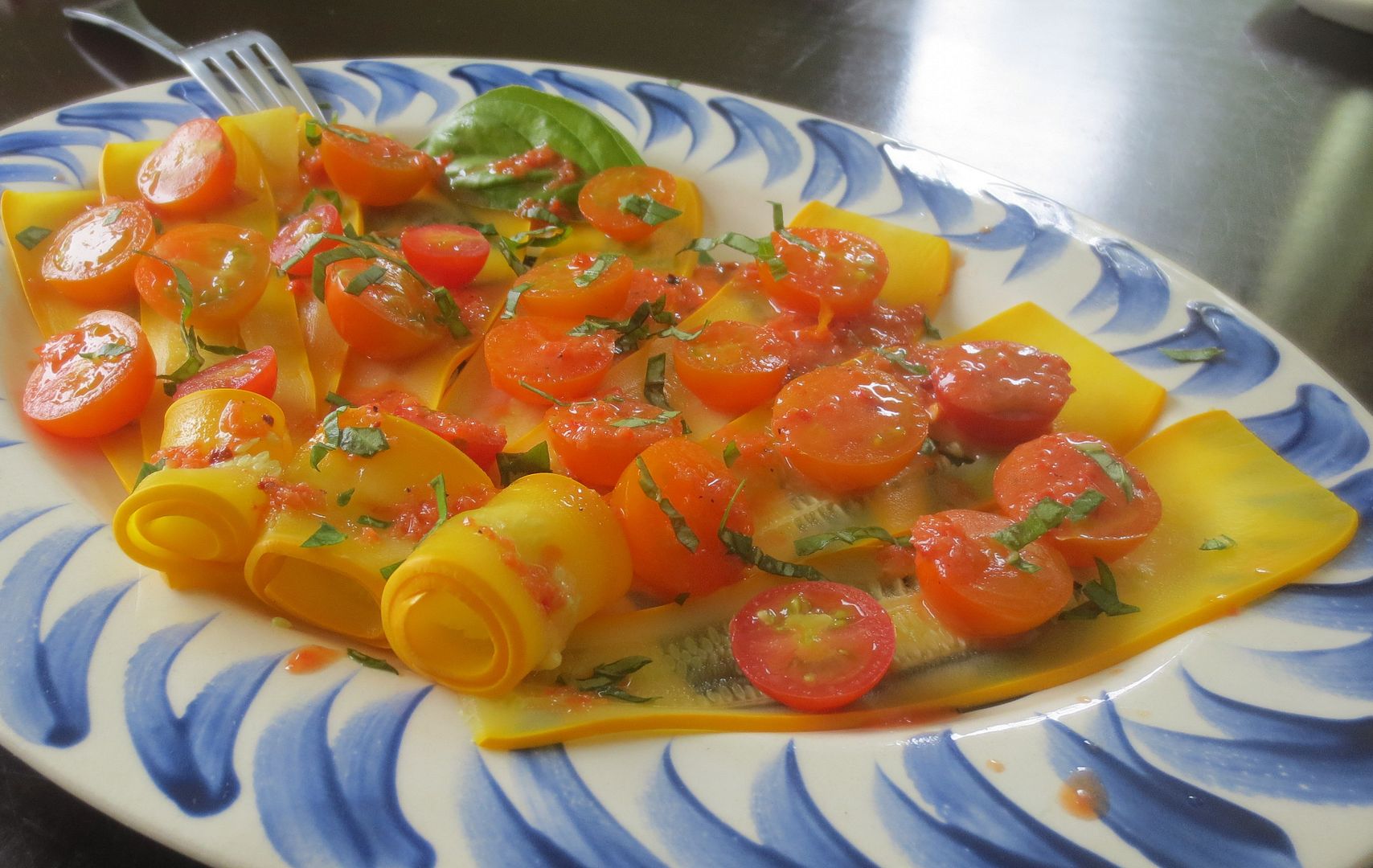 2 lbs zucchini or summer squash, sliced lengthwise 1/8-inch thick
1 garlic clove, minced
¼ cup extra-virgin olive oil
1 tsp Dijon mustard
2 Tbs red wine vinegar
1 Tbs lemon juice
1/2 cup roughly chopped roasted red pepper
1 tsp Maras pepper flakes, Korean pepper flakes or sweet paprika
pinch of cayenne
Salt and pepper
1 pint cherry tomatoes, halved and lightly salted
A few fresh oregano leaves and flowers, for garnish, or a few small basil leaves
1. Parsley leaves, for garnish (Optional)
2. Bring a large pot of well-salted water to a boil. Working in batches, blanch zucchini strips for 1 minute, then remove with a spider or slotted spoon and spread on a kitchen towel-lined baking sheet to cool.
3. Make the dressing: Put roasted red pepper, garlic, oil, mustard, vinegar, lemon juice, Maras pepper and cayenne in a blender and purée until smooth. 3.Transfer to a small bowl and season with salt and pepper. Taste and adjust acidity with a few drops of lemon juice or vinegar.
4. Arrange zucchini and cherry tomatoes on a platter. Drizzle judiciously with dressing (reserve excess dressing for up to a week) and garnish with oregano and/or parsley (or basil – this is what I used). Serves 6.
Retired and having fun writing cookbooks, tasting wine and sharing recipes with all my friends.
www.achefsjourney.com