Shrimp & Lemongrass Soup
5 min 15 min prep
6 tablespoons freshly squeezed lime juice
4 green onions, very thinly sliced crosswise
4 tablespoons coarsely chopped fresh cilantro leaves
6 cups chicken broth
6 stalks lemongrass, trimmed to 3-inch base and cut on the diagonal into 1-inch lengths
10 slices galangal
1 lb medium shrimp, peeled and deveined
4 tablespoons fish sauce
Not the one? See other Shrimp and Lemongrass Soup Recipes
* < 30 mins Main Dish
* Asian Main Dish
1. In a large serving bowl combine the lime juice and green onions. Place this bowl by the stove, along with a small bowl containing the chopped cilantro.
2. In a medium saucepan, combine the chicken broth, lemongrass, and galanga. Bring to a boil over medium-high heat and cook for 3 to 4 minutes. Add the shrimp to the broth and cook 2 to 3 minutes more, until the shrimp are cooked.
3. Stir in the fish sauce and remove from heat. Pour the lime juice and green onions into the saucepan and stir well. Sprinkle with the chopped cilantro and serve hot.
4. Serve with rice if desired.
Rice Noodles with Sesame Basil Pesto
1/2 box ( 8 oz / 227 g ) Rice Noodles, any width
2 Tbsp sesame seeds
1 cup firmly packed basil leaves, stems removed
4 cloves garlic
2 Tbsp hot chili oil
2 Tbsp olive oil
2 Tbsp rice wine vinegar
1 tsp sugar
1 tsp salt
Equipment:
Blender
Tip:
Although traditionally rice noodles are soaked in water for up to an hour to soften them, here we use the quick boil method for today's time-pressed cooks.
Directions: (Click on any image to enlarge.)
1 Preheat oven to 300 F.
2 Put a large pot of water (2 quarts or more) on to boil, with one tablespoon salt.
3 Spread the sesame seeds on a pan. Toast in oven for about 2 minutes or until golden.
4 Watch them carefully so they don't burn. Remember: brown means bitter!
5 Put the basil leaves, garlic, toasted sesame seeds, chili oil, olive oil, vinegar, sugar, and salt in the blender. Blend until smooth.
6 When the water boils, add the rice noodles. Stir once to separate the noodles.
7 Boil noodles according to box directions or until firm but tender (al dente).
FOR WARM NOODLES
Drain the noodles and very briefly run warm water over them.(This removes some of the starch, keeping the noodles from getting "gummy"). Return the noodles to the pot and toss in the sauce.
FOR COLD NOODLES
Drain the noodles and immediately run under cold water until noodles are cool. Toss with sauce and serve, or cover and chill to serve later.
We didn't have enough basil for this - so we used Rau ram, basil, cilantro, and mint. Very very good. In fact the next night we added the leftover noodles to the leftover salad - threw in some cucumbers and had another dinner.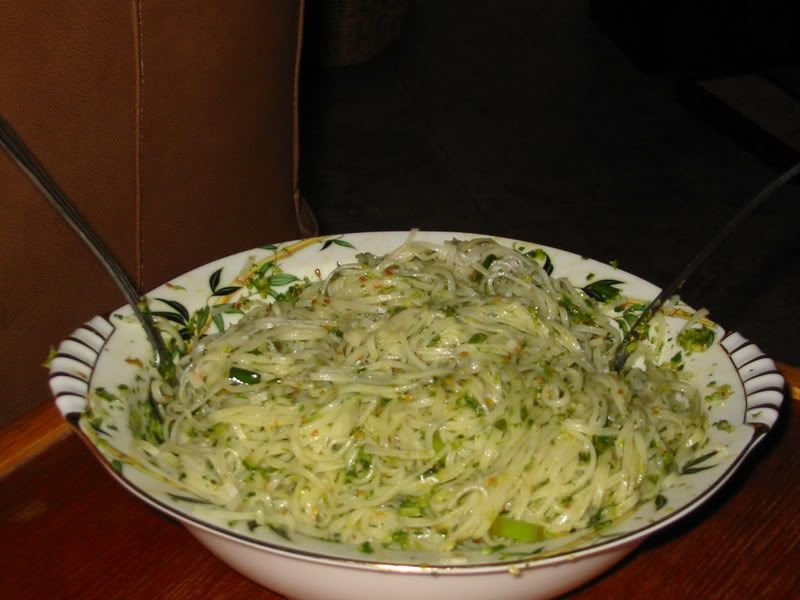 And the salad: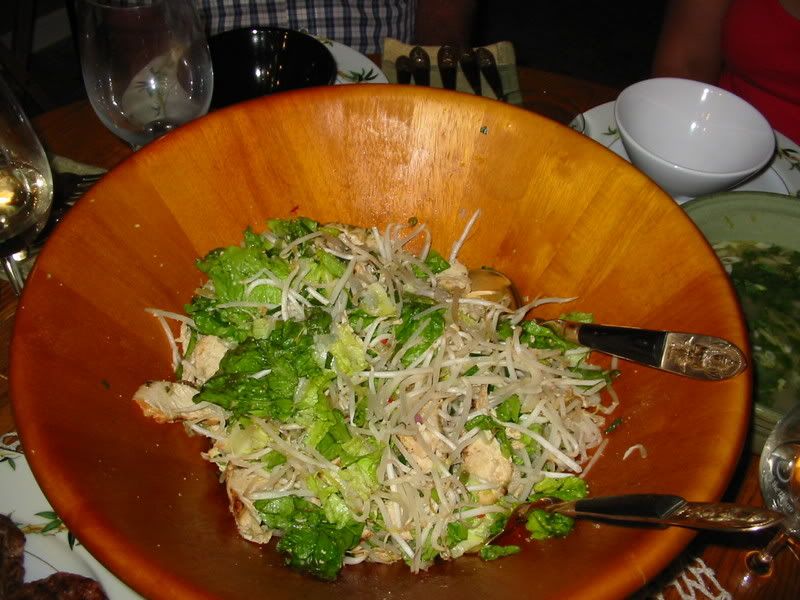 You only live once . . . but if you do it right once should be enough!