Cis etal loves hot food - Maryann etal loves pizza, so here's to you two!! I first made this pizza 10/15/90, so of course Roy had to tease me about not repeating recipes too often... but 17 years is just stretching it a little!
If you're not familiar with James McNair's books, he is certaily worth checking out - all his books are one-themed recipes, I have four or five and don't think we've ever gotten a bad dish from him. So, here you go, 'hot' pizza lovers!!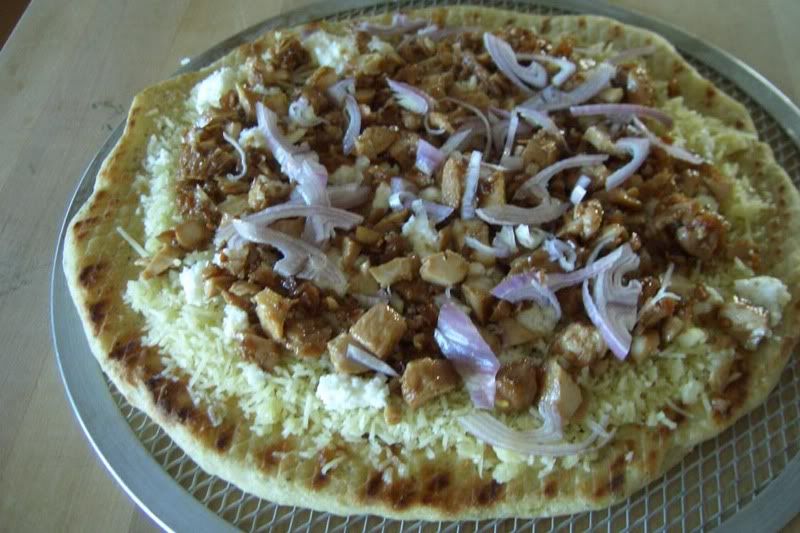 * Exported from MasterCook *
GARLIC-GLAZED CHICKEN PIZZA
"McNair's Note: Even garlic lovers might be alarmed by the huge quantity of the aromatic bulb, but it turns sweet & succulent during the cooking." (it sure does!!)
James McNair's Pizza Book
Pizza crust
1/4 cup sesame seeds
2 heads garlic, broken into cloves, peeled, & coarsely chopped
2 teaspoons crushed dried red chili pepper flakes
1/2 cup soy sauce
5 Tablespoons honey
1 1/2 cups rice wine vinegar
3/4 cup vegetable oil
5 boned & skinned chicken breast halves, cut into bite-sized pieces
Cornmeal if using a pizza wheel
8 ounces Gruyere cheese, grated
4 ounces mozzarella cheese, shredded
1/4 cup green onions, chopped
Cilantro leaves for garnish
Have your pizza dough ready.
Put the sesame seeds in a small skillet: over medium heat. Toast the seeds, stirring or shaking the pan, until golden, about 4 minutes. Empty onto a plate to cool. Reserve.
Combine the garlic, crushed red pepper, soy sauce, honey, and vinegar in a bowl. Reserve.
Heat 1/4 cup of the vegetable oil in a sauté pan or large skillet over medium-high heat and sauté chicken until opaque on all sides, about 3 minutes. Remove with a slotted spoon and reserve. Pour the garlic mixture into the skillet and cook over medium-high heat, stirring frequently, until the sauce is reduced to the consistency of syrup, about 15 minutes. Return the chicken to the pan and cook, stirring constantly until the pieces are lightly glazed, about 2 minutes. Remove from the heat and reserve.
Shape the dough as directed in the basic recipe. Brush dough all over with vegetable oil, then top with a layer of each of the cheeses and the glazed chicken, leaving a 1" border around the edges. Sprinkle with the green onions. Drizzle evenly with vegetable oil.
Transfer the pie to the preheated baking surface and bake as directed in the basic recipe. Remove from the oven to a cutting tray or board and lightly brush the crust with vegetable oil. Sprinkle with the toasted sesame seeds and a few leaves of cilantro, slice, and serve immediately.
Serves 4 to 6 as a main course, 8 to 10 as a starter.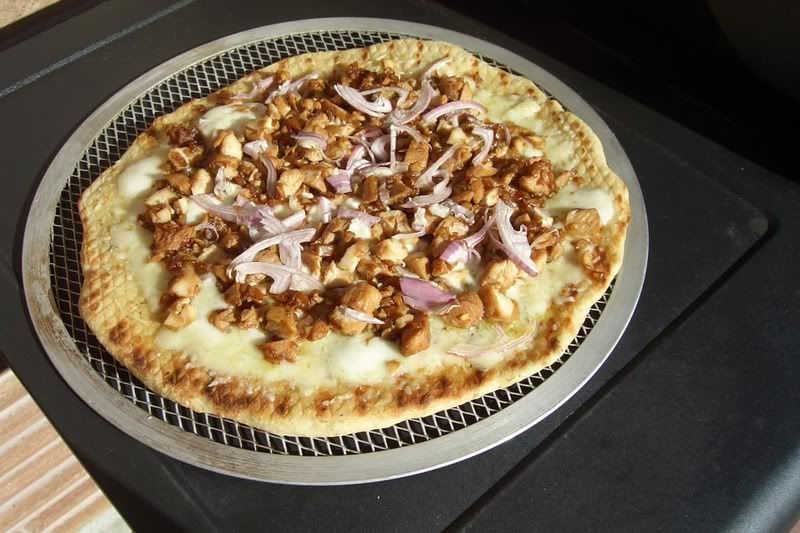 Since my pizza dough is frozen in 10" size balls, I made half the recipe for the topping (and I still have half left for another 10 incher - frozen
). OUt of green onions, so used a shallot and of course I grilled it not baked.
The cilantro wasn't called for and I didn't think of it until I was halfway trhu my first piece, but I had some fresh in the frig so added it and oh my, it was just perfect with the flavors.
This is so good!
Retired and having fun writing cookbooks, tasting wine and sharing recipes with all my friends.
www.achefsjourney.com