Another winner from the Bed & Breakfast website - this is very good! Had it this morning - no champagne...bloody marys instead.
Apple Cheddar Breakfast Bread Pudding
presented by Breakfast on the Connecticut
4 eggs
2 cups whole milk
1 cup sugar
3 Tablespoons butter, melted
1/4 teaspoon cinnamon plus more to sprinkle
1/8 teaspoon salt
7 slices firm white bread (crusts removed, cut into cubes)
1 large apple (peeled, cored and cubed)
2/3 cup grated cheddar cheese (preferably Vermont)
Oven to 350. Butter an 8 inch square pan. In large bowl whisk eggs - add sugar, milk, melted butter, cinnamon and salt. Whisk again until sugar is dissolved. Add bread, apple and cheese and gently stir to combine. Put in buttered dish and bake 35 - 40 minutes until golden and set all the way through. Dust with additional cinnamon and serve warm with warmed New Hampshire Maple Syrup. Dust with confectioner sugar.
-----
I had to bake a little longer, but it was probably because my bread really was not old - it was a little too fresh.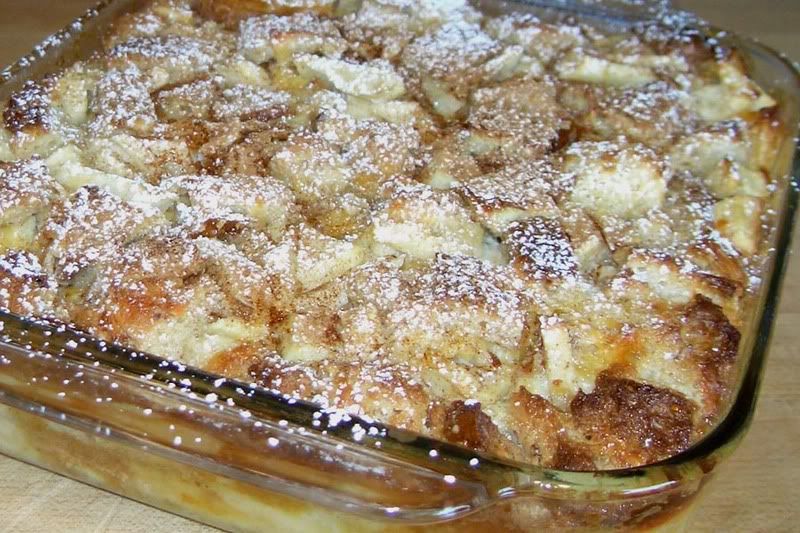 Retired and having fun writing cookbooks, tasting wine and sharing recipes with all my friends.
www.achefsjourney.com