Okay, so I STILL want to purchase a FoodSaver, but thought I would give a review on the
Reynolds Handi-Vac Vacuum Sealer
since I purchased one this weekend.
I purchased the hand sealing unit for $8.99. It is battery operated with 6 AA batteries that DO come in the unit. You just have to pull out that little plastic tab to activate the batteries. I purchased their bags and they have
gallon
and
quart
bags available. The cost of the bags for gallon = .28, and the cost for quart = .20 each.
I purchased this so I could put my corned deer in them. So I put the meat in, sealed the bag and used the handy-dandy handi-vac to suck the air out. It sucked out every bit of air! Looked just like FoodSaver type sealing. The bags are special, freezer quality bags. Their is a special panel in their to prevent liquid from being sucked into the Handi-vac machine.
I was very impressed with this gadget over all. Best part? You can purchase deli meats and cheeses, put them in a bag and conveniently suck the air out between uses! Not sure if this unit is as good as a
FoodSaver
system and I am still planning on buying one. But this seems to be a very cost-effective way to package in smaller quanities and suck air out on a daily basis.
Pros:
Very inexpensive, handy to use, easy to store when not in use
Cons:
Not sure if it's a good as a FoodSaver
Overall Review:
Clever idea. Worth the money even for storing things like: brown sugar, marshmallows, deli meats and cheeses, hot dogs. I think this would be a great unit for anyone who would like to seal stuff on a regular basis without having to bring out a larger unit, or have a larger unit on your countertop.
You can also store frozen veggies! Take out what you need, seal the bag and suck the air out lickety-split!
Corned deer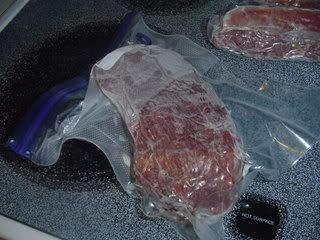 Meatballs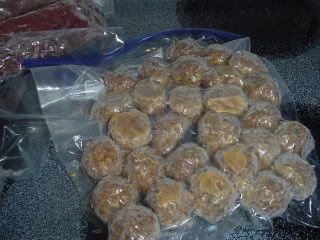 "Time you enjoy wasting is not wasted time."
Laura