Oh my, the flavors in this dish just blew us away!! It's such a wonderful and easy dish.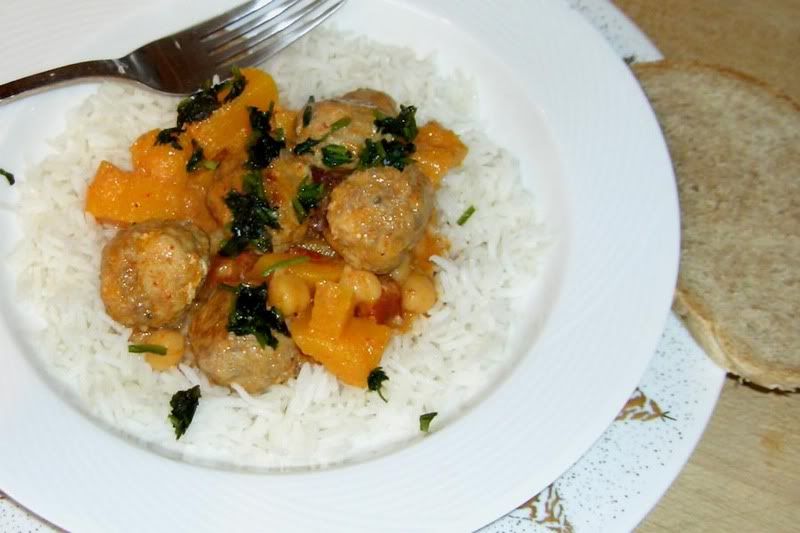 Curry Mellow Meatballs
3 T. red curry paste
2 T. vegetable oil
40 organic mini meatballs (I made mine out of 1/3 lb. each: pork, beef & chicken and made them about 1/2 oz. each)
1 tsp. grd. Ginger
1/2 tsp. grd. Cinnamon
14 fl.oz. can coconut milk
14 oz. can chopped tomatoes
14 oz. can chickpeas, drained
12 oz. diced butternut squash & sweet potato (in a pkg. from the supermarket) (I roasted butternut squash squares until almost tender, then added)
2 cup chicken stock
2 T. honey
Cooked rice, to serve
1/2 cup chopped fresh cilantro (I only had frozen, so doesn't look real good in pix - but flavor was there!
)
Heat the curry paste and oil in a large wide pan, and when it starts sizzling, add the meatballs, turning them in the red oil mixture.
Sprinkle over the ginger and cinnamon and fry the meatballs for a couple of minutes.
Add the coconut milk, chopped tomatoes, and drained chickpeas Stir in the diced squash and sweet potato and then the stock and honey.
Bring the pan to a boil, and then simmer for 20 minutes. Serve with rice and then decorate each plate with some chopped cilantro. Serves 4-6
Nigella Lawson's Express
-----
Forgot to mention - and as an added wonderfulness - Amavi Cellars 2004 Syrah from Walla Walla was absolutely perfect with this.
Retired and having fun writing cookbooks, tasting wine and sharing recipes with all my friends.
www.achefsjourney.com