Living on the gulf coast has its advantages. At a local farmers market I can get stone crab claws for $13/lb, tuna, red snapper, and conch for $10/lb, and grouper for $13/lb, all roughly half of what the super markets and fish markets charge. Except for the conch, which was probably originally frozen, the fish are very fresh. The conch comes from either the Bahamas or the Carribbean as they are an illegal catch here in the U.S.
Here's an excellent recipe for conch chowder. I love the stuff and make a batch every other Saturday. When I cook for me the conch is cut into 1/4 to 1/2" chunks. Because it has that "slippery" feel in the mouth, when I cook for guests I puree the meat. Most restaurants puree both the meat and the vegetables. I think they're hiding the fact that there isn't much conch in their version......
BAHAMIAN CONCH CHOWDER
2 tbsp olive oil
1 medium onion, chopped
2 sticks celery, chopped
2 carrots, chopped
1 red or green pepper, seeded and chopped
1 medium potato, peeled and chopped
1 tsp dried thyme
¼ tsp crushed red pepper flakes
¼ tsp ground allspice
2 cloves garlic, minced
3 bay leaves
1 cn diced tomatoes
1 cn clam juice
2 cups chix broth
1 lb conch meat (3 or 4 queen conchs) chopped fine – I like to cut at least half into bite sized chunks
1 tbsp vinegar
6 sprigs parsley, chopped
4 scallions, minced
1 tsp salt
black pepper to taste
In a large saucepan , medium heat, saute' the onion, celery, carrots, red or green pepper, potato, thyme, red pepper flakes, allspice, garlic, and bay leaves for 5 minutes or more in olive oil until they begin to soften.
Add the tomatoes, clam juice, and broth. Heat to boiling, then reduce to simmer.
Add conch and simmer for 35 minutes, uncovered.
Add vinegar, parsley, scallions, salt, and pepper. Simmer for 5 minutes.
Serves 8
Here are the conch, cleaned but untrimmed.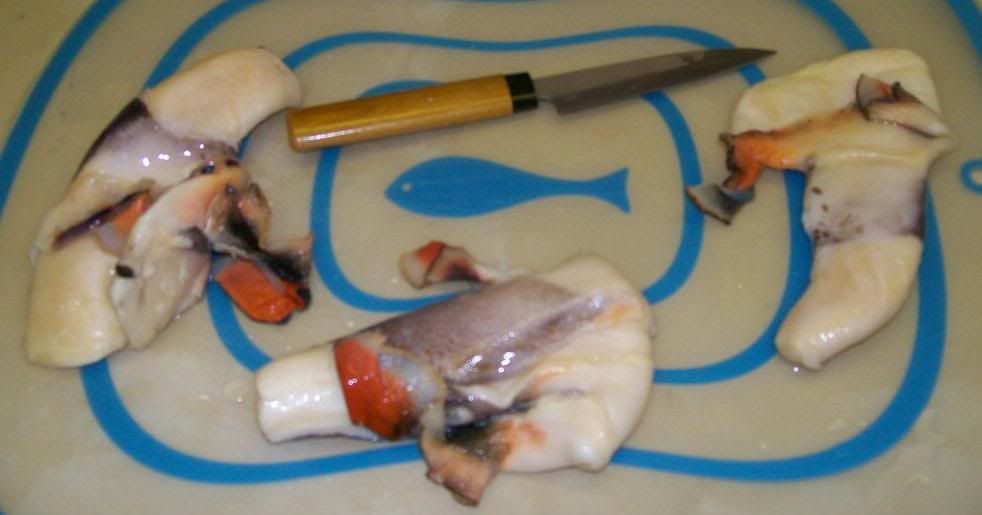 Trimmed, sliced, and cubed.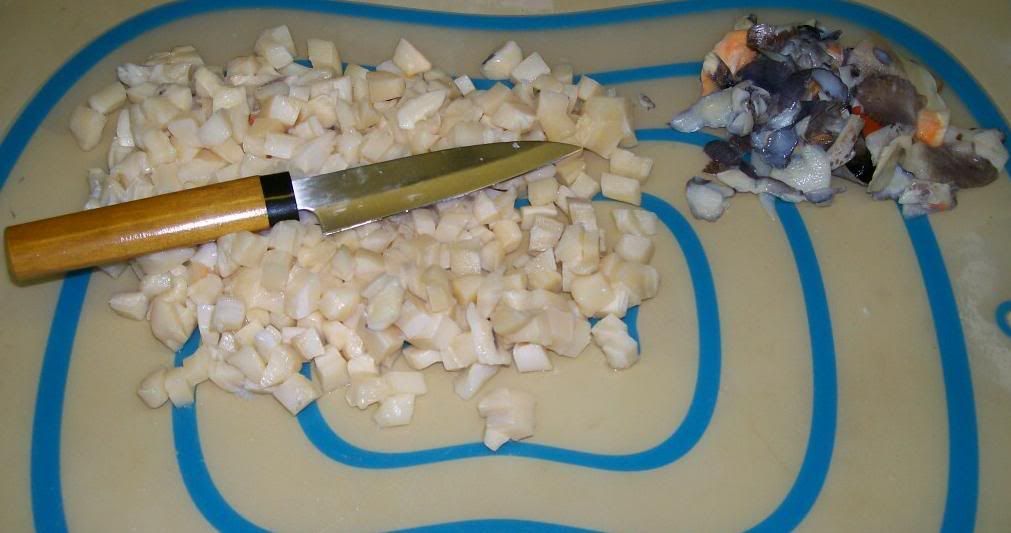 The veggies used.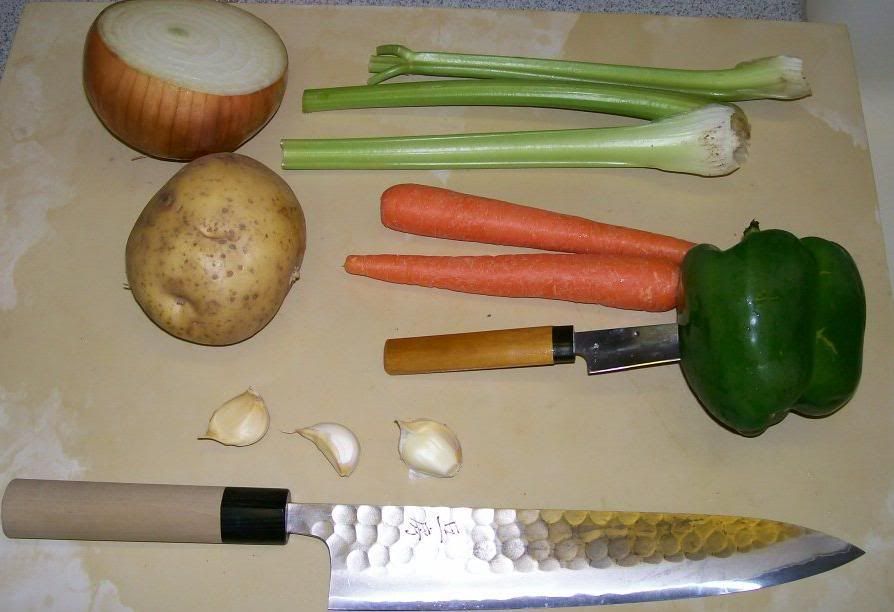 The peeler is a Messermeister serrated. This is the best on the planet and inexpensive to boot. Even Cooks Illustrated agrees with me.
All of the ingredients except for salt and pepper.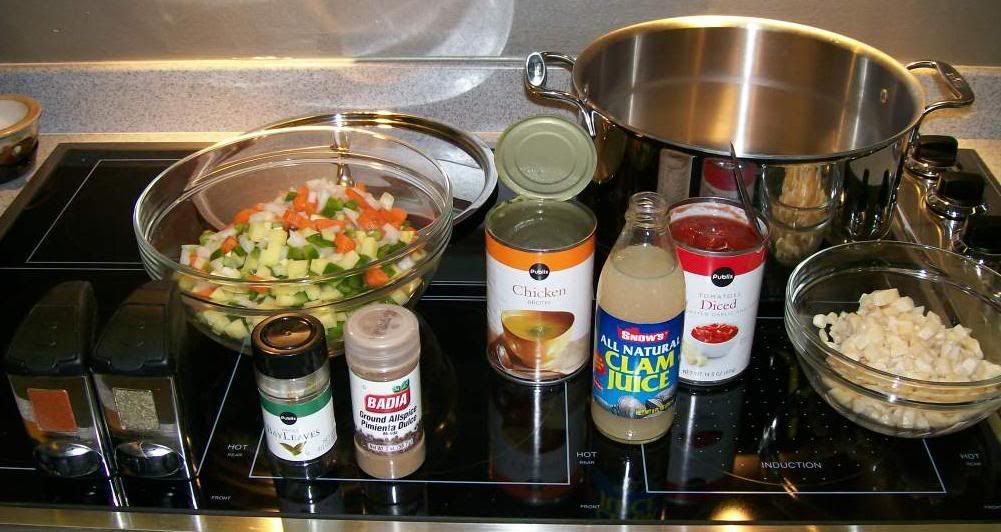 Simmering before adding the conch.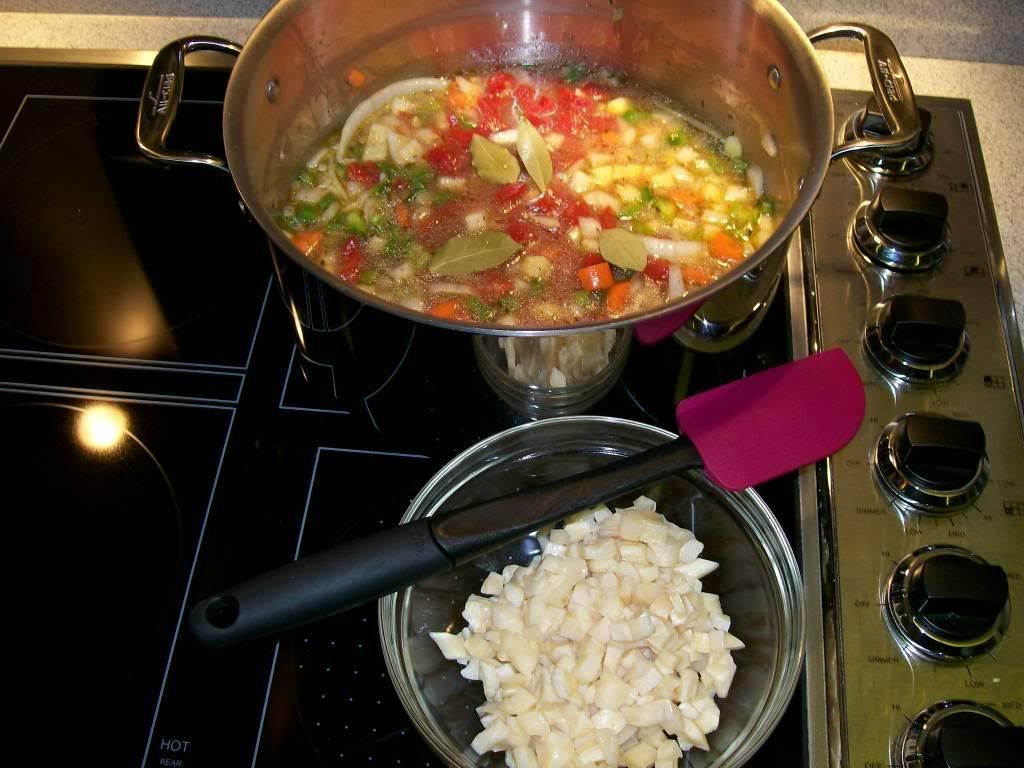 Finished product.
Buzz

I have kleptomania,
but when it gets bad,
I take something for it.