Got home from the catering job in Portland last night - what a wonderful time and birthday I had!! Don, our host, couldn't join us for my birthday dinner - at his houseboat
- so Roy and I had to have sushi, champagne, T-bones, grilled fries, fruit platter and more Shramsburg Cremant bubbly with just the two of us!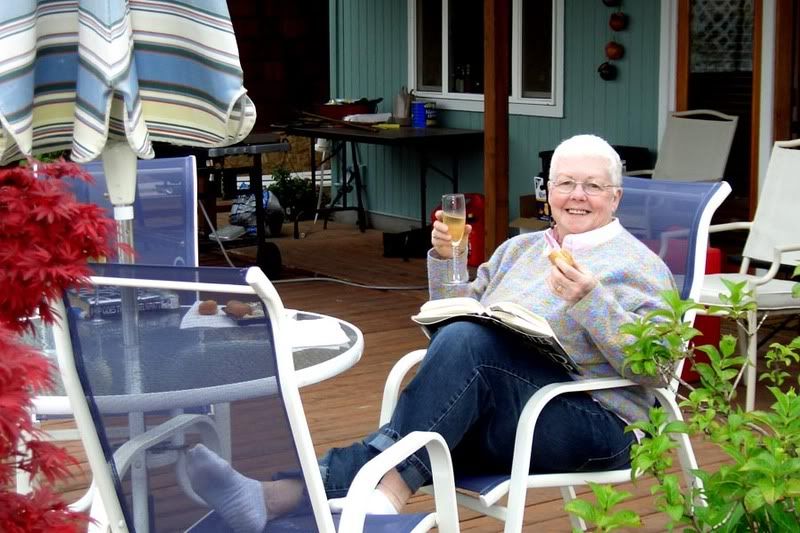 The Dinner Thursday night went very well also - have some new recipes for catering (and home) now. The brats were delicious and I'll fix them this way again.
6 pack Samuel Adams dark beer
3 oz. bavarian mustard
1/3 cup ketchup
lots of onion slices.
Mix all the above together and drop in the brats, I had the heat at med-lo and just let them do their thing for a couple of hours, then grilled for color. They caramalized and were just beautiful and so good. The guys liked the red cabbage sauerkraut also. And the pickled eggs - they were all gone!
Started out with a cheese board - oh the cheeses were so good!!
The two hors that they like the best were the mini zucc quiches with tomato sauce and the crab 'nachos' - they really went thru these two. In the picture, I left the crab off one for the pix so you could see the guacamole.
The Roasted Red peppers, feta and green olive 'tapenade' just didn't go over with the group, but Don, Roy and I sure liked it!
The Northwest Blackberry(with blue-, rasp-, straw-) cobbler was a great choice for the guys with French Vanilla Ice cream. All in all it was a good job and it was nice to see the guys Roy used to work with again, they're such a great group.
So, now I'm off to read all that I've missed the last 4 days in the neighborhood - and, I apologize ahead of time for having a string of 'cjs' responses, but I'll try to hold my tongue!!
It's good to be home!
Retired and having fun writing cookbooks, tasting wine and sharing recipes with all my friends.
www.achefsjourney.com