This is especially for those of you still working (poor devils that you are....
) and need quick ideas for weeknite dinners. This was on a Nigella's Express program I had taped and watched night before last; it looked so good, I changed my mind on dinner last night and did this one.
It's so simple and so quick - even if the meat is straight from the freezer, by the time you gather all ingredients, it will be thawed enough to use.
Flash-Fried Steak with White Bean Mash
Nigella Lawson's Express Book
1/4 cup plus 2 tsp. olive oil
1 clove of garlic, crushed
grated zest and juice of 1 lemon
3 14-oz. cans white beans
~ 2 tsp. fresh rosemary, chopped, optional
salt and pepper to taste
4 thin-cut sirloin or entrecote staks, about 5 oz. each
First get on with the beans: put the 1/4 cup olive oil in a saucepan, add in the garlic, add the lemon zest, and warm through.
Drain the beans and rinse under a tap to get rid of the gloop, then add to the pan and warm through, stirring and squishing with a wide, flat spoon so that the beans go into a nubbly mush. Add the rosemary, if using, and season to taste; some beans come saltier than others. Drizzle 1 tsp. of the oil over the beans when serving.
Meanwhile, heat a tsp. of oil in a large skillet and cook the steaks on high for 1 1/2 min. (I did 1 minute) a side.
remove to warmed plates, sprinkling some salt & pepper, to taste, over them as you do so.
Squeeze the lemon juice into the hot pan and let it bubble up with the meaty oil, then pour over the steaks. Serve immediately with the mash.
Serves 4.
----
I toasted a couple pcs. of sourdough and rubbed with a garlic clove to serve with this and I don't know which the beans were better with - the steak or schmeared on the toasts. This was really a great combination and not more than 1/2 hour!!
And, for dessert, on the show she served Instant Chocolate Mousse - so, naturally, holding true to the show, I had to make it also....it's good!! She says it serves 4-6, but I'd go for 8, it's so rich.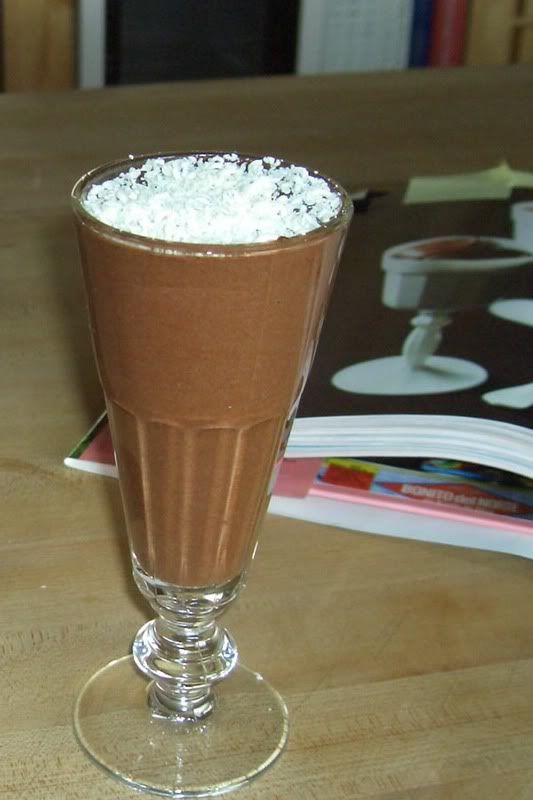 Instant Chocolate Mousse
Nigella Lawson's Express Book
1 1/2 cups mini marshmallows
4 T. butter
9 oz. best-quality semisweet chocolate, chopped into small pcs.
1/4 cup hot water from a recently boiled kettle
1 cup heavy cream
1 tsp. vanilla extract
Put the marshmallows, butter, chocolate, and water in a heavy-bottomed saucepan.
Put the saucepan on the stove over fairly gentle heat to melt, stirring every now and again. Remove from the heat.
Meanwhile, whip the cream with the vanilla until thick and then fold into the cooling chocolate mixture until you have a smooth, cohesive mixture.
Pour/scrape into 4 glasses (I would do 8), about 3/4 cup in capacity, or 6 smaller (1/2 cup) ones, and chill until you want to eat.
I grated white chocolate over the mousse at serving.
---
the whole dinner didn't take an hour, I'm sure.
Retired and having fun writing cookbooks, tasting wine and sharing recipes with all my friends.
www.achefsjourney.com