The other day Barbarainyc posted about greek pizza and the recipe is one I found on epicurious - I made it this a.m. and oh my, one of the most delicious and decadent things I've tasted in a long time!!!!
We had it with sausage and a fruit platter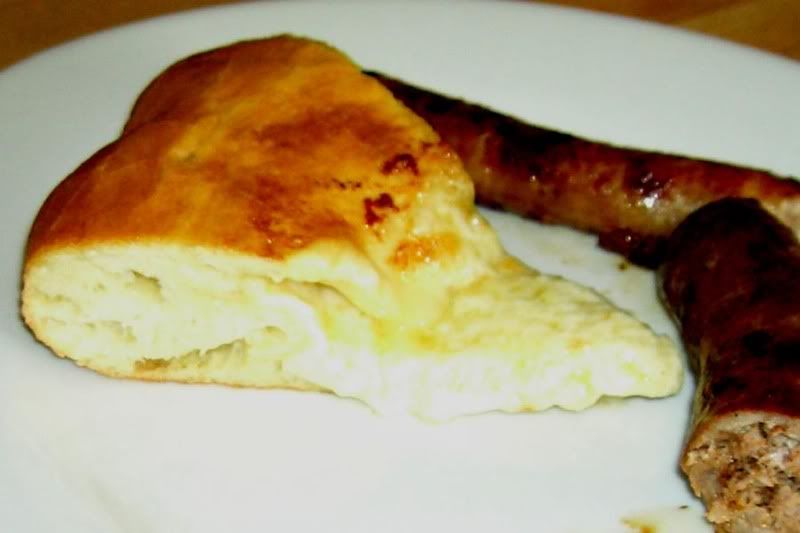 georgian cheese bread
Gourmet | May 2008
In the remote mountains of Georgia, the star ingredient of this bread called khachapuri—akin to pizza—is the firm but creamy salted cow's-milk cheese called sulguni. A blend of Havarti and mozzarella will give you a similar velvety texture.
Makes 1 (11-inch) pie; serves 8
Adapted from Natia Gigani, Caucasus Travel Ltd., Republic of Georgia
2 1/4 teaspoons active dry yeast (a 1/4-oz package)
7 tablespoons warm water (105-115°F)
1 2/3 cups unbleached all-purpose flour, divided
3/4 teaspoon salt
1 large egg, lightly beaten
1/4 lb Havarti cheese, coarsely grated
1/4 lb salted mozzarella, coarsely grated
1 teaspoon unsalted butter, melted
Equipment: a floured pizza pan (at least 12 inches) or a floured large baking sheet
Sprinkle yeast over warm water and stir in 1 tablespoon flour.
Let stand until creamy, about 5 minutes. (If yeast does not activate, start over with new yeast.)
Stir together salt and remaining flour in a large bowl, then stir in egg and yeast mixture to form a dough.
Turn out dough onto a well-floured surface and turn to coat with flour, then knead until smooth and elastic, about 5 minutes.
Form into a ball and dust with flour. Let dough rest in a bowl, covered with plastic wrap, punching down with a wet fist every hour, at least 2 hours and up to 3. (I put it in the fridge overnite)
Preheat oven to 500°F with rack in middle.
Turn out dough onto floured pizza pan, turning to coat, then flatten with your fingers into a 7-inch disk.
Toss together cheeses and press into a compact 3-inch ball with your hands.
LOOK AT THE SIZE OF THAT CHEESE!!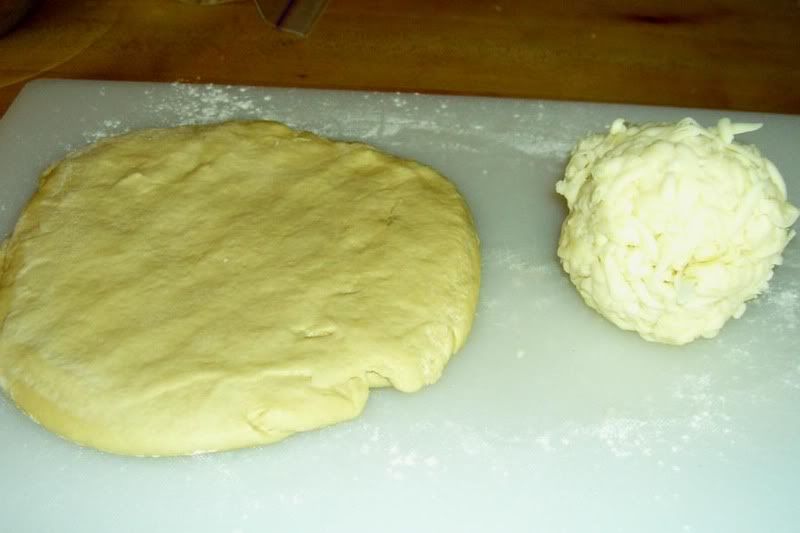 Place ball in middle of dough, then gather dough up around ball of cheese, squeezing excess dough into a topknot. Press down on topknot with a damp fist to press cheese out from center. Continue to flatten dough and distribute cheese evenly, pressing outward from center, until dough is an 11-inch disk.
Cut a 6-inch X through top of dough to expose cheese.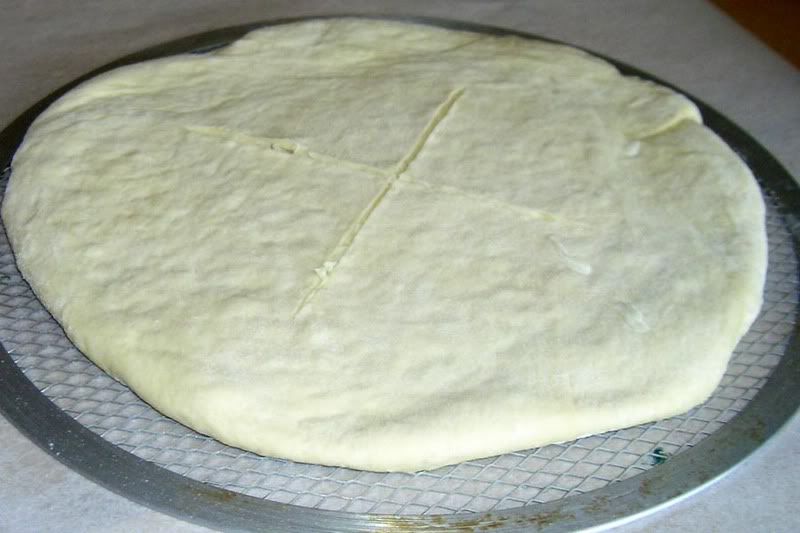 Bake until pale golden, 10 to 12 minutes. Brush surface of dough with butter and bake until golden and cooked through, 3 to 5 minutes more.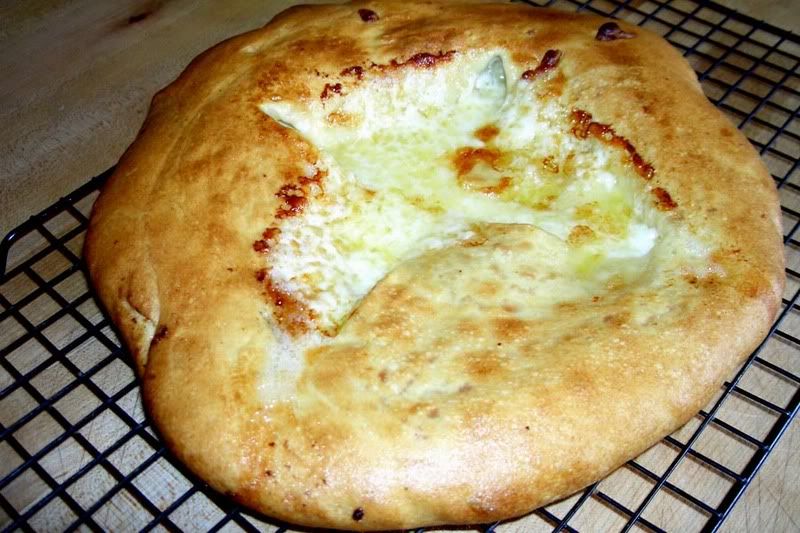 Serve cut into wedges.
Cooks' note: Dough can be made 1 day ahead and chilled in bowl (for a slow rise), covered with plastic wrap.
Punch down and bring to room temperature before proceeding with recipe.
------
Good Lord this is good!!!
Retired and having fun writing cookbooks, tasting wine and sharing recipes with all my friends.
www.achefsjourney.com