A while back we were all checking out a copycat website (
www.razzledazzle.com
) and I had copied this, but not made it. Now a LOT of you may have made this before, I never had...especially the presentation. While it's really just a glorified chef salad, the REAL star is the dressing. Not what I expected...when I hear French dressing, I think red stuff...but it was VERY good. I have now permanently replaced bottled Italian dressing FOREVER!
It was so pretty, I had to take a picture. Now before you pooh the presentation thing, I will tell you, it was NOT that big a deal. And to impress guests...this would do it! PLUS there were NO pots and pans to clean! NOW, somebody tell me if I can post this recipe. It's the Brown Derby Salad from the aforementioned (sp?) website.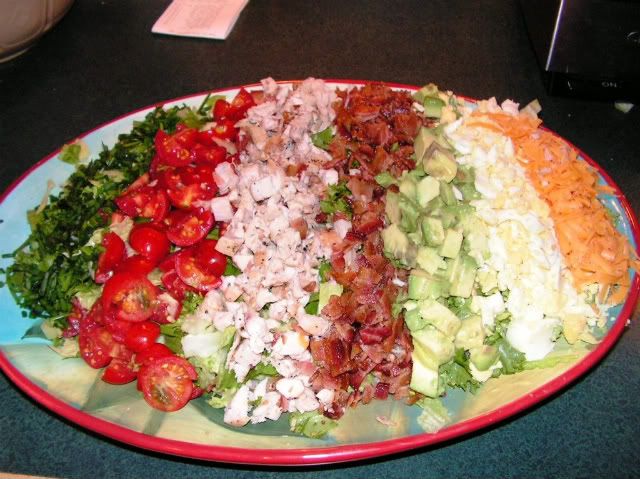 Oh, those familiar with this salad...basically a Cobb Salad, it's supposed to be served with Blue Cheese, but it was NOT where it was supposed to be...HMMM?...so I improvised with the sharp cheddar...WHEW!
Daphne
Keep your mind wide open.