I was afraid this would get lost - and I'd never find it again....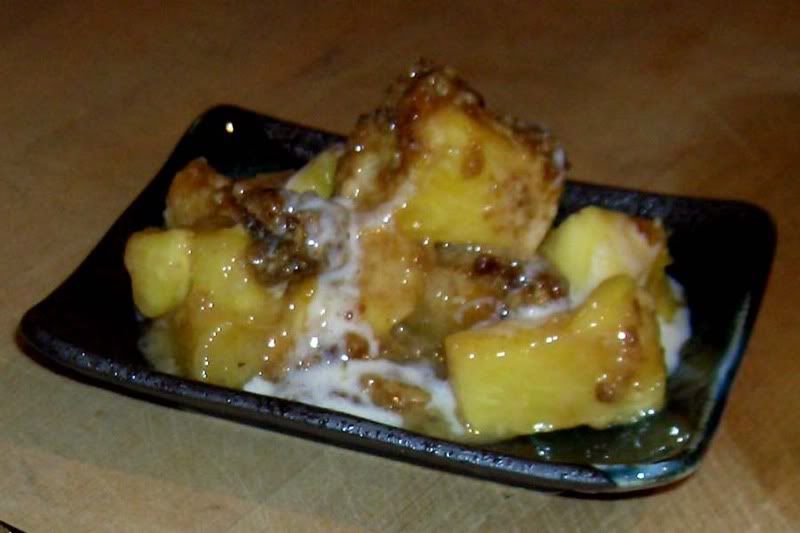 it's in the oven right now and oh my, does it ever smell delicious! My Aunt keeps the food section from her newspaper for me and this came from the Everett Herald and looked so good, had to cut it out.
I've had all kinds of crisps over the years, but never a pineapple one - wow.
* Exported from MasterCook *
PINEAPPLE CRISP - Everett Herald
1 large pineapple -- peeled, quartered, cored and cut into 1-inch chunks
1/4 cup sugar
1 tablespoon quick cooking tapioca
1 cup packed light brown sugar
1 cup all-purpose flour
1/2 cup cold butter -- (1 stick) cut into small pieces
Heat the oven to 350 degrees.
In a deep, 2-quart baking dish, combine the pineapple, sugar and tapioca, tossing to mix well.
In a medium bowl, whisk together the brown sugar and flour. Add the butter and use a pastry blender or butter knives to cut the butter into the dry ingredients until it forms a crumbly mix.
Sprinkle the butter and flour mixture over the pineapple.
Bake for 40 minutes, or until the mixture is bubbly and the top is browned and crisp. Cool on a wire rack.
Makes 8 servings.
From West Congregational Church's "175 Years and Still Cooking"
----
the only thing I'd do differently is cut the chunks a little smaller. Gee, this is good.
Took the tip that was in this issue about melting ice cream and using for a sauce. Added a little rum to it and it's very good! What a neat idea - from Casey Kodavy, Chandler, AZ
Retired and having fun writing cookbooks, tasting wine and sharing recipes with all my friends.
www.achefsjourney.com