Do any of you have calendars with food pictures???? For 23 days I have been looking at this d*mn picture because it is just over my 'office' and to the side of the t.v. that we watch the news on. ANYWAY, I drool everytime and now I have 6 more days to get it made, if I decide to make it.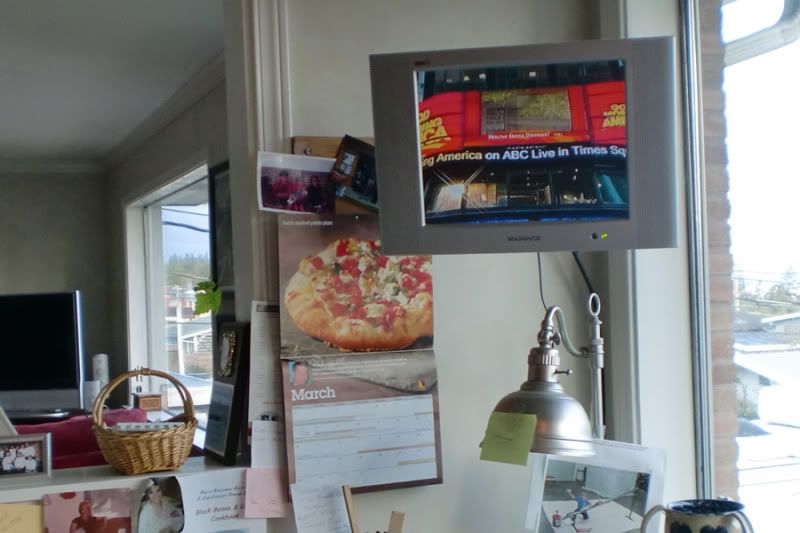 (wow messy office!)
Garlic Mashed Idaho® Potato Pizza
Chef-Owner Scott Nelson, Pizza Luce, Minneapolis
Yield: 4 medium pizzas, 4 crusts, 5 to 7 servings of Garlic Mashed Idaho®
4 each Pizza dough, 9- to 11-oz balls
1/2 C Butter, unsalted, softened
1/4 tsp Salt
2 tsp Garlic, minced
1/4 tsp Oregano, dried
1 1/2 C Garlic mashed Idaho® potatoes
4 each Tomatoes, diced
3 C Green onions, chopped
4 C Feta cheese, crumbled
Pizza dough
2 each Active dry yeast, 1/4-oz packet
2 tsp Sugar, granulated
1 3/4 C Water, warm (100-110 degrees F)
3 3/4 C High-gluten flour
1/4 C Whole wheat flour
2 tsp Kosher salt
1/4 C Olive oil, plus as needed
Garlic mashed Idaho® potatoes
4 Lb Baby red Idaho® potatoes, skin-on, boiled
1/4 C Butter, unsalted
2 C Heavy cream
1 C Garlic, roasted, pureed
1/2 TBS White pepper
1/2 TBS Freshly-ground black pepper
3 TBS Kosher salt
1. Roll out each dough ball on a floured surface. Slide dough onto a floured sheet pan or pizza stone.
2. Whip butter, salt, garlic and oregano in a food processor until well combined. Spread an even layer of garlic butter mixture onto each crust, to edges.
3. Spread mashed potatoes onto each crust, creating a layer about 1/4-inch thick, reserving 1 inch of crust at edges. Sprinkle tomato, green onions and feta evenly among 4 pizzas.
4. Bake pizzas in oven heated to 450 degrees F for 15 to 18 minutes on a stone or 20 to 24 minutes on a sheet pan. Serve immediately.
Note: For best results, make dough and mashed potatoes 1 day in advance.
Pizza dough
1. Combine yeast, sugar and water in a bowl and reserve for 5 minutes. Combine flours and salt in a separate bowl with dough hook, then pour olive oil on top. Add yeast mixture to flour mixture and mix until dough pulls from sides of mixing bowl. Knead dough by hand on a moderately floured surface for about 15 seconds, then stop to allow dough to reshape. Repeat kneading process about 6 times. Split dough into 4 even balls, brush balls with olive oil, cover and reserve, refrigerated, for up to 2 days (at least 1 day for best result). For use, bring dough to room temperature for 10 minutes before rolling out for pizza.
Garlic mashed Idaho® potatoes
1. Combine all ingredients and mash by hand. Reserve, warm.
-----
Well, I guess since I posted the recipe, this is not so off topic
Retired and having fun writing cookbooks, tasting wine and sharing recipes with all my friends.
www.achefsjourney.com