Been a fun couple of days getting some things together to treat my aunt and sister tomorrow. Neither cook and both love to eat, so it works out great.
This pie was posted on another forum and sounded so good
and
my rhubarb needed to have its first cut = haven't cut into it yet, but the juice that dripped is delicious!
Rhubarb Custard Pie - SOON
Pastry crust for 10" Pie - Top & Bottom crust
-----
4 c. Rhubarb -- cut into 1/2" Pieces
1 1/2 c. Sugar
1/8 t. Salt
1/8 t. Ground Nutmeg
1 1/2 Tbs. Flour
-----
1 Sm. Can Evaporated Milk (2/3 c.)
3 Eggs
Mix rhubarb pieces with the sugar, salt, nutmeg & flour. Beat the eggs and evaporated milk together and pour over, incorporate all.
Pour into 10" pastry crust, top with lattice. Sprinkle top liberally with sugar.
Bake at 450* for 15 minutes, reduce oven temperature to 350* and continue baking for 1 hour or until set. Allow to cool completely before cutting.
Description:
"BethK posted this on this thread - [url=http://forums.cooking.com/showthread.php?t=8470"]http://forums.cooking.com/showthread.php?t=8470"[/url]
This one is a dessert we had in Hawaii, most of you have probably had it over there too.
Hilo Haupia Squares
Macadamia cookie crust:
1 cup butter
2 cups flour
1/4 cup light brown sugar
1/2 cup finely chopped macadamia nuts
Haupia mixture:
2 cans 12-oz. each coconut milk
2 cups milk
1 cup sugar
1/2 cup cornstarch
1 cup toasted sweetened flaked coconut (I didn't use sweetened)
8 oz. chopped fresh Waimea strawberries (opt.)
Preheat oven to 350° F.
In a med. Mixing bowl, cut butter into flour with a pastry blender. Stir in brown sugar and macadamia nuts, and mix well. Press dough into a 13"X9" baking pan. Bake 15 minutes, or until lightly browned.
In a large saucepan, ix coconut milk with milk. Mix sugar with cornstarch, and stir into unheated milk mixture. Cook on medium heat, stirring frequently, until mixture thickens. Pour mixture over baked crust. Chill. Garnish with coconut and, if desired, strawberries.
Cooking tip: Oven-toast coconut on a dry baking sheet in a preheated 325° F. oven, turning coconut occasionally, until lightly browned. (or brown in a skillet over medium heat, watch carefully and stir often)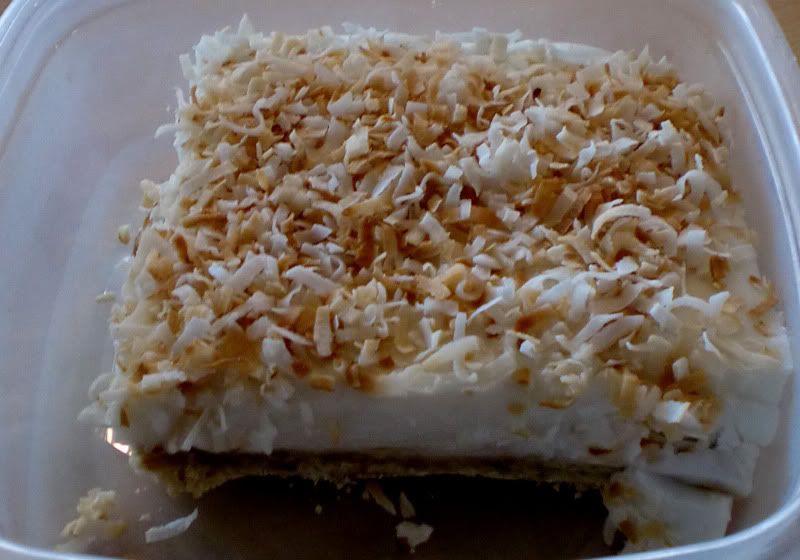 And this one is from the new F&W magazine, so I won't post the recipe, but here's the link. Laura called my attention to it the other day and we laughed about one of the ingredients - a jar of cocktail onions.
It is delicious. go for it, Laura, it's a winner.
http://www.foodandwine.com/recipes/santa...inoa-salad
Retired and having fun writing cookbooks, tasting wine and sharing recipes with all my friends.
www.achefsjourney.com